EVENTS CALENDAR
Aug 2013
S
M
T
W
Th
F
S
1
2
3
4
5
6
7
8
9
10
11
12
13
14
15
16
17
18
19
20
21
22
23
24
25
26
27
28
29
30
31
NEWS & REVIEWS 2013
This page contains the latest news stories and reviews for The Free Edinburgh Fringe Festival so keep checking back on this page to find out what's happening, and which shows are the ones not-to-miss....
March 28, 2014
Free Fest News
PR & Directing deal for Performers
Julian Hall's Edinburgh PR seminars & directing service Julian Hall - comedy critic for The Independent and The Stage, author of the Rough Guide to British Cult Comedy, and veteran of 11 consecutive Edinburgh Festivals - is offering PR and directing services for acts going to the 2014 Fringe. And what's more, he's offering Free Festival acts a discount on his normal rates."After all this time taking notes on acts for reviews, and sharing their festival ups and downs in conversation, I realised how alike the comedian and critic roles are: we're constantly pitching stories that we hope people will want to hear. It was with this in mind that I started to offer one-off PR sessions a few years ago.""Branching out into directing will allow me to use my experience in another proactive way and apply ideas more directly to willing acts." "Whether you choose PR services, directing, or both services, it's always useful to have someone stand outside of what you do to help tweak things and this, of course, applies to actors, writers, comedians and journalists etc.""The first question you'll probably have is 'will you be able to review me as well?' and the answer is no, however that doesn't mean the publications I write for can't send someone else.""The second and third questions will probably be 'what do I get?' and 'for how much?'"So...What you'll get:Introductory one-to-one sessions will last for 90 minutes, costing £60 (£45 for Free Festival acts) and will cover the following:Writing and disseminating your press release; creating a coverage checklist to juice as much PR potential out of your act as possible; how to take targeted follow-up action to outlets where you are most likely to get coverage (from listings to diary stories to features, and reviews); devising photo opportunities and media stunts and so on.Ongoing PR:While I can impart enough to get you started and on course, it can be useful to have someone around to help put some of the ideas generated into action and to chase up journalists.For this kind of activity I would charge:£10 per hour £8 per hour for Free Festival actsMost tasks would take an hour, so, for example, chasing up a feature idea might involve contacting some journalists by phone a few times before reaching them, or crafting a firm-but-friendly email to chase others. Setting up a photocall is more intensive, and seeing through a stunt from start to finish would be at least half a day's work. You might prefer to set a budget limit for press activities and I can let you know what that is likely to cover.The initial sessions will take place by arrangement, ideally in a central London location. Past sessions have been conducted in the foyer of the Royal Festival Hall, London.Telephone sessions for those not within easy reach of London will be considered.All payment methods accepted, invoices can be provided.Directing:This is a new venture for me and I have set the rates accordingly. What you want from the sessions can be steered by you, but I would envisage watching your set as much as possible and giving feedback on content, timing, momentum levels (avoiding lulls), pushing key audience response buttons, script editing etc. Much of this you will already instinctively know, but a second opinion will help to finesse your hour.Cost:5 x 2.5 hour sessions for £200 (£175 for Free Festival acts) with top ups at £20 an hour thereafter (£15 an hour for Free Festival acts).Ongoing PR & Directing joint package: £500 (£450 for Free Festival acts): covers ongoing PR plus the standard directing package, plus one extra session (so 6 x 2.5 hour sessions).Contact: juleshall@hotmail.com Click Here
March 16, 2014
Ed Fringe Website
Edinburgh Fringe Early Deadline Approaches!
The discount deadline for registration is 17:00 Wednesday 19 March 2014. Registration for the printed programme will close on Wednesday 09 April 2014 at 17:00. After this date, you can still register your show to be listed online and in the Fringe App, as well as having access to all Fringe Society services listed below. Click Here
December 18, 2013
Free Fest News
SHOW APPLICATIONS ARE OPEN for the 2014 Free Festival
See our performers section to apply to perform at the 2014 free festival.... Click Here
November 12, 2013
Edinburgh49
Article about
TWONKEYS BLUE CADABRA
The Fringe Guru Richard Stamp gets Twonkeyed..and loves it!
Who is Twonkey? What is a cadabra? Why is Twonkey's cadabra blue? All your questions will be answered – sort of – in the course of this weirdly compelling performance, which combines freewheeling inventiveness with some genuinely touching storytelling. Fresh from a much-starred run at the Edinburgh Fringe, this one-off appearance in the depths of Mary King's Close also included some new material destined for next year's follow-up show.Any attempt to describe Paul Vickers' one-man act is doomed to inadequacy, but here's a quick list of just a few of the things he covers. An oven talks; a tailor flies; a creepy cat just keeps coming back, and our host explains the best way to sneak up on an unsuspecting microphone. Vickers weaves bizarre, bamboozling, absurdly nonsensical stories, which he tells with a mix of puppetry and song. His parallel worlds have an internal consistency, and enough points of reference to hang onto – but if you're expecting a close connection with reality, you'll be set to rights within the first few minutes of his pleasantly perplexing routine.It simply wouldn't work if you took it too seriously. But Vickers, who drifts in and out of character as Mr Twonkey, develops a rapid rapport with his audience; the crowd grew noticeably more relaxed with his complex material as the show wore on. There's a fair amount of comic bungling – it takes real panache to lose your props quite so endearingly, quite so often – and selected punters have their minds probed by psychic underwear, an ice-breaker which actually works remarkably well.But for all the random wackiness, there's a real poignancy to some of the storytelling. Vickers' biography of Stan Laurel might be untroubled by actual facts, but his imagined anecdote touches on big questions of fame, friendship, and the things a celebrity must leave behind. And the most moving story of all was the very last one he told, which used a run-in with a drunken postman as the jumping-off point for a tale of lost love. Suddenly, and very quietly, the whimsical took a devastatingly serious turn.It might have been a touch more satisfying if the stories linked together – absurdist non-sequiturs can only take you so far – but Vickers' greatest achievement is to leave you feeling that, in a way you can't quite express, it all made perfect sense in the end. A show like this is bound to split opinion, and if you want to be led by the hand through an intricately-constructed narrative you really won't like it at all. But if you relish the occasional outbreak of nonsense, you'll find Twonkey's Blue Cadabra a gloriously colourful show. Click Here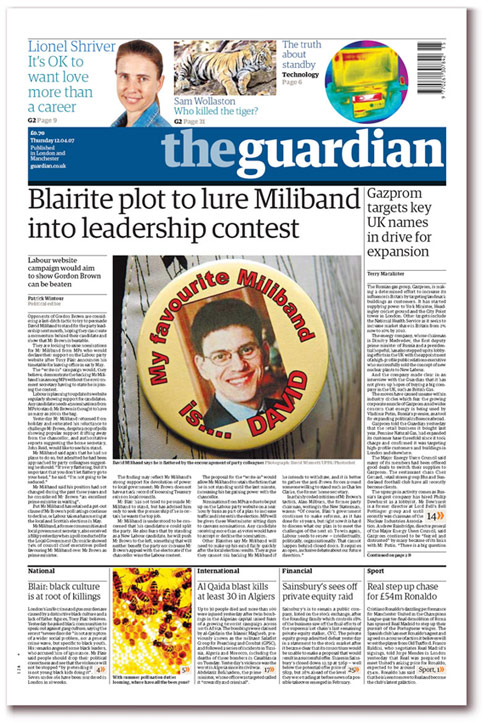 September 1, 2013
The Guardian
Free For All - This was the year of the Free Fringes
From the Guardian: "This was the year that the various free fringes came of age, with comedy shows including the improvised Regency show Austentatious (daily turning people away by the score), musical comic Rachel Parris andbest-newcomer champ John Kearns. For the first time anyone could recall, the so-called "big four" venues – Pleasance, Assembly, Gilded Balloon and Underbelly – didn't win any of the main comedy awards. Their stranglehold on fringe humour loosens year by year." Click Here
August 29, 2013
The Scotsman
Review of
GORDON
Gordon Theatre Sally Stott The Scotsman
http://www.edinburgh-festivals.com/blog/2013/08/29/theatre-review-gordon/ Click Here
August 26, 2013
Broadwaybaby
Review of
Darius Davies HBÖ Special
Hilarious Brilliant Outstanding
Darius Davies… I'm sort of in love with him. He has it all; a hilarious Free Fringe show, a wonderful compere (Alex Perry) and (I quote my flatmate) 'the most piercing eyes... Click Here
August 24, 2013
Fosters Edinburgh Comedy Awards
Article about
Adrienne Truscott's Asking for It: A One-Lady Rape About Comedy Starring Her Pussy and Little Else!
Congratulations to Fosters Comedy Award Panel Prize Winner - Adrienne Truscott
Congratulations to Adrienne Truscott, for her Panel Prize at the Fosters Edinburgh Comedy Awards this afternoon. (Obvioulsly a good choice for the Free Fest launch night at the start of the Month!) Part of Bob Slayer's Heroes of Comedy Programme at Bob's Bookshop and the Free Festival, this concludes a very successfull year for our programme and Free Shows (with one day still left!) Click Here
August 24, 2013
Kate Copstick - The Scotsman
Review of
Darren Walsh: I am a Giant
Comedy review: Darren Walsh: I Am A Giant
Darren Walsh is indeed very tall. He is also very funny. And smart enough to bring us half an hour of pretty much solid laughter in a half-hour show, rather than the half-hour of laughter many lesser comics bring us in an hour-long show.The most labour intensive kind of comic is a gag merchant, a punster. Out onstage with no narrative safety net and no point-making padding must be the scariest of places, but Walsh seems impressively relaxed. He is a genial presence, not manic like Tim Vine, not wonderfully nerdy like Gary Delaney and not deadpan like Jimmy Carr, but very much his own mirthmaker.And the jokes just keep coming. There are puns and props, sound gags and sight gags, gigglers and groaners. The 30 minutes hurtle past. I am not going to quote any here, you will just have to take my word for it that you would have to be a very sad person not to enjoy this cheerful, jokeful hour. Click Here
August 24, 2013
Fringe Review
Article about
Free Money Magic Show
Free Money Magic Show (Highly Recommended Show)
Low Down "The latest show from Ian Saville, socialist magician. Ian investigates the real meaning of money. Where does it come from? Do we really need it? Ian consults experts, and his financial adviser, who turns out to be a dummy."Review I've seen a lot of magicians at the Fringe over the years. Ian Saville brings a rather different take on the genre by using magic and ventriloquism and plenty of patter to explain and explose the banking system and the real meaning and purpose of money before leaping off the stage, heading to the exit and placing a bucket before us as we leave, into which many entertained and happy audience members place coins and notes.Question: What is the difference between slickness and panache? I've seen a lot of "slick" magic here in Edinburgh. Slick magicians often tradeoff that slickness for authenticity and then it really feels as if the whole routine is a bit too staged, a bit to clinically (and therefore cynically) aimed at working the room. The slickness can create a coldness and we, as audience tend to lean back and become passive "wow"-sayers rather than a more actively engaged audience. Now you might notice I haven't told you about any of the tricks, any of what happens in the show in any detail. Of course, that would spoil it for you. Because, though we have set piece routines here, it is all woven together with a bit of hidden writing genius, into an unfolding narrative - the story of money and how we are all in the collective financial mess we are in today. A caricature ventriloquist's dummy is all I'll tell you about - who takes the form of a financial advisor to Saville. And as the show unfolds, we realise that, perhaps, this is no caricature at all, but a rather accurate representation of the bonus-addicted bankers who suddenly seemed to fly out of the woodwork as all of the banks went into crisis. Sometimes caricature and reality converge in a crisis. These moments are a bit shattering in Saville's show; the place calms and we're in the realms of some powerful theatre, which Saville brings down to a quiet conversation between he and the dummy. And who were the dummies in this banking meltdown? The bankers or we, who happily watched it all happen and colluded with it for years? Suddenly the dialogue between Saville and his dummy (delivered with top drawer ventriloquist timing and precision) is a dialogue between we, ourselves and the "system". That's a bit of theatrical genius in the show.Some of Saville's magic is slick, (not all) but it is backed up wholly authentically by panache. He pulls off his tricks with it, and there's no loss of authentic connection with we, the audience. From the very moment wer enter, Saville is there, engaging in easy and real conversation, wanting us to be sitting somewhere we are comfortable, and, most of all, wanting us to understand, wanting us to "get it" whilst being entertained - whilst enjoying HIM and what he is doing.His ventriloquism is among the finest I have ever seen and a couple of the tricks got well deserved whoops of delight from a "wowed" audience.And, if that were all, it would be a good show.But what makes it a very good show indeed is the fact that Saville is also delivering a kind of interactive lecture on what money is, and how the economy collapsed. Where else can you finally understand what Futures or Derivatives are than in the fluent and eloquent hands of this companionable host who isn't afriad to step into the shadows ofd politics and commerce and shine a sharp and often cuttingly funny light on them via the medium of magic? That's the biggest magical feat of all in this hour long, witty and cleverly conceived and realised show. There's skilfull coin magic, card magic, ventriloquism, all rooted in a magic show in a cabaret bar.Not all of the tricks are as "slick", but the whole show is all of a piece - rounded in its conception and delivery. We walk away education, entertained and challenged. What more can you ask of a Fringe show than that?Part of the genius here is in the ventriloquist dummy. Here we have a caricature of a financial advisor. The finance has been caricatured in films and even Dickens. Yet the banking crisis revealed these caricatures not to be exaggerations but to be rather chillingly closer representations of real people. Reviewed by Paul Levy 22nd August 2013 Click Here
August 23, 2013
Malcolm Hardee Awards
Congratulations to our Malcolm Hardee Award Winners
Congratulations to our Malcolm Hardee Award Winners - Adrienne Truscott, Barry Ferns & Garth Ellis Click Here
August 20, 2013
The Skinny
Review of
TWONKEYS BLUE CADABRA
This is reality versus imagination
REVIEW BY VONNY MOYES.PUBLISHED 20 AUGUST 2013How deep does the rabbit hole go? Several flights of stairs into the belly of Edinburgh – and that's just the venue. Pay a visit to Twonkeys Blue Cadabra, and you'll find yourself in the curious world of Paul Vickers' imagination; a place where fairytales grew up, and went a bit wrong.The Little Prince once said, "All grown-ups were once children... but only few of them remember it." The allure of the fairytale hinges on an open mind, so take everything you know about being an adult, and forget it. You need to ditch your adult sensibilities at the door for this one. This deliciously twisted cabaret is so off the wall you won't know which way is up; but that's okay. You're in the safe hands of Mr Twonkey; it's clear he's loving every minute, and if you relax a bit, you will too. Yes, it's a bit odd, and at times no one really knows what's happening – a bit like suddenly finding yourself wandering through a DalÍ, or in the midst of the Fishy-Fishy sketch from The Meaning of Life, but it's charming. There's a warmth that's often missing from absurdism, and it's comforting when it gets lost in translation. There's magic, music and little hats. Ketchup balloons, stories and a puppet so tragic he might just make you cry. At times it's a little hard to follow without a constant visual narrative, but Vickers is so earnest – so brimming with ardour – you have to just go with it. Twonkeys Blue Cadabra is a smelting pot of originality, and a must if you've ever found yourself giggling at nothing. This is reality versus imagination, and it's up to you who wins. I know which side I'm picking. Click Here
August 20, 2013
Malcolm Hardee Awards
THREE Malcolm Hardee Award Nominations for Free Festival & Heroes shows
Nominations for:Barry FernsLewis SchafferAddrienne Truscottand Ellis & Rose win a special award... Click Here
August 20, 2013
Broadway Baby
Review of
Free Money Magic Show
The Magic of Communism
Ian Saville, a self-professed 'socialist magician', takes you through the history of money and communism by the medium of magic in a free show that pulls off some rather exquisite tricks. For those who doubt the power of magic in the 21st century, Saville will bewilder you with a variety of illusions including his sealed-letter trick and his ability to pull coins out of thin air. More significant yet is that the magic he performs is a lesson in money itself, as he effectively explains economics in a show that will leave you richer for the experience. Accompanied by Karl Marx and his bizarre banker dummy in his explanations, Saville gives an amusing and impressive ventriloquist act that discusses the concept of the value of money at its core. Those interested in the theories of left-wing economics should see this for an in-depth explanation of how money works and how it has become a problem in an unbridled banker's world.Though slow in parts and lacking enough tricks to be a large-scale magic show, his act is nonetheless enjoyable and his tricks mindboggling, all the while demonstrating the shocking immateriality of money in a capitalist world. Strong points include the vanishing box at the show's climax and his production of a never-ending stream of notes representing the banks' ability to print money endlessly - a trick I'm sure we'd all love to learn. His humour ranges from sardonic self-depreciation to poking fun of Tory bankers, and reminds us of his 'disappearing Thatcher' trick that won him acclaim back during the miner strikes (though he does not make Thatcher disappear this time unfortunately). As a show which is both educational whilst it is entertaining, Ian Saville's performance ranks high among the many free shows on the Fringe and is highly recommendable to all audiences. Click Here
August 18, 2013
Three Weeks
Review of
Bizarre Guitar & Terse Verse
ED2013 Music Review: Bizarre Guitar and Terse Verse (BIL & CYN)
Bil Fulton and Cynthia Stephens alternate between guitar instrumentals, sonnets with guitar accompaniment, and spoken-word poetry. In taste and material, think Pete Seeger by way of Gilbert O'Sullivan or Harry Nilsson (though less memorable). Fulton is an excellent, subtle guitarist, incorporating shades of folk, blues, jazz and bossa nova. In comparison, Stephens' poetry isn't bad, but doesn't settle in the mind, and her self-conscious kookiness is a little affected, providing a strange counterpoint to Fulton's easy accompaniment. However, the subject-matter of the sonnets is varied, ranging from socio-political commentary to descriptions of autumn. It's a pleasant way to spend an hour; sweet, sanguine, and resolutely small-town. Click Here
August 17, 2013
Time Out
Review of
TWONKEYS BLUE CADABRA
Don't fear Paul Vickers. Indulge him!
'Don't fear me. Indulge me.' Good advice from Paul Vickers at the top of this latest instalment of his ongoing 'Twonkey' saga, an almost indescribable enterprise in which songs and stories, games and puppets, interstellar jockeys and wheels of knickers, Russian dolls and 'greasy-spoon tomato balloons' all have their part to play in the communication of a thoughtworld at once weirdly playful and evidently heartfelt, where nonsense, poetry and palpable passion dance a lovely, bewildering dance. Twonkey herself – a sort of fantasy tyrant – is barely evident here; instead, we learn about young Stan Laurel's sexual yearnings, a flying Parisian tailor and a girl who regrettably booked a skiing holiday while on ecstasy ('we've all been there'). Vickers describes a performer as 'someone who is being bullied into doing something completely absurd for the pleasure of others'. The bullying can surely come from nowhere but his own impulse to perform; the absurdity is pretty undeniable; the pleasure, though perhaps not to all tastes, is there for the taking.For more from Ben Walters in Edinburgh, follow him @not_television Click Here
August 17, 2013
Black Diamond FM
Review of
In Cahoots
In Cahoots receives 5* from Black Diamond FM
Click Here
August 16, 2013
ThreeWeeks
Review of
Revill's Selection
Revill's Reviewed
Handing out cinema-sized bags of sweets is a good way to guarantee your audience won't cause you problems: either they'll instantly like you, or they'll be too busy eating to create trouble. In Paul Revill's case, it's the former. As a stand up showcase, the strength of the show will inevitably come down to the line up, which changes daily, but the hour is held together well by Revill, an amiable host with a stock of decent gags of his own. On this occasion, two out of the three comedians – John Hastings and Jim Campbell – were acts who, off the back of these performances, I'd happily pay to see again. An enjoyable, well put together taster of this year's Fringe. - See more at: http://www.threeweeks.co.uk/article/ed2013-comedy-review-revills-selection-free-paul-revill-laughing-horse-free-festival/#sthash.phluva6W.dpuf Click Here
August 16, 2013
The Scotsman
Review for Matt Price is not in the Programme (he's not!)
Click Here
August 16, 2013
The Scotsman
Article about
TWONKEYS BLUE CADABRA
Twonkey reviewed by Kate Copstick.
Down in the bowels of Espionage something strange is stirring. Not only stirring but shaking, singing and telling tales of such ridiculousness that they make the works of Edward Lear sound like the Six O'Clock News. Twonkey is a Fringe stalwart and this year brings us his Blue Cadabra. Of course you don't know what a Blue Cadabra is, you will have very little idea what anything is in this strange hour. But loosen your grip on reality and step into Twonkey's world. You will not forget it in a hurry. Click Here
August 15, 2013
The Scotsman
Review of
Christian Talbot - Funeral Addict
Comedy review: Funeral Addict
Edinburgh Festival Fringe Scotsman review: Funeral Addict at Laughing Horse @ The Free Sisters (Venue 272), reviewed by Kate CopstickChristian Talbot is, he tells us, overly-sensitive. If even half the anecdotes in this hour are true, then I hope he won't burst into tears if I say that "sensitivity" doesn't even touch the sides. He does cry a lot. Especially at work, which he hates. But he loves words and hugging.He is an absolutely engaging performer who makes much more than the most of his material. I am not convinced he has an hour-long show, but he has lots of lovely little bits and pieces.I really hope he does get to give up the day job. Click Here
August 15, 2013
The List
Review of
TWONKEYS BLUE CADABRA
Twonkey will soon be set to take over the world!
You have to be fully committed when you sign up for a Twonkey show. Through his frequent flights of bizarre absurdity, the man only occasionally known as Paul Vickers (of The Leg and John Peel favourites Dawn of the Replicants) will take you on a journey to some very strange places; only those with a stout sense of adventure will survive.Sadly, some attendees of this mid-week Free Fringe performance are not cut from the right cloth; while Twonkey's experiments with mild innuendo raise a few relieved giggles (the psychic ship's wheel of panties being a particular highlight), his ballad of Stan Laurel and Fanny of the Fig Tree had them covertly scurrying for the exits.We'd advise Twonkey to take heart however, and see this not as a case of audience loss but of audience refinement. The brave recruits who stay to the end are rewarded with a near-transcendent performance of 'The Flying Tailor', and the sense of elation when he unveils the secret of his biscuit box is glorious. You won't catch him straddling the stage at the big purple cow any time soon, but with a gradually growing army of none-more-Fringe warriors, Twonkey will soon be set to take over the world. Or a world, at any rate.Laughing Horse @ Espionage, 477 7007, until 25 Aug (not 20), 7.30pm, free. Click Here
August 15, 2013
Broadway Baby
Review of
Tony Dunn Against the Psychopaths
Broadway Baby gives 5 Stars to Tony Dunn against the Psychopaths
Pure Pathological Pleasure Tony Dunn affects the airs of a tutor as he provides us with a fascinating seminar on the nature and behaviours of the world's psychopaths. What are the driving characteristics of a psychopath? Are psychopaths the same in every country? What sort of jobs do psychopaths flourish in? How do you recognise one, say, sitting in an audience next to you?Dunn bases his examination of this topic around the psychopathy checklist - which, after a quick bit of Googling, I can confirm is a real thing. Together we work our way through those characteristics that have been universally acknowledged as psychopathic traits. Dunn provides sketches and stories so we can see these traits in action, examining superficial charm, pathological lying and a grandiose sense of self worth. We find ourselves examining those traits within ourselves, and those we know closely. We learn about why the cold logic of psychopaths often proves to be a very successfully trait in the cutthroat world of business, finance and hierarchy. Do psychopaths make good lovers? Is it possible to learn from what works for psychopaths? Should we? Is life easier when you are no longer burdened with the empathy for your fellow man? There is a mountain of opportunities for laughs in this topic and Dunn gets the most out of it. You are left wondering how much of the presentation is fiction or fact, when Dunn seems to pre-empt this suspicion and confirms that all science used in this show is true. No pseudoscientific nonsense welcome here - despite what the silly wigs and the crazy characters may suggest. This show offers a pleasing mix of character sketch, informative banter, anecdote, quiz show style antics and more. Dunne has a decisive wit, cleverly twisting amusement out of each sentence, a charismatic delivery and a penchant for the silly.This was a thoroughly enjoyable and informative show. If you've missed this Festival's round of light-hearted fun, you should definitely keep an eye open for this chap in the future. Click Here
August 15, 2013
edfringe review
Review of
The Revolution Will Not Be Improvised
The Revolution Will Not Be Improvised
Improvisation hinges on the fear that it could crash and burn. This is a fear that grips both performers and audience. The last thing anyone wants is to be stuck in the basement of some obscure pub, nursing an over-priced pint, whilst a performer dies the most painful of comedy deaths. However, it is this constant state of mortal peril which fuels the performance. It forces performers to come up with the most entertaining situation/line/movement/sound that could possibly come from, say, the scenario of a world without biscuits. This Cambridge improv group, with a little help from a willing audience, take on this most daunting of challenges and with great success too.It is a fast, messy and silly show. We are treated to sketchy accents, an attempt at a whole show in rhyme, and the wonderful architectural concept of a phallus biscuit palace. Led by a wearied and cynical narrator (Alan Beaumont, in a rather dashing plum waistcoat), who guides the show by making ridiculous demands of his performers. How, in fact do you express the pure joy of eating a Bourbon biscuit? Or the conversely joyless experience of growing up in Hull, biscuit-less. The narrator gives direction, preventing improvisations from floundering and eventually dissipating into awkward silence. Things are kept short and snappy. Jokes that are good enough are allowed to mature, snowball, and become even more absurd, later on.The group work cohesively, but there are obvious weaker and stronger players. Rachel Tooker and Bella Nicholson have a knack for creating strong, funny characters off the cuff, which is a joy to watch. Their personal chemistry is something special, powering the performance. Sam Brain is constricted by only being allowed to talk in rhyme, a task other performers may quickly abandon. But she powers on valiantly, as funny in her mistakes as her successes. Martha Hawker is the weakest of the group, for this particular performance at least. However, Beaumont manages to drag comedy out of calamity with his directions, and the show does not suffer for its weaker players.This show is funny and free. The audience laughed from start to finish. Improv needs no further endorsement than this. Go and see it, you will enjoy yourself. Click Here
August 15, 2013
edfringe review
Review of
The Revolution Will Not Be Improvised
The Revolution Will Not Be Improvised
The premise is a simple one. The audience provide the crime, the punishment, and the reason for fighting the revolution, and then the Cambridge Impronauts improvise the story - in the funniest way possible. The show then, is different every night, but it is clear that this group are confident in what they are doing.This is helped largely by the direction of Alan Beaumont's narration, which gives structure to the performance – something that may easily be lost in improvisation. He interrupts to get the story back on track, but he is not afraid of using his position to take the story off on the occasional tangent, creating new avenues for comedy. His command: "cut; to close-up of duck's experience of having the chocolate bourbon in his mouth", leads to the surreal but hilarious squirming of three performers screaming "Oh my God!", and "this is so fucking crazy", in their portrayal of the duck's pleasure with the taste. Neither is he a bland narrator. He is repeatedly sarcastic about his colleagues' efforts: when Martha Hawker acts out the poisoning of the villain by swimming through his veins, Beaumont remarks: "arsenic is, of course, a fish".In this performance, the audience have decided that the hero, played by Sam Brain, was to be punished for the crime of writing poetry. Brain therefore takes on the challenge of making up rhymes on the spot throughout. Of course this is not always successful, but consistent perfect rhymes would not have been nearly as funny. And, far more importantly, golden lines such as "It's a biscuit palace/ in the shape of a… phallus" would have been sorely missed.Improvised comedy can be both a risk and a safety net. A risk because none of the performers know what to expect for each show, but the audience can be more forgiving if they know that the performance is improvised. Yet would such an outlandish story have been possible if it had not been? Where else would one find the closing lines: "At least I've got a lifetime supply of ginger nuts"? Obviously, no performance of this show will be the same - which is all the more reason to go. Click Here
August 14, 2013
The Scotsman
Why So many Performers are doing thier show for free
Click Here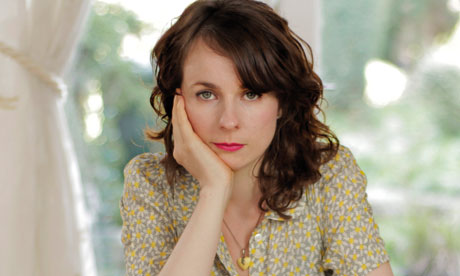 August 14, 2013
The Guardian
The Success of the Free Show format in Edinburgh
The Guardian reports today on the success of Free Shows.... Click Here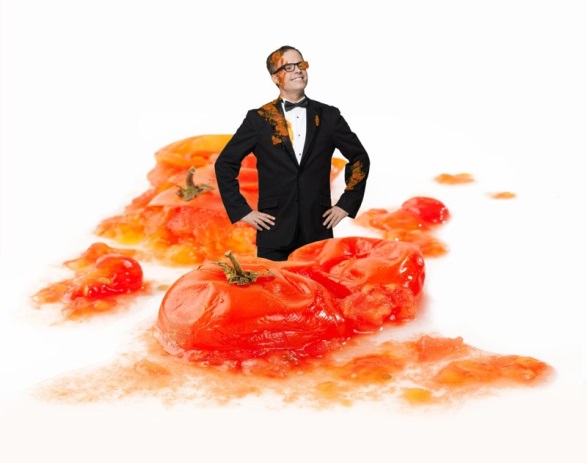 August 13, 2013
FEST
Review of
Joke Thieves
FEST Magazine Review
A great idea that ought to entertain on any given evening, this ingenious Free Festival show was turning away scores of punters on the night I dropped by. The premise of Joke Thieves, devised and hosted by the affable Will Mars, is that four comics deliver brief sets of their material, before each then tries to recreate one of the others' acts. Adding extra jeopardy, none of them knows whose material they'll be "stealing" before Mars pairs them off.What truly makes the format so fun, though, is that, comics being comics, they inevitably pick their most idiosyncratic material to perform, leaving the "thief" to desperately struggle and mug through routines far outside their comfort zone. Although a fascinating exercise in separating writer from performer, more importantly, it's often very funny indeed.The show I saw featured Pat Cahill manfully failing to recreate the tricks of card ninja Javier Jarquin, while the Kiwi in turn battled to retain Cahill's distinctive, alcoholic rhymes, rhythms and mannerisms – in the process offering a cutting critique of his style. That temptation, to pick holes in a fellow comic's routine adds an additional layer of frisson, with Milo McCabe, in the guise of his camp actor character Troy Hawke, pulling few punches in his performance of American pensioner Lynn Ruth Miller's set. In retaliation, poor Miller sadly had no chance of aping his press-ups or the fearsome Glaswegian accent he put on to scare a hypothetical mugger. Spontaneous and anarchic, Joke Thieves is a unique, thoroughly enjoyable hour of mischief. Click Here
August 13, 2013
Edinburgh Reporter
Review of
In Cahoots
Review
Actually, it's 4.5 star Review.... who started awarding half stars! Click Here
August 11, 2013
Arts Award
Review of
Rik n Mix
Rik Carranza - Rik & Mix
An eclectic mix of comedy, music and special guestsWe discovered Rik at Doug Segal's new and highly acclaimed show, playing a musical role in the astounding of the audience's mind. Anybody who comes recommended by Doug should probably be checked out, and given that his show is free, there was an even bigger incentive.Performing in the small and intimate Lizard Room of Espionage, Rik was joined in this particular show by Rod Hunter and Gareth Waugh for an hour of comedy. Hunter was comedically weak but was followed by Waugh, who managed to salvage the mood by actually being funny.Mood in the room was high when Rik finally took stage. His excited, energetic stage presence enveloped us, radiating throughout the room and instantly relaxing and captivating the audience.His set consisted of songs, stores and jokes. All were well timed and executed with great effect, and it was clear he was very comfortable on stage. It later transpires that his wife helped write the material, which is great considering she was mentioned in it a lot without it becoming cliques about marriage, which is something refreshing.With a style similar to Stephen Lynch and a stage presence comparable to Russell Howard (but less annoying), Rik is somebody you should definitely check out. He should be more confident in his material and do a full show.I would pay for a full hour of his material, and hope to catch him again in the future! **** Click Here
August 11, 2013
Punchline
Article about
The Exciting Adventure of an Uninteresting Man
Edinburgh Fringe Review: David Burke 'The Exciting Adventures of an Uninteresting Man'
The title of David Burke's show this year 'the Exciting Adventures of an Uninteresting Man' is a misrepresentation of its content, because David is a really awesome person. He's been travelling around the world, he's fallen for a girl, and he's stayed in a 50-bed dorm in a hostel (you weren't there man!) in amongst many other cool things. David Burke also has a natural gift for storytelling, meaning that an hour in his company is far from uninteresting.David Burke likes to knit, he cries at films and he has a cup of tea on stage with him instead of a beer: David Burke is genuinely a lovely and likeable person and there is a feeling of new companionship when you attend his show. He is also enormously funny, pulling you through his anecdotes perfectly, right through to the punchline at the end.David's tales are of travel, the places he's been and the people he has met along the way. It's a very interactive show, as he wants to share his stories with everyone else rather than just tell them. David's show will inevitably be very busy every day, so there will always be plenty of intriguing contributions to keep you entertained. The spontaneity of audience participation allows David to show off his improvisation skills as well; his quick-witted chat will keep you laughing non-stop throughout the whole performance.David Burke's show is an uplifting one, of course he gets the girl in the end and of course he wins over every member of the audience. David Burke's show is part of the Free Fringe: I always say take a chance on the Free Fringe, but there is no risk involved here, it's a guaranteed cracker of a show.Catch David Burke at the Counting House at 17.30 every evening Click Here
August 11, 2013
ThreeWeeks
Review of
Atella the Pun
ED2013 Comedy Review: Atella The Pun
The name of the show is about subtle as the jokes get, as Atella The Pun battles it out with Genghis Pun to be crowned the "pun master". Both induced as many groans as they did laughs with their quick fire gags, but the entertainers were clearly enjoying themselves and this became infectious for the assembled crowd. A poor choice of guest, in the over-active Candy Gigi, meant the end of the show was a little flat, but the two main performers managed to pull it back with their pun battles, where the audience got to choose the topic they were riffing on. On the whole it was an enthusiastic and competent performance from two evidently funny people. Click Here
August 10, 2013
Three Weeks
Review of
Puzzled
Puzzled Review - 3 Weeks
If there's a such genre as nerd comedy, and you're into it, then this Irish puzzle-loving geek is your man. He starts the show dictating a random list of phobias whilst seamlessly solving a rubix cube from scratch. Describing himself as "perpetually single", Matthew Collins has a distinctly self-deprecating style; his is clearly the biggest brain in the room, but he is never arrogant or over-the-top and humbles the small audience with his friendly tone. There is a focus on fantastically awkward material, with topics ranging from a kangaroo's penis to a Liam Neeson talking lion, and it all works, save for occasional overspills of information that leave the confused crowd lagging a touch behind. But all in all, an afternoon thoroughly well spent. Click Here
August 10, 2013
Edinburgh Festivals / Scotsman
Article about
Joke Thieves
Joke Thieves recommended as TOP 3 STAND OUT show of the Fringe
The third show that I can't recommend highly enough is Joke Thieves (Laughing Horse at Espionage). If you want to see comedians having genuine fun onstage this is the show for you. The basic premise is comedians take turns performing each others jokes, but it very quickly turns into them insulting each other. Joke Thieves is another of the Free Fringe shows, but get there early. It's developing it's own cult following and proving to be so popular they've been turning people away. Click Here
August 9, 2013
Three Weeks
Review of
In Cahoots
In Cahoots receives 5* from Three Weeks
'In Cahoots' was, simply, hilarious. Their brilliant brand of tongue-in-cheek, slightly improvised sketches meant that nothing was predictable in this fast-paced and highly enjoyable show.

Sketch acts can sometimes be a little rigid, but Raymond and Manning were not afraid to snap out of character to banter with each other, the audience, and even the lighting technician. A couple of sketches sailed close to political incorrectness (notably a terrorist sketch), but this did not deter the laughter. It's great to find a show this good that's also free and, judging by the packed room, there are plenty of people who agree with me. Get there early to avoid standing, but above all, just get there. - See more at: http://www.threeweeks.co.uk/article/ed2013-comedy-review-in-cahoots-paul-g-raymond-and-luke-manning-free-festival/#sthash.XeJWglpA.dpuf Click Here
August 9, 2013
www.kieranbutler.com
Article about
Australia is Fucked!
Video release for 'The Fatal Aussie Prank Call Song'
Kieran Butler, currently in Edinburgh to perform his show 'Australia is Fucked', has released a brand new song at his show. Click here to check out the video clip which was shot and edited in Edinburgh over the past week! The mp3 is available for FREE at www.kieranbutler.com Click Here
August 8, 2013
The Stage
Article about
Waves
Waves (Review from The Stage)
Alice Mary Cooper delivered one of the wackiest shows at the Edinburgh Festival Fringe last year: the acclaimed When Alice (Cooper) Met (Prince) Harry. So her follow-up is equally surprising, it's an understated, straight storytelling piece about the inventor of swimming's butterfly stroke. We are all fellow mourners at the wake of an inspirational woman, Elizabeth. As her former careworker, Alice knew her better than many. And, over a cup of tea, she makes the most of her captive audience by telling us a few tales about how Elizabeth became a world-champion swimmer.The set-up is promising and engaging, although Cooper's exuberant performing style does make you question whether a careworker would really be so animated and overexcited at a former patient's funeral. Nevertheless, the story, "both fairy tale and superhero journey", is an enchanting one. Although pretty much entirely made-up, it is always utterly believable.Tucked away in a little 15-seat room on the Free Fringe, you can't help feeling like Cooper should be performing to much bigger crowds. The young theatremaker has officially proven that there is much more to her than the quirkiness she displayed last year. Waves demonstrates she is just as good at writing as she is at charming an audience. Click Here
August 8, 2013
The Scotsman
Article about
Lewis Schaffer is Free until Famous, Again
Lewis Schaffer Speaks to the Scotsman
Claire Smith meets stand-up Lewis Schaffer on the 20thanniversary of the start of his comedy career, although describing the occasion as a celebration might be stretching it a little Click Here
August 8, 2013
Broadway Baby
Review of
Joke Thieves
Broadway Baby review Joke Thieves
Who can get the most laughs? Who can take someone's material and make it funnier? Joke Thieves separates the men from the boys and really puts the comedians through their paces! This unique concept whereby comedians perform their own stand-up and then attempt to outdo each other by stealing each other's material makes for a hilarious show. This battle of wits is a true test of a comedian's ability to come up with jokes on the spot and bag the gag.Joined by Matt Green, Richard Todd, Milo McCabe and Jenny Collier the standard of comedy was extremely high. Matt Green presented a brilliantly well timed set, who had the audience in stitches with his fast-paced delivery and intelligent insights into everyday life. Richard Todd, with his awkward, excitable and ever-so-slightly weird humour was absolutely hilarious. His mind works in ways that I cannot imagine and his wacky style meant that you can't take your eyes off him. Milo McCabe presents a ridiculously posh character from 'Surrey, darling'. His over the top style and gags about the terrors of 'Chavs, or Neds if you will' is highly entertaining. Jenny Collier talks about the difficulties of finding love. Her quick wit, cheeky jokes and dark humour means that her material is refreshingly original.Next, in the second half, the comedians were paired up and challenged swap material. Out of context, the comedians' material took on new levels of hilarity. This section was filled with witty retorts as the comedians battled to out-do each other. Jenny Collier proved to be excellent at transforming Matt Green's comedy and making it her own.This is a show where comedians tend to sink or swim. Even if they nail their own material, there is still potential for them to fall flat on their faces when performing someone else's jokes. This is a chance to spot the real talent as the comedians face the crowd unpractised and underprepared; only their natural comedic ability will save them!This action-packed and chaotic show will have you roaring with laughter. An innovative concept, this free show is definitely worth a look! Click Here
August 8, 2013
The List
Article about
TWONKEYS BLUE CADABRA
Comic Creation returns an interview in the List.
Vickers' adsurdist comic creation returns to the Edinburgh Festival Fringe 2013.Tell us, Mr Twonkey, what's a Blue Cadabra? 'It's an enchanted cloth and known aphrodisiac from Casablanca.' And what's its story? 'First we learn about a planet populated entirely by jockeys, which leads to a horse race and some high jinx. Next up we hear about the talking oven as the clock strikes afraid o'clock. Soon I am procrastinating about Stan Laurel's road to sexual ecstasy and what it means to a sleepy Cumbrian backwater. The show features songs and puppets and some mind reading.'Well done if you're still with us on your first journey into the world of Twonkey, the continuing adventure from Edinburgh storyteller and musician Paul Vickers, an artist who probably gets away with being described as 'madcap'. 'My main skill is my imagination. I could win a war with it,' says the former singer with John Peel-cherished, NME Brat Award-nominated Dawn of the Replicants and current mastermind of the cataclysmic Paul Vickers and the Leg. 'I have always wanted to try every single area of the arts before I die. Life is too short to spend it just singing in an indie rock band.'These sweet, surreal, sometimes action-packed fairytales are certainly a volte face. 'People that enjoy warped storytelling in the vein of Ivor Cutler,' he says when asked who his target audience comprises. 'People of all ages seem to enjoy my show from about 18 to 75 but it's all about letting go and floating down a strange river. If you don't want to get wet and see the blood red turtle fish don't come.' Fraught Fringe reviewers also take heed: Mr Twonkey's Daily Helpline for Journalists will be active throughout August. Seek professional help now.Laughing Horse @ Espionage, 477 7001, until 25 Aug (not 20), 7.30pm, free. Click Here
August 8, 2013
Three Weeks
Review of
Blues and Burlesque
Blues and Burlesque
THREE WEEKS ****.... When Pete Saunders croons his sultry New Orleans ballad to the ghosts of Saturday-night cabaret, you might be mistaken in thinking that this show is an echo of the decadent 30's, but its two lead performers strike a keen balance between retro burlesque and modern club performance. Vicious Delicious has a spontaneous, frenetic delivery, a hybrid of the comedy and hip-hop MC, switching freely between voices and modes, mugging for laughs one minute, the next sultry and vulnerable. Scarlette Belle is a counterpoint to the fast paced MC, taking her time, pacing the reveal, with one number in particular making explicit what burlesque is: a controlled withholding, the arousal of prurient interest, not its gratification. Laughing Horse @ The Blind Poet until 25 Aug, 1.30am. tw rating 4/5 | [Joe Abel] Click Here
August 7, 2013
Fest
Article about
Austentatious - An Improvised Jane Austen Novel
Fest talks to Austentatious
The Jane Austen £10 note isn't yet in circulation but, thanks to hit improv comedy Austentatious, a few of her "forgotten" books are. Yasmin Sulaiman chats to its creators about the novelist, storming the Free Fringe and Mansfield Jurassic Park Click Here
August 7, 2013
The List
Article about
Joke Thieves
TOP 5 FREE SHOWS ON THE FRINGE
Last year, Will Mars won bronze in Dave's Joke of the Fringe tournament. He's celebrated by launching a brand new comedy night, which has comics swapping each other's sets. Among the names confirmed to be taking part so far are Milo McCabe, Jessica Fostekew, Will Franken and Stephen Carlin. Click Here
August 7, 2013
Such Small Portions
Joseph Morpurgo speaks with Such Small Portions
The Austentatious cast member strikes out solo... Click Here
August 7, 2013
Such Small Portions
Article about
Trodd En Bratt Say 'Well Done You'
Trodd En Bratt talk to Such Small portions about their Radio Show Tryouts
Sod the Fringe brochure: the two Showstoppers have some radio show try-outs this weekend...Trodd en Bratt - which Google Translate tells us is Swedish for 'believed a Bratt' - are going to be recording a new series of their Radio 4 show this October, and they're going to be doing a couple of try-outs this weekend at Edinburgh's Jekyll & Hyde (that's the 10th and 11th August at 8pm). Ruth (that's Bratt) Lucy (that's Trodd) told us six reasons why you will want to be going to see it. Click Here
August 7, 2013
Whats On
Review of
Anil Desai's Another Night at the Movies
Anil Desai in Another Night at the Movies
Anil Desai had his work cut out for him before the show had even started. My local post office was closed for Good Friday, my nearest 7–11 was closed for renovations and Myki's website was closed for routine incompetence. It was going to take an Easter miracle for the acclaimed UK comedian and impressionist to turn my permanently etched, "world's least-practical public transport ticketing system" frown upside-down. After 20 minutes of staring at the taxi's seemingly endless metre, my eyes welcomed the cosy glow of the Word Warehouse. As we slipped into the lounge's soothing booze-gloom, I spotted a funny-looking ticket vendor. I say "funny-looking" because he looked like a comedian. I say "looked like a comedian" because as we stood blocking the wheelchair access in awe, it became clear that the gentleman stamping hands and flipping change was "the stand-up chameleon" himself: Anil Desai. The clock neared eight and the previous show finished up. The audience moved on and the performers bumped out. After a lightning-quick sound check, the dividing curtain drew back and there stood a smiling Desai, eager to invite us in to the scout hall-like theatre. As the backdrop fluttered and the lights began to dim, I realised I had no idea what to expect. Then out walked Keanu Reeves. Followed by Pacino. And Goldblum. And Stallone. And an all-star cast of pop culture icons. Desai was in his one-man element, slipping effortlessly between an endless childhood of famous alter egos. His impressions were often more entertaining than the original performances had ever been, and the room lit up as Desai worked the crowd and weaved unforgettable characters into hilarious stories and sketches. How a comic who looks like Desai can transform himself into Robert De Niro, without uttering a single word, is something everyone needs to see before they die (of laughter) and is worth the admission price alone. Another Night At The Movies is more rewarding than another lonely night scouring YouTube and, ironically, cheaper than an actual night at the movies. And hey — with the money you save, you can give Myki the finger and splash out on a cab. Click Here
August 6, 2013
Three Weeks
Review of
JAM Comedy
ED2013 Comedy Review: JAM Comedy
JAM comedy offers the ultimate combination of comedy and preserves, as three young comedians in the form of Foster, Race and Cox offer their audience a varied diet of stand-up, with a pot of jam to take home afterwards. The performers' different styles ensure that there truly is something for everyone here, as Foster and Cox's observational style complements the surrealist ramblings of Race. All performers interact well with the audience, building the conversations they create into their acts with easy skill. With a greater variety of material – perhaps moving observations away from home and family to some more diverse topics – this show would be excellent. A small push towards greater things should be well within its grasp. Click Here
August 6, 2013
The Scotsman
Review of
Free Money Magic Show
Free Money Magic Show
For those of us who were entertained by the socialist conjuring of Ian Saville at sundry rallies in the politicised 1980s, it's great to see the shambolic subverter of showbiz glam and establishment mores still doing his Marxist magic and reminding us, post-financial crash, that he was right all along. Great, in particular, to see him at the Laughing Horse Free Festival where the audience, having no obligation to pay, can contemplate the nature of money with a clean conscience.Like many a magician, Saville inhabits a world where money appears out of thin air, coins pass through solid objects and bank notes mysteriously duplicate themselves. Unlike his fellow entertainers, however, he uses these illusions to illustrate the mechanics of the banking system, the greatest trick of all.Saville has never been a polished performer – that's part of his charm – and there are plenty of rough edges that he'll iron out over his Fringe run. But even at the first performance, Free Money Magic Show is making interesting connections between the popularity of magic and the state of the economy and, most touchingly, the possibility of giving each other gifts because of their pleasure and usefulness, and not because of their financial value. Click Here
August 6, 2013
Three Weeks
Review of
Christian Talbot - Funeral Addict
Christian Talbot "Funeral Addict" - Three Weeks Review
As the introductory procession music fades, so appears the scruffy looking Christian Talbot. Performing in a packed out, thimble-sized room, the Irishman's act revolves around his OCD, daily afternoon cry breaks, and finding emotional intimacy in the obituaries. Arguably the most sensitive comedian at the festival, Talbot regales his audience with stories and anecdotes taken from his past, and unveils his pessimistic attitude towards his future. The intimate show is well preformed and the material generally strong, even if there is the odd cringeworthy pun tossed into the mix. There is a self confessed air of disappointment surrounding Talbot's life, but there is nothing but happiness and laughter in his show. Click Here
August 5, 2013
BroadwayBaby.com
Review of
Out Now
Kevin Dewsbury - Out Now
Kevin Dewsbury is a bloke. He likes football, beer and... sexy men. Yes, Kevin Dewsbury's sexual orientation is the big twist in his new show, the supposed unique selling proposition (USP) of this particular stand-up. However, given that this USP is flagged up rather early on in the show, you might wonder where he has to go with it. Plenty of places, as it turns out. Yes, Dewsbury's gay, and he knows – indeed, revels in – the fact that he doesn't conform to many of the gay stereotypes. There are some good reasons for his 'straight-acting' attitude, which he is honest enough to explain. (No spoilers, but they do include a Catholic upbringing and a wife). Though, as Captain Hindsight might say, there were clues about his 'preferences' that just didn't seem to be noticed at the time, such as his childhood choice to stay indoors singing musical numbers rather than always playing footie outside. This, however, leads us to what is actually Dewsbury's real USP as a stand-up comedian. It goes without saying that he's an assured presence on stage, ready with seemingly off-the-cuff one-liners and great punchlines to longer riffs (such as his appointment to the Gay Agenda Committee for the Promotion of Homosexuality). He's also happy to accuse his audience of having far dirtier minds than him when they laugh at his carefully placed innuendo, but the pleasant surprise is just how good a singer Dewsbury actually is. As he sings along to a backing track, the act comes with an appropriate wiff of the most horrible gay bar karaoke imaginable, yet Dewsbury can certainly deliver a tune and his self-penned lyrics provide some sharp observations on the most important things in the gay world – coming out, getting revenge on ex-boyfriends, etc. While many of his observations on life are sharp and on the ball, it's the songs that will perhaps linger longest in your memory. Click Here
August 5, 2013
kieranbutler.com
Article about
Australia is Fucked!
Listen to 'The Fatal Aussie Prank Call Song' for free
Kieran Butler, currently in Edinburgh to perform his show 'Australia is Fucked', has released a brand new song at his show during the past week. A video clip is being shot in Edinburgh and will be released over the next few days. Click now to listen to the mp3 for free. Click Here
August 4, 2013
BBC
Article about
Tyke Rider
Adventures on the Fringe and at the Free Festival
I am on the top deck of a bus parked in the courtyard of a pub in Edinburgh. It is 10am, the windows are blacked out, the bus is bedecked with tartan bunting and a young woman is regaling us with tales of her adventures across the US.There are four of us - the performer, Nadia Brooks, plus three in the audience. The power has gone off so she is showing us her accompanying slideshow on a laptop on a stool.This is the start of my mission to try to get my head around the Edinburgh Fringe. With 2,871 shows - from comedy and theatre to magic and cabaret - it caters for just about every artistic taste under the sun.In an attempt to get a taste of what the Fringe has to offer in just one day, I am watching as many shows as possible with the word "adventure" in the title. Click Here
August 4, 2013
SGFringe
Review of
Princess Guide to Dating
Review: Princess Guide to Dating
✭✭✭✭Aaron Twitchen's Princess Guide to DatingLaughing Horse Free Festival @ 50 Blackfriars Street7.15pm (run ends 25th Aug)This was a laugh, in fact the laughs started a good 20 minutes before the show even began with delicious camp banter from Twitchen as he prepared the set and the room filled with audience.This experienced performer had us all enthralled and thoroughly entertained, whether he was on an impromptu detour responding to a latecomer or on track with stories from his romantic adventures and misdemeanours, and tip top advice for all princesses seeking princes taken from the one and only original 'Princess Guide to Dating'. Princess Kate, Camilla, the Spice Girls and Britney all got a mention, served up with sparkling wit, sauce and tiara. It was a real feel good love in and concluded with the No. 1 Rule of the Guide: 'Love Each other and Friendship Never Dies'.The audience and I thoroughly enjoyed ourselves. Click Here
August 4, 2013
BBC News
Article about
The Exciting Adventure of an Uninteresting Man
Seeking adventure at the Edinburgh Fringe
A couple of streets away in an attic above a pub, comedian David Burke, has a show titled The Exciting Adventure of an Uninteresting Man.Despite a promotional photograph showing an awkward chap with beard, cardigan and cup of tea, Burke turns out to be a garrulous and likeable Irishman.He talks about horror stories from backpackers' hostels around the world in between tangents loosely based on different nationalities, his pursuit of a woman and an irrational hatred of the French.He has an easy rapport with the audience, who have packed out the venue. Admittedly it only has 20 seats, half of which are taken by a troupe of Scottish high school drama students fresh from performing Grease. Click Here
August 4, 2013
Three weeks
Review of
Tony Dunn Against the Psychopaths
Tony Dunn against the Psychopaths review
Tony Dunn gives a very entertaining and subtly deranged lecture on psychopathy, which ensures that his audience are in a constant state of brilliantly uncomfortable apprehension. This tension, that he creates through a surreal and sinister performance, allows the rather formulaic structure of the show to nevertheless adopt a very unpredictable and comical complexion. With help from his co-performer, Patch Hyde, Dunn has very successfully devised a show that happens to be simultaneously enlightening, hilarious and reprehensible. Whilst the title suggests an opposition to insanity, Dunn and Hyde make us feel like we are very much in the midst of such madness. Click Here
August 4, 2013
Sunday Post
Article about
A Danish Bagpipe Comedian
Don't miss the Danish bagpiping comedian
Danish piper Claus Reiss hopes to show bagpipes are a laughing matter by combining playing with cracking jokes. Claus previously created Sunday Post headlines after setting a world first by skydiving, kilted, while playing. His noisy show will be in The Jekyll and Hyde until August 15.
August 4, 2013
Broadway Baby
Review of
Something in My Shoe
Shoe-per
Those who rushed in to Ian Saville's magic show just before starting were in danger of thinking that the performance had already begun. Saville stood at the front, entertaining the audience with gentle wit by informing them that the act had yet to get going. Gentle is a good word to describe Saville; a performer who downplays his tricks for the sake of effect, eschewing flashy props or the lure of building himself up. He differs from conventional children's conjurers by combining panto style jokes with deadpan puns, helping his all ages appeal. His ability to keep his entire audience amused was seen when he officially began the show with a simple but brilliant gag which plays on the eagerness of young audience members to stick their hands up. That they were being made the punchline of the joke went over the heads of the already giggling kids but it allowed the grown-ups a good chuckle.As the show progressed, Saville continued to play off the children, who within minutes were straining forwards, desperate to point out what he was deliberately missing. It is no small feat to keep such a rowdy crowd entertained for 50 minutes but he did so by responding to some of their more bizarre ideas and these moments often got the largest laughs. Adults were entertained not so much by the events on stage but by how he managed to control the children's reactions.Through the rise of TV magicians, we have become used to seeing ever more jaw-dropping illusions performed. By contrast, Saville's tricks do not appear particularly creative, which is part of the reason why this show is more suitable for younger children for whom the disappearance of a handkerchief is something relatively new. However, the seeming simplicity of his sleights of hand have their own silly charm, particular as he toys with magical conventions through his ridiculous conversations with his 'assistants' (a length of rope and a toy rabbit).Go see this show if you want something that will amuse the parents while engrossing the children. And don't you want to go anyway, just to find out what exactly is bothering Saville in his shoe? Click Here
August 3, 2013
Three Weeks
Review of
A Danish Bagpipe Comedian
A Danish Bagpipe Comedian (Claus Reiss)
Ranging over topics from competitive bagpiping to bodily fluids, Claus Reiss tells a series of anecdotes that exude enthusiasm and knowing self-deprecation. Dressed in kilt and sporran, Reiss offers a conversational style which encourages participation; audience contests and song requests result in a show that feels warm and inclusive, as he offers to answer the audience's bagpipe-related questions. The show's musical interludes build on this charm, as Reiss wryly remarks that it's all right if people cover their ears. By contrast, some of the prepared comic material suffered a little from a reliance on tired comedic tropes. His engagement with the audience makes up for it, however, demonstrating admirable flexibility and wit, especially when you consider he's performing in his second language. Click Here
August 3, 2013
Article about
Princess Guide to Dating
Princess Guide melts the heart of an ice queen
Ok, so before I start I want to clear a few things up.1. This show is not waving the flag for feminism.2. In any way.3. At all.Right now we've got that out of the way, we may continue.As someone who is generally irritated by fairy tales, princesses and Disney. I really enjoyed this show. It was light hearted, fun and the comic's lovely, friendly attitude made up for any of the obvious stereo-typing that the show relied heavily on.princessWe begin with an introduction to our princesses who, along with Aaron's unfortunate flatmates, are used to guide us to dating delight. Along the way we make stop overs with Disney, some real-life royalty and a Princess of Pop. This show is definitely unbridled camp. Aimed quite acutely at the hererosexual woman, there are wigs, boy-band dancing, and a range of cheesy pop music which should only be acceptable at a student union bar. But the thing about this show (in fact all of Aaron's shows, I have indeed stopped by to watch before) is that they end with a touching message. And this one did too. I'll leave you to discover it for yourself. As part of the free fringe, Aaron's show is an excellent feel-good show in a great venue. Drinks are reasonable and the timing is good. Plus, he is a sweet heart! So if you're feeling a little low / you've just been dumped you / you've had one internet dating fail too many give it a go. You might just leave feeling quite a lot better! Click Here
August 3, 2013
The Flaneur
Article about
Tyke Rider
Edinburgh Fringe: Across America with Tyke Rider and free Jaffa cakes! #Edfringe @write_notes
By The Flaneur, Editor-in-ChiefWith auditoria in Edinburgh getting bigger and bigger it is nice to find a venue that takes things back to basics. When the biggest shows are packing in thousands, there is nothing that says Fringe quite as much as a performance on the top floor of a double decker bus. Parked in the beer garden of the Three Sisters pub on Cowgate Top Deck on the Comedy Bus is an intimate and unusual space that is showing alternative and small scale productions all day from 10:00am right through to 2:00am.Nadia Brooks, aka Brooksy is putting on her debut fringe show in the Comedy Bus. Until 7th August Tyke Rider is the first set of the day, a ten o'clock start for fifty minutes of spoken word, drawings and video clips. Last year Brooksy took off on a 6000 mile solo road trip around the USA. She wrote a book about her travels and in Tyke Rider she shares some of her adventures by reading, showing photos and displaying some naive art-inspired drawings.A lover of Yorkshire tea and all things Eighties, Brooks bought a black Ford Focus in LA and named it KITT after the famous car once owned by David Hasselhof. Then she set off around America, attracting adventures all around this film set of a country. Everywhere she went reminded her of an Eighties film that she loved, and she even got to act in a film scene with Dee Wallace – who you might know better as the mum, sorry, mom in ET. Amongst other things she was invited to perform at the huge SXSW festival in Texas, met the woman who may or may not have been responsible for a NASA space accident and discovered Elvis is alive and well and still making films.Gently humorous, whether talking about her matchmaking grandmother, getting stopped by US cops or sharing a hot tub with potential serial killers, Brooks also does a mean Alan Bennett impression. She was inspired by poetry and the Choose Your Own Adventure books of her youth and wants to inspire other people to chase their dreams. Whatever yours are, get a 10:00 dose of encouragement every morning until 7th August. Click Here
August 3, 2013
Three Weeks
Review of
Tyke Rider
ED2013 Words & Events Review: Tyke Rider – A Yorkshire Lass's Driving Adventure From The City Of Angels To Graceland Via The Big Easy (Nadia Brooks / Free Festival)
By Gavin LeechSweet solo travelogue by journalist Nadia Brooks about her 6000 mile trip across the south of America. We get bucolic childhood reflections, bucolic praise of America – and less bucolic encounters with menacing eccentrics. She punctuates her story with voice clips from her nan and hosts, and felt-tip drawings of whimsical fantasies. The show heavily relies on puns and 80s cultural references from America and Sheffield – Alan Bennett and Jabberwocky, Knight Rider and Elvis – her comparisons of epic California and mundane Yorkshire are nice. She uneasily walks the line between spoken word and very gentle stand-up, reading from a script throughout and stumbling through slow bits, but goes out on a big spiritual science thought. Really sunny, for a Sun journalist.Laughing Horse @ The Free Sisters, The Comedy Bus, until 7 Aug, 10.00am.tw rating 3/5 | [Gavin Leech] Click Here
August 2, 2013
Broadway Baby
Review of
Tyke Rider
That's The Way I Tyke It!
By Paul F CockburnIt was the 13th century Persian poet, Islamic jurist and theologian known to the English-speaking world as Rumi who said that 'travel brings power and love back into your life'. It certainly made something of a difference to the journalist and 'migrated daughter of Yorkshire' Nadia Brooks who last year went on a 6,000 mile road-trip round America, in the process escaping her small apartment in LA (the trigger being the Alan Bennett-esque vision of an old Jaffa Cake left under her Ikea sofa-bed) and her well-meaning Gran's totally groundless match-making with the actor Jake Gyllenhaal. With a 1980s upbringing dominated by US films and television – she admits to having a fixation on Knight Rider and 'The Hoff'– Brooks quickly discovered that much of the US of A looks exactly like a movie set, though one significantly lacking the presence of a director to shout 'Cut!' when things get scary. Though, as becomes clear, the wannabe serial killers were clearly outnumbered by some very genuine and loving people.Clearly, Brooks is not by profession a performer, even if she did unintentionally end up playing a waitress in a indie movie she'd offered to work on as a script supervisor. She is, though, an open and unaffected speaker. Given her career background, the show is well written and – an attempt at audience participation notwithstanding – successfully holds together much better than you might expect from what could potentially have been little more than an arbitrary succession of fleeting anecdotes.It's a shame that some of her comedy riffs don't really hit you full on. Brooks is just a tad too self-conscious and self-depreciating for her own good, but by the end of the show there's a satisfactory reminder of the true value of perseverance, trust and belief in ourselves that warms the heart, even early in the morning. Click Here
August 2, 2013
Fringe Review
Article about
Snooze
Fringe Review - Reccomended Show
Chmaera Theatre are Eleanor Westbrook, Jenny Novitzky and Natalia Biglou - three complentary yet different performers who come together in the basement performance space at the City Cafe to bring us Snooze, an hour of unpredictable cabaret-style, immersive theatre.It's all there from the start - audience interaction, immersion into an imagined space - a circus, bedded in a grotesque set of dream images, collected from their own workshop process. Click Here
August 2, 2013
The List
Article about
Gusset Grippers
The List's Bribe of the Week - Gusset Grippers
Elaine Miller's sequined incontinence pants narrowly see off Mr Twonkey's ball bearing puzzle Click Here
August 2, 2013
One4Review
Review of
Tales From the Fringe
This was not entirely what I was expecting but was fun nonetheless. Barry Ferns hosts fellow comics talking about…well, I expected it to be their experiences of the fringe, but it was far further ranging than that. A sort-of taster session (or buffet, according to Mr. Ferns) to see if you might like their proper shows.Barry Ferns is a great host, personable and enthusiastic even when he's accidentally insulting someone (although he usually apologises). If you're prepared to get involved, to shout back at Barry and generally demonstrate the qualities of a living audience, this show has much to offer. And it's free (although you can make a donation at the end). Click Here
August 2, 2013
The List
Top 5 Free comedy shows in the List - 4 Out of 5 from Free Festival
Top 5 free comedy shows at the Edinburgh Festival Fringe 2013Featuring Sanderson Jones and Pippa Evans, Sean McLoughlin, Nat Luurtsema and John-Luke Roberts Click Here
August 2, 2013
Fringe Review
Article about
Blaggards
Fringe Review - Reccomended Show
his is a new play about Generation Y and it takes a fairly gritty stand, a shadowy look at a generation that is reminiscent of the work of Philip Stokes and Horizon Arts. Click Here
August 2, 2013
One4Review
Review of
Ellievision
Former model Ellie Taylor first came to my attention when she was one of the comics featured on 'Show me the Funny' on TV a couple of years ago. She has also been the presenter of Snog, Marry Avoid on BBC3 so I was less than surprised to see her show as a sell out on Day One.The fare on offer was of a consistently high standard, she has a great presentation style and her bubbly personality coupled with an inclusive demeanour was lapped up by the varied crowd, including three Spanish people on the front row whose English was at best limited.The theme of the show is to make the most of what you have rather than what you've not and she has plenty of things going for her as far as I am concernedThe material was wide and varied inducing many belly laughs and touched on subjects as being back living at home, her modelling career, Essex people, cat videos her long distance relationship but this is just a sample of her 40 minute set.I would thoroughly recommend this show to anyone wanting to start off their Fringe day on the right foot, but don't be late as I said it was sold out on day one.As part of The Laughing Horse Free Festival entry is free but a bucket collection is taken at the end, so don't forget to fold your donation before putting it in. Click Here
August 2, 2013
The List
Article about
Austentatious - An Improvised Jane Austen Novel
Cariad Lloyd speaks to the List
There's something about improvised comedy that conjures the level of devotion in its performers that the vampire works of Stephenie Meyer inspire in teenage girls. Cariad Lloyd is no exception. 'I'm obsessed with it. So many comedians have their background in it; people keep coming back to it – they genuinely love it. They're not in it for the money.' She laughs. 'There's no money in impro.' It's that sense of unpredictability that makes it fun to perform as well as to watch. 'I've always loved it when people make stuff up on stage: my favourite thing to watch when I was a kid was always the out-takes, when things go wrong.' Click Here
August 1, 2013
The Skinny
John Fleming talks Malcom Hardee Awards
John Fleming has, without really trying, become one of the most influential figures in British comedy. It's mostly because of his blog, in which he meticulously chronicles the truly alternative side of comedy, interviewing visionaries and artists and sometimes just plain weirdoes, all of whom are united by the fact that they'll never, ever appear on telly. It is required reading for anyone who has a real interest in comedy. And it all started as a simple PR stunt. Click Here
August 1, 2013
The Skinny
Article about
TWONKEYS BLUE CADABRA
Amazing Bollocks an Interview.
One of Britain's most psychedelic absurdists, Paul Vickers is ready to confuse Edinburgh again with the ongoing adventures of TwonkeyFEATURE BY VONNY MOYES.PUBLISHED 01 AUGUST 2013"I've never really seen myself as one particular art form. I'm a bit of an ideas person really, and I didn't really fully intend to get into songwriting; it just sort of happened."Paul Vickers, former frontman of 90s indie darlings, Dawn of the Replicants, has stumbled into comedy and surprised himself that it's going well. He's a serial creator, meandering into whatever takes his fancy. I asked him where it began:"I started doing drawings; city landscapes, kind of like Lowry, but quite intense. I thought I was going to do well in my art GCSE, but I only got a C, which I was disappointing, because my friend got a B+ and all he'd done were really accurate drawings of Roland Rat..."Undeterred by exam-board taste, he trundled off to art college, joined a band, and was then nudged in the direction of comedy, eventually gracing the Fringe with a surrealist's wet dream; songs, stories, a windmill, a cottage, an underwater circus and a Twonkey: a cytpozoological puppet accomplice with a knack for numbers. Where do you even begin writing something like that?"You have a spazzy moment, and you can't work out if it's utter bollocks or if it was amazing, and you reflect on that a few days later. That seems to be how it works with comedy. When you're at your most mad and out there— which is what worries me— people like that the most."Since then, he and his moveable pal have peppered another two festivals with their own flavour of folklore, occasionally disturbing crowds with loaves of talking bread. He's not so much a man who does it by the book, as one who writes his own. Make sure you catch it before the wind takes him somewhere else. Click Here
July 30, 2013
The Times
Article about
A Danish Bagpipe Comedian
Why Scandinavian comedians are now centre stage at the Edinburgh Fringe
Despite their natural diffidence, comics from Scandinavia are moving from the fringe of the Fringe into the spotlightIt's almost 12 months since Daniel Simonsen became the first Scandinavian comedian to make a big impression on the Edinburgh Fringe, winning Best Newcomer at the Foster's Edinburgh Comedy Awards. Since then his career has started to take off. Next year he will appear in House of Fools, an unruly new BBC Two sitcom from Vic Reeves and Bob Mortimer, playing Mortimer's grown-up love child. First, though, this reticent Norwegian is back with a new stand-up show in which he sets out to loosen up, tries to learn how to be a free spirit.The way that the Scandinavian comedians appearing at the Fringe this year put it, though, the region's sense of reserve can't easily be quashed. According to the Danish comedian Claus Reiss, who performs wearing a kilt and playing bagpipes — "I have my niche" — a spirit of self-deprecation unites Scandinavian performers. "Danish and British senses of humour are very similar," he adds. "We both use a lot of irony and sarcasm."Björn Gustafsson, who appears in the Swedish version of The Officeas Viking, their equivalent of Mackenzie Crook's character Gareth, admits that Swedes "are not really good at showing our feelings. We can stand in line for hours". A Norwegian, Simonsen suggests, "is like an awkward English person".Anyone out to hunt down further Scandinavian stereotypes being vindicated, tested or toyed with can also try Damn Danes, Norwegians of Comedy, or see philosophy meet stand-up inKierkegaard Comedy Show. If you want jokes about The Killing andWallander, though, you'll have to leave them to the Brits. The latest show from the comedy-theatre duo LipService is "a self-assembly Swedish crime thriller" called Inspector Norse.Gustafsson, whose heroes include John Cleese and Rowan Atkinson, wants do more work in English. Reiss, who likes to watch subtitled editions of Live at the Apollo at his home in Copenhagen, admires British comics such as Kevin Bridges, Paul Foot and Stewart Lee. Having done a few try-out slots and appeared in stand-up competitions here, he would like to work in Britain more. It takes only a couple of hours to commute from his home to London, he says.Simonsen, though, has already lived in London for more than five years. He is unassuming, self-doubting. He also has extraordinary reserves of dedication. After growing up in Bergen, a small city on the west coast of Norway, he went to Paris to study at the Philippe Gaulier clowning school. While there, he worked for nothing once a fortnight stacking chairs at the English-language comedy club La Java, in exchange for watching the acts. He saw performers such as Reginald D..Hunter, Michael McIntyre and Stewart Lee, who told him that if he wanted to be a comedian, Britain was the best place in the world to do it.After some soul-searching he made the move. He did temp work by day — "a lot of horrible jobs" — and stayed out late each night gigging. His first was King Gong at the Comedy Store, a show in which new acts aim to perform a five-minute set but get gonged off if the audience doesn't like them. He lasted 30 seconds. He came back the next month and this time finished the full five minutes. There were some promoters in the audience who offered him try-out slots. Slowly, very slowly, his career gathered momentum."It was much harder than I thought it would be, actually," Simonsen says. "It's not easy leaving your friends, going to live in another country when you don't have a social network. And the sky is so grey in London. I like it a lot now, but the first two years were hard." Last year, before his award-winning Fringe run, he got a break when the TV presenter and stand-up Simon Amstell asked him to be his support act on tour. He enjoyed the experience, but learnt that "it takes a lot of work to become really good. I have a lot to learn still."So do these national stereotypes ring true? Up to a point. Simonsen's friends from home are shy like him, he says, but funny too — especially after a few drinks. "There is so much pent up in us. The climate has something to do with it. If you're a bear and you go hibernating then suddenly in April you have to go talk to people, you don't have the same training." But though Simonsen considers himself Norwegian in all his mannerisms, his father, who didn't bring him up, is Chilean. When he went to visit his family in Chile for the first time, in 2009, he got a shock. "Chileans are supposed to be the shyest of the South Americans, but for me they don't even know what shame is. The first thing I saw when I got into the city, it was 11 in the morning and there was this park full of people dancing in scout uniforms. I thought, 'This is another world.' Life there is harder, probably, but people may be better at living in the moment." So he wants to release his inner Chilean? "Yes. If you are not that kind of person you look at people behaving with that kind of freedom and you think, 'Oh, that must be amazing.'." He looks wild-eyed at the thought. "They were not even drunk or anything."Gustafsson has not performed in Britain before, but he has worked in America. When the actor Will Ferrell played against the former World No 1 tennis player Mats Wilander in a benefit match for a Swedish school in Los Angeles in 2009 (Ferrell's wife, Viveca, is Swedish), Gustafsson was the warm-up act. Posing as Björn Borg's son, he read a poem. "It went quite well." He is not, he admits, fluent in English. But his show is more character comedy than stand-up and he doesn't need much ad libbing. "I hope that I will relax and become fluent in English," he says. "My expectations are quite high."Live comedy in Sweden is "quite big now", he says. "Every city has a stand-up club." Over in Denmark, says Reiss, there has been "an overwhelming growth of comedians" over the past five years. He has played a few shows in Britain already and found that his act works in a foreign tongue. "Even though, compared to other Danish people, I'm not very good at English. That can be an advantage, though. Audiences find me less threatening, more vulnerable. So I haven't done anything to make my English better!"Can you really build a career as a Danish Bagpipe Comedian? He started playing the instrument in 2004, when he was an engineering student. Since 2007 he has earned his living as a comedian-cum-bagpiper. His musicianship is not a joke — he won a gold medal at the Piping World Cup in Glasgow last year. And while he understands that Danish television shows such as The Killing andBorgen have made an impact over here, he's not about to talk about them on stage. "I don't have any bacon jokes or Little Mermaid jokes either. I could be from New Zealand and telling the same jokes."When they show Borgen, it's a Sunday night, I'm rehearsing. I live in an apartment, it's hard to practise, so I found a place to practise where no one ever goes — my local church." Really? "No, no, that's a joke. I came to an agreement with the people in my block that I can play between 8am and 4pm, when they are at work."It's no joke adjusting to performing in another language, says Simonsen, and yet the dry, self-mocking Scandinavian mindset makes easier sense here than it might do elsewhere. Last September he played some shows in New York. "There they don't have this law that we have even more in Norway than here that you shouldn't think you are somebody. They are allowed to be larger-than-life, you don't have to undersell yourself. You can learn a lot from that. But I felt really weird."Daniel Simonsen is at the Pleasance Dome (0131-556 6550), to Aug 26; Björn Gustafsson is at the Gilded Balloon Teviot (0131-622 6552), Fri to Aug 12; A Danish Bagpipe Comedian is at Laughing Horse @ Jekyll & Hyde (0131-225 2022), part of the Free Fringe, Fri to Aug 15 Click Here
July 30, 2013
Weird Fringe
Article about
Gusset Grippers
Weirdest of Weird Fringe!
@weirdfringe have nominated Gusset Grippers as the #1 Weird Show in the Fringe. I am humbled. Click Here
July 29, 2013
Such Small Portions
Article about
One of Us Might Be Famous
Edinburgh Fringe Picks 2013: Acts on the up
Combo of three of any of the four acts. It's a hefty load of awards the four are touting around, with serious Scot Fern Brady likely to be the biggest draw, as she's on the next series of Stewart Lee's Alternative Comedy Experience. Tom Taylor is armed with a keyboard and some snappy songs, and Manraj Bahra brings his dour routines from the student comedy award set. Glenn Moore brings what will be much-needed energy to the group. (He is out of Thunderbards, who also have their Edinburgh debut this year and will be very worth checking out - it's sketch comedy that goes far beyond the fresh-out-of-uni vibe they first give the impression of being.) And check out our Incoming slots from all four acts that went up earlier today... Click Here
July 29, 2013
Mon Jul 29 2013
Article about
TWONKEYS BLUE CADABRA
Twonkeys in Time out Top Ten Cabaret
Paul Vickers's world of Twonkey is a uniquely bizarro ongoing enterprise that defies easy description. Ruddy-faced, bearded and curly-haired, in t-shirt and jeans, on a stage adorned with a little yellow windmill, a ship's wheel and piles of dolls and puppets, Vickers tells weird stories and sings rocky songs about deposed alpine centaurs, Lon Chaney and the offspring of Humpty Dumpty. Click Here
July 29, 2013
Three Weeks
Three Weeks 3 Musical Comedy shows to see - all Free Fest Shows!
ThreeWeeks Co-Editor Caro Moses recommends comedy shows at the Edinburgh Fringe.Cecilia Delatori: Quick, Quick, Slough!Well, you may already have noticed that I'm a sucker for a punny show title so it's no surprise that I went for this. But, you know, there are other reasons to go for Cecilia Delatori's show too. She's a purveyor of "inventive comic songs", according to one of our very own reviewers, and "hugely talented" according to one of someone else's.Laughing Horse @ Espionage, 1-25 Aug (not 11, 20).Rachel ParrisSomeone from the Londonist described Rachel Parris as 'Tim Minchin in a Frock', which I presume is a reference to the songs she sings, not the fact that she physically resembles him. Not that it matters either way; it's a high recommendation, given that Mr Minchin is a bit famous these days. In any case, she comes offering a show that's "darkly twisted". Which makes her sound like my kind of person entirely. Hurrah.Laughing Horse @ The Counting House, 1-25 Aug (not 13).A Danish Bagpipe Comedian (pictured)Who could resist it? As someone with bagpipers in the family (it's okay, I'm not deaf just yet, they don't live in the same house as me), I'll be keen to check this out. I'm not honestly sure quite how much I like bagpipes, but there does seem to me to be something inherently funny about a comedian who totes them. Plus, according to edfringe.com, "he is the only man in the world who has done a parachute jump while playing the bagpipe – in a kilt". Which means he DESERVES YOUR ATTENTION.Laughing Horse @ Jekyll & Hyde, 1-15 Aug. Click Here
July 29, 2013
TIME OUT
Article about
Joke Thieves
Joke Thieves makes the TIME OUT TOP 10 late night shows of the fringe
In the comedy world, stealing another comic's material is a big 'no no'. Only shameless fools would nick a joke from a fellow stand-up. Except at Joke Thieves, a new conceptual night where comics perform their own material in the first half, and then swap sets with a fellow stand-up in the second and attempt to mimic (and probably take the piss out of) their new rival. Personally, we're hoping a polite, very-PC, white comedian has to swap sets with Reginald D Hunter. That we'd like to see. Click Here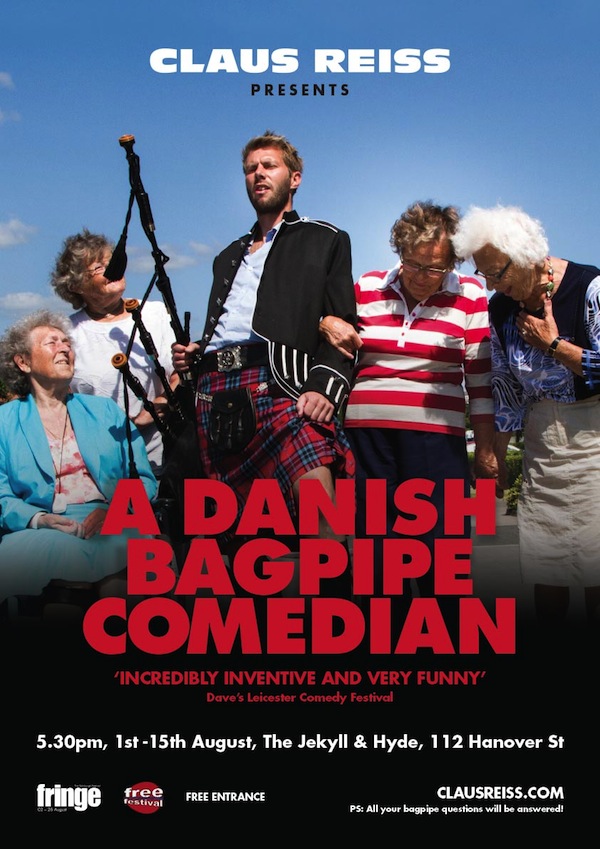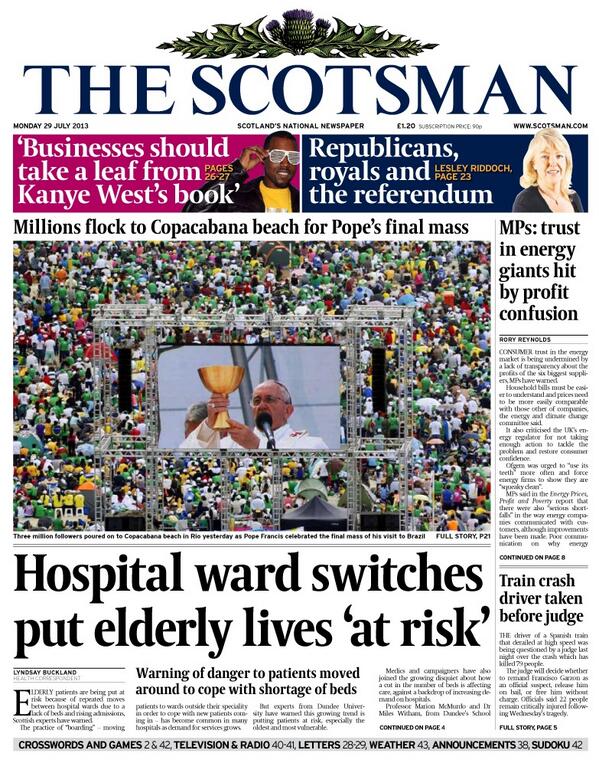 July 28, 2013
The Scotsman
Article about
Shit of the Fringe
Shit of the Fringe is a show to see!
My favourite comedy concept this year: Shit of the Fringe, a late-night showcase on the Cowgate "for all the great comedians who have got bad reviews, and deserve more!" Ah, but do they mean "deserve more bad reviews"? (In which case you should heckle "them, Late N Live style). Or do they mean "deserve better reviews"? (In which case you should be nice, maybe.) Either way, it's a great idea, although perhaps one that could only apply to comedy. Can you imagine how tragic a late night show called Shit Burlesque or Shit Improv would be? I can. I've been to both. They just didn't call them that." - The Scotsman Click Here
July 27, 2013
BBC Radio Ulster
Article about
Christian Talbot - Funeral Addict
Interview with BBC Radio Ulster
Interview with Gerry Kelly on BBC Radio Ulster about "Funeral Addict", the Edinburgh Fringe Festival and the Free Edinburgh Fringe Festival. Click Here
July 27, 2013
Informed Edinburgh
Informed Edinburgh's guide to free Venues at the Fringe
August in Edinburgh is jam packed with Festival activities, shows and lots of eating and drinking out. As the month goes on, ticket prices can start to add up and all this fun can often lead to an empty wallet. What you may not know is that there's a whole side of the Festival Fringe to be enjoyed that is completely free with the FREE Edinburgh Festival Fringe, which has been running since 2004. There's a host of venues throughout Edinburgh participating, giving an alternative to performers and audiences. We've picked out a selection of venues which will be offering all the atmosphere of the Fringe, without the cost. See more: Click Here
July 26, 2013
Time Out
Article about
Joz Norris Has Gone Missing
Joz Norris Has Gone Missing in Time Out's Top Ten Free Shows at the Fringe!
"Joz Norris Has Gone Missing" has been chosen by Time Out as one of the Top Ten Free Shows at this year's Edinburgh Fringe. Click Here
July 26, 2013
Chortle
Article about
Gusset Grippers
Chortle list Gusset Grippers in 10x10
Chortle list Gusset Grippers in 10x10 "the best medicine" Click Here
July 24, 2013
Nursing Times
Article about
Gusset Grippers
published in Nursing Times
Comment piece about continence and plugging Gusset Grippers published in Nursing Times Click Here
July 24, 2013
The Sun
Article about
Tyke Rider
Sun girl Nad gets in on act
TV Biz's Nadia Brooks ended up starring alongside 24 legend James Morrison when she worked on a feature film.Nadia was script supervisor on Hollywood film The Jazz Funeral, which also stars Dee Wallace - the mum from E.T. But when an actress playing a waitress struggled with her scene, Nadia – who has a debut show at the Edinburgh Festival next week - was told to step in.The Yorkshire lass had to serve James – who played head of CTU Bill Buchanan in the hit American series - and actor Bobby Campo, the star of Final Destination.She said: "It was a crucial scene in the story but we had to keep reshooting because James and director Jesse Rosen didn't feel the girl playing the waitress was a good fit."James called me over and made me go through the lines. He then told me I'd 'got the job'."So I had to serve up alligator cheesecake and flirt with Bobby, which wasn't difficult at all because as we say in the north he's a bit of a bobby dazzler!"This and other tales form part of Nadia's show Tyke Rider: A Yorkshire Lass's Driving Adventure from the City of Angels to Graceland via the Big Easy.It's on from10am every day from August 1 – 7 on the Top Deck of the Comedy Bus at Laughing Horse @ The Free Sisters in Edinburgh. Click Here
July 24, 2013
The Herald
Article about
Tyke Rider
Crowd pleaser?
Crowd pleaser?MEANWHILE actors over on the other side of the country are gearing up for next month's Edinburgh Fringe.Nadia Brookes, who talks about her solo trip across America in Tyke Rider, was once working on a Holywood movie where she had to stop tourists in New Orleans walking past an archway where they were filming.Her shouted requests were simply ignored so Nadia, dressed in a striped top and black jeans, pretended to be a mime artist entertaining the crowds and to walk past the arch on an imaginary tightrope with suitable wobbles and brow wipes.She felt rather pleased with herself as it stopped the tourists but when she picked up her hat afterwards all that was in it was a measly 15 cents Click Here
July 24, 2013
Punchline
Article about
The Exciting Adventure of an Uninteresting Man
Punchline's Free Fringe Recommendations!
David Burke has a real knack for storytelling, he can make any story hilarious and charming all at the same time, hence the name of his new show 'Exciting Adventures of an Uninteresting Man'. Click Here
July 23, 2013
Three Weeks
Article about
A Danish Bagpipe Comedian
3 To See ED2013: Musical comedy
A Danish Bagpipe Comedian (pictured) Who could resist it? As someone with bagpipers in the family (it's okay, I'm not deaf just yet, they don't live in the same house as me), I'll be keen to check this out. I'm not honestly sure quite how much I like bagpipes, but there does seem to me to be something inherently funny about a comedian who totes them. Plus, according to edfringe.com, "he is the only man in the world who has done a parachute jump while playing the bagpipe – in a kilt". Which means he DESERVES YOUR ATTENTION. Laughing Horse @ Jekyll & Hyde, 1-15 Aug. Click Here
July 23, 2013
australiantimes.co.uk
Article about
Australia is Fucked!
'Australia is F*cked' is 'Top Aussie act at the Fringe'
... 4. Australia is F***ed - Stamped with a hefty 18+ rating, this brand new show by Kieran Butler, does what us Aussies love most: takes shots out our own country. With the promise of stand-up and musical comedy in his fifth year at the Fringe, this will undoubtedly be a great night to meet fellow expats at comedy venue Laughing Horse @ Jekyll & Hyde. Buy your ticket, with the guarantee that you will actually get all of the jokes and even understand the accent... Click Here
July 23, 2013
StageBuddy
Review of
Woolly Mammoth Panic Attack
Review: Woolly Mammoth Panic Attack
THEATER REVIEWSYour guide to everything on Stage in New York!Review: Woolly Mammoth Panic Attack"Woolly Mammoth Panic Attack" is Rated R… for raunchy, rambunctious and ridiculously funny. Matt Nagin, poet, writer, and comedian presents his uproarious one man standup show, and it was a stellar success. This show was not made for the uptight. If you've got an open mind, a sense of humor, and can find joy in stories about sex, drugs and failed relationships then Woolly Mammoth Panic Attack is perfect for you. The show took the audience into the mind of a not so typical New York Jew who loves to smoke pot, do impressions of wild animals, and bash his exes. Matt Nagin does this by effortlessly connecting with his audience and helping them engage his twisted – and yet so genuinely real – world.Nagin started off the show by doing his own introduction and then walking out and shamelessly laughing at himself for it. I don't know about you guys, but I love anyone who isn't afraid to laugh at themselves and make fun of their past. One should never take one's self too seriously! It was a great first impression. Matt then went on to tell the wonderfully romantic story of his Los Angeles lovebird – a folk singer who graduated from Dartmouth, and also a terrible representative of California. He attempted to wine, dine and sixty-nine this girl with Vegan restaurants and Bob Dylan concerts, and all he gets in return is some lame doggy style. How can doggy style be lame you may ask? She plays on her phone the entire time "Instagramming", "Facebooking", the like – and when he asks her, "Uh…do you mind? We're kind of in the middle of sex right now…" she replies, "Oh my gosh, this is going to sound weird…but I thought we were still at the restaurant." And the West Coast actually thought they were the best coast? After hearing Matt's stories about this classy Cali queen, I can confidently say I think our side's still got it in the bag.Not only because of the New York girls, but also because only in New York would you be able to find a show like this. "Wooly Mammoth" provides Jew jokes, relationship advice, and poetry all in one quick hour-long sitting. What's a Jewish mother like? If you don't know, Matt will tell you – better yet, he'll show you. His impressions of people were on point and ranged from his Jewish mom, to Bob Dylan, his Cali queen, Puerto Rican ex-girlfriend, and more.How can you tell when you're in love? Although the majority of the population probably hasn't figured out the answer to this question, Matt has. Someone you can take to that Jewish mother of yours, but can also hold you down with a good hand job. That right there is love. Or so Matt says. How do you express your animosity towards the one girl you fell in love with who left you for a gazillionaire? Poetry of course. A beautiful and creative poem! It could be just about anything, but Matt wrote his about a woolly mammoth. The woolly mammoth being synonymous to his ex's extremely hairy…you know what."Wooly Mammoth" capped off an awesome run in NYC, and is moving onto the Edinburgh Fringe Festival. We highly recommend it, and for those who saw it, tweet @StageBuddy and let us know your take on it. Click Here
July 22, 2013
The Scotsman
Article about
TWONKEYS BLUE CADABRA
wonderfully stupid (Twonkey a must see show)
Twonkey's Blue Cadabra – Free - Laughing Horse @ Espionage, 1-25 AugustYou can do cabaret with glitter, polish and pizazz or you can be a dishevelled northerner with a shedload of home made rubbish props. Mr Twonkey is the most shambolic act you'll ever see but his shows sparkle with glorious imagination and wonderfully stupid offbeat humour. Click Here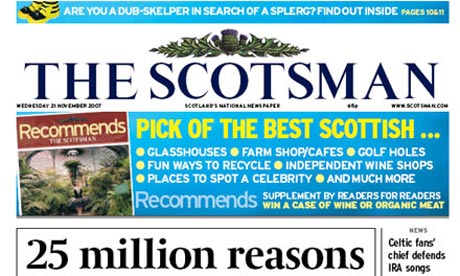 July 22, 2013
The Scotsman
Scotsman's 50 must see events - two Free Festival shows that are must sees!
Trouble With Comedy - Laughing Horse @ City Cafe, 2-26 AugustBy contrast, there must be doubts as to whether Ian Cognito will complete his first Edinburgh run for 15 years. The irascible wit has a combustible, provocative reputation that saw burly comic Ricky Grover punch him out in the Gilded Balloon last time he was at the festival. But in the right mindset, he's a tremendous, seat-of-the-pants performer.Twonkey's Blue Cadabra – Free - Laughing Horse @ Espionage, 1-25 AugustYou can do cabaret with glitter, polish and pizazz or you can be a dishevelled northerner with a shedload of home made rubbish props. Mr Twonkey is the most shambolic act you'll ever see but his shows sparkle with glorious imagination and wonderfully stupid offbeat humour Click Here
July 21, 2013
Random Pottins
Article about
Free Money Magic Show
New Tricks
I CAN see future generations of school students wrestling with the exam question: 'Had Dr.Ian Saville travelled north of the border with his magic show ten years earlier, might he not have taught Gordon Brown a few tricks and thereby saved a lot of suffering in the British economy? Discuss'. Alas, though Dr.Saville has been to Edinburgh before, his new act concerning "Money Magic" comes too late to save us from austerity, though Chancellors past and present should envy his ability to produce money from thin air with ease (they already know how to make it disappear the other way). The rest of us can appreciate the way Ian demystifies such baffling wonders as the derivation of derivatives, as well as affording us a good laugh from the 'dismal science', at a time when there is not a lot to laugh about. I've been delighting at Ian Saville's magic tricks for more years than I care to remember. The first time I think was when he helped us unwind after a conference in Mill Lane community centre, near Cricklewood ( I forget the year but a couple who met there now have two sons both uni graduates and performing themselves in different ways). I still marvel at how the "Marxist Magician" manages to deconstruct a broadsheet newspaper -well, actually tear it to shreds before my very eyes, me being seated right up close, -and then open it up again intact, while chattering away to the audience.Another trick that I found impressive involved getting someone to 'phone a number taken from the 'phonebook seemingly at random, and finding the person at the other end able to accurately describe cards and numbers concealed this end. This was performed in a back garden in Brent, and involved the co-operation of some kids - who, as every magician knows are the hardest audience to kid and first to spot a slip that would be missed by us more pliant adults.I'm sure incidentally that along with healthier politics, it's those garden parties with great food from members and entertainment from Ian Saville among others that have kept Brent Stop the War going long after the national body has declined and dwindled.Since Ian has dedicated so much of his time and skills to performing free for benefits, for union and left-wing causes, I am pleased to see he now has a daytime job as university lecturer to supplement the family income. That Doctorate by the way is genuine - in Political Theatre History. He is also a card-carring member of the Magic Circle of course, and has travelled with such well-known entertainers as Mark Steel and Julian Clary, as well as joining Peggy Seeger and Leon Rosselson in the Anticapitalist Roadshow.It was at Middlesex University's Hendon campus that I caught a preview of Ian's new act recently, the one he is taking to Edinburgh, on his first return since 2004, and judging from the full crowd and appreciation from both old friends and new, it should aye go well with the folk in Auld Reekie. "Ian's new show revolves around money, explaining the illusions of the banking system in a way that only a magician can. Money appears and disappears, transforms itself and changes its value in a tour de force of creative accounting.And, of course, money talks."http://redmagic.co.uk/content/press In this time of austerity and cuts, with inflation outstripping wages, you will be relieved to find that even if you have only a little money, you can still enjoy Ian's show. Ian will be part of the splendid free festival, where audiences pay no admission fee, but can contribute what they can afford (if they liked the show) on the way out. As well as consulting our old friend Karl, who has enjoyed a well-earned comeback in recent years, but admits he can't make much sense of contemporary capitalism, Ian turns to his financial adviser, Eric, when the latter can spare time from advising other anxious clients on the 'phone - "Buy! Buy! No, not bye-bye'.Eric, who will be accompanying Ian to Edinbugh, also has a bit of history. He last visited the city in 1968, when he travelled with "The Great De Sevia", a travelling magician and children's entertainer. Restored by Ian after some years in a suitcase, the dummy was made by Len Insull, the foremost craftsman of this art in the 1950s and 1960s. Insull was the artist who made Peter Brough's dummy "Archie Andrews", whose radio show (yes, a ventriloquist on the radio!) in the 1950s attracted an audience of 15 million, myself among them. Archie not only helped Brough make a living but assisted several other stars on their way - I remember Max Bygraves, Beryl Reid and Tony Hancock among them. Insull also made "Lord Charles", Ray Alan's dummy who was a regular on TV from the 1960s to 80s. So Eric is a brother to these illustrious characters. As well as his adult show, Ian will be performing his acclaimed children's show,Something in My Shoe, every day (Except Mondays) at noon. More information about Ian and his other shows can be found at www.redmagic.co.uk Click Here
July 20, 2013
Art in Action
Article about
Waves
Storytelling at the Art in Action Festival
Introducing Alice Mary Cooper as a storyteller. It was at the Art in Action festival Waves premiered this July 2013 prior to the Fringe. Click Here
July 18, 2013
Festmag
Article about
Joke Thieves
Festmag 'Comedy Highlights for Edinburgh 2013'
Comedy Highlights 'Take a chance'
It's a Steal!
Joke Thieves
Comics are still scrambling to prove themselves at the improvised standup night Set List, but here a new format arrives. Each guest performs a short set, then the crowd decides who is to perform whose material. Unpredictable, most likely ramshackle, but undeniably intriguing.
Click Here
July 16, 2013
What's Peen Seen
Review of
In Cahoots
In Cahoots receives 5* review from WhatsPeenSeen
If you've seen them perform around London as part of Shoot From The Hip (the improvisational comedy group), you will totally understand why I was so excited to see Luke Manning and Paul G Raymond's latest venture. The comedy duo, named In Cahoots, received a raucous reception from the sweaty audience in Highbury and Islington for their Edinburgh preview – I'm sorry audience, but you must admit, it was toasty. The fact that the extreme heat in no way detracted from my enjoyment of their sketches indicates how enjoyable and refreshing this show is.

The pair are simply a delight to watch. I would say that a large part of the delightfulness is due to the pleasure they take in performing together, occasionally cracking each other up and exchanging cheeky smirks – it made me want to jump onstage and join in. But what makes the duo really special is their ability to portray hilarious and varied characters, switching with ease and speed from sketch to sketch. I honestly can't decide what made me laugh more, Raymond's portrayal of a drugged up, yet still classy, George Bailey or Manning's delivery of the boozy, and not-so-classy, Jordan from Essex. I particularly enjoyed the scene which saw a boy breaking the truth about Santa Claus to his father; a simple, yet original idea, excellently executed.

Their strong background in improv comes across in their Scottish tour guide sketch; Raymond attempts to understand Manning's almost incomprehensibly strong Scottish accent and the result is side-splitting. The dialogue for this particular sketch is improvised every time and watching Raymond genuinely trying his best to understand his partner's speech with an amused glint in his eye is a truly hilarious experience. They demonstrate a playful onstage relationship that can only be achieved with a lot of trust and an in depth knowledge of how to push each other's buttons.

If you're lucky enough to be attending the Edinburgh Fringe this August, you would be a fool not to dedicate, at least, an hour of your month to this show. If the previews are anything to go by, you're sure to have a wonderful evening – I actually suspect that the pair will thrive, even more, in a festival environment. Click Here
July 15, 2013
The Public Reviews
Review of
In Cahoots
In Cahoots receives 5* from The Public Reviews
Walking in to the sold-out, clammy surroundings of the Hen and Chickens Theatre at 9.30pm on the hottest Sunday of the year, when most of London appeared to be busy recovering from boozy all-day barbeques, you already knew In Cahoots must be good. No one was here for the air-conditioning. The sketch comedy duo Luke Manning and Paul G. Raymond, who are also one half of the improv group Shoot From The Hip!, have worked together for five years, what they claim is "almost too long", and it shows – they seamlessly bounce off each other and improvise with the assuredness that only comes from a long friendship.

Edinburgh, you are in for a treat. With constant laughs throughout the 55 minute set, there were only one or two sketches that were a bit less successful than others, and this being a preview, presumably they will be tweaked before the August run. Some however, were standout. Raymond's 1940s British gent chatting up Manning's contemporary Essex girl had the man next to me crying into his drink, and the caveman coming out to his father as a "gatherer" caused general hysterics. One imagines the Scottish tour guide will go down even better amongst an audience north of the border, and the positive discrimination benefit sketch was ridiculously special.

Raymond and Manning are both great physical comedians, using facial expressions and movement to add to their sharp lines. Although clearly well-rehearsed, their sketches never lose an improvised feel, all helped by the fact that they clearly crack each other up. Don't stop laughing boys, that's funny too.

This reviewer is being kind, as was requested in one sketch, but because In Cahoots deserve it. If you're in Edinburgh, see them, if only so that you can claim to have been a fan before they get that prime-time BBC3 slot that is surely coming their way. Click Here
July 12, 2013
Laugh Out London
Article about
Joz Norris Has Gone Missing
Laugh Out London's Best Free Shows of the Free Fringe
My show "Joz Norris Has Gone Missing" has been featured in Laugh Out London's list of the best free shows to see at this year's Edinburgh Fringe. Click Here
July 12, 2013
LAUGH OUT LONDON
Article about
Darren Maskell: A woodlouse trapped underneath a glass
"Best free comedy shows at the Edinburgh Festival Fringe" by Laugh out London
Billed as theatre, we're not quite sure what to make of Darren's attempts to tell the story of a woodlouse he once trapped underneath a glass. He's another Weirdo, so we're figuring this will transcend the theatrical artform in some way. Possibly with gunge. Click Here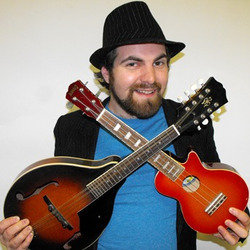 July 9, 2013
Edinburgh Reporter
Article about
A lol-along-a Luc Valvona
The Edinburgh Reporter Interviews Luc Valvona
Luc Valvona spoke about his upcoming show:"I tend to carry my ukulele with me most of the time, and I happened to have it with me when I went to see a late night free show last year at the "Free Sisters". Unbeknownst to me and the rest of the forty strong audience, it was the night off for that particular show and, twenty minutes in, nothing having happened and the whole audience still sat waiting, I thought "shame to waste such a lovely audience" So I approached the stage with my ukulele… Click Here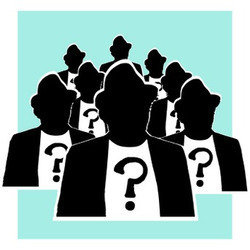 July 9, 2013
The Edinburgh Reporter
Article about
An Improvised Improv Show
The Edinburgh Reporter Interviews The Improvised Improv Show
Do you like improv? Do you like performing improv? Do you like watching improv? Would you like to perform improv? Would you like to enjoy watching improv?If the answer to one of these questions is yes, then come along to this daily gathering of improvisers.Anyone, experienced or just enthusiastic, is invited to take part in the show if they want to, and the whole event will take place in a friendly relaxed atmosphere.There are a lot of improvisers in Edinburgh this year and hopefully most will come along at some point, giving them a chance to work with new people other than the small group they're performing with every other day of the festival.The money to stage this year's show was raised on Kickstarter. Click Here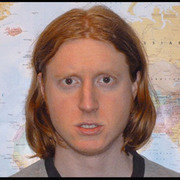 July 8, 2013
Edinburgh Reporter
Article about
Eric Hutton's Favourite Songs
The Edinburgh Reporter speaks to Eric Hutton
Eric Hutton wants to show you his favourite songs. He started doing stand-up in his home town of Australiaville at the age of 20 and has been on TV and radio and all that kind of business.But now he is tired of talking so much. Over his time at festivals he has performed odes to and renditions of his favourite obscure musical outings from around the globe. Starting as a pressure release in late night rooms and showcases after weeks of relentless gigs, this odd practice struck a chord with malnourished and fatigued drunkards throughout the afterhour's festival landscape. Now it has been streamlined, had some things welded to its sides and is ready to be viewed by other people.... Click Here
July 8, 2013
The Huffington Post (UK)
Article about
Killing MissD
Good Comedy in London?: Killing MissD
Naana Orleans-AmissahGood Comedy in London?: "Killing Ms D"If you like your stand-up comedy based on the kind of human insight that will give you a more satisfying laugh, go and see "Killing MissD." Daphna Baram has pulled together a rollicking show featuring her reckless body-sharing alter-ego MissD that will have you cringe, shocked and belly-laughing in quick succession. For a start, you'll never look at an ambulance in quite the same way, as troublesome MissD finds opportune ways of scoring big whatever the circumstance. She charts her departure from Jerusalem to London and proves that where there is life - even when it involves the defence of suicide bombers, unintelligible cultural codes or a near fatal encounter - there is comedy! You just watch the unfolding lack of comprehension when an Englishman says to an Israeli "Let's just leave it there, shall we?"Ever since I saw this Edinburg-bound show, I have had something of the self-satisfied sports scout about me. You see I've got one up on smug Fringe-visiting returnees who will rightly show off with rib-tickling anecdotes from this fifty minute show. And MissD's a vibrant on-stage raconteur full of energy and arch knowingness that you'll remember. There is one last London preview performance as part of a double bill with Rory O'Hanlon. She describes him as "piss-your-pants-funny" so get in quickly and find a seat at Arch1, Westham 1 Cranberry Lane, London E16 4BJ on Thursday 18 July. If you don't live in the capital, there's another chance to see it in Brighton on the 25th of July at the Neighbourhood Bar, from 8pm.There are also Miss D's Silver Hammer weekly Monday comedy club nights. It features, year-round, a half dozen of the best of the circuit comedians for a voluntary bucket contribution at the end. Ava Vidal, Trevor Lock, Mark Dolan and Mary Bourke, among others, have found themselves on MissD's stage. Since May and in preparation for the Edinburg Fringe Festival, this Monday night has put on The Edinburgh Previews Season. At The Regal Room, Distillers Arms, 64 Fulham Palace Road, these are double-bill previews in which the likes of Ian Smith&Tom Rosenthal, Damian Clark&Rory O'Hanlon and Luke Capasso&Gary Lynch appear. Upcoming bills include: Mon 8 July: Nik Coppin: Mixed Racist + Paco Erhard: Djerman UnchainedMon 15 July: Ben Verth: What is This Place + Doug Deanany: The Angina MonologuesMon 22 July: Sameena Zehra: Homicidal Anarchist + Sean Mclouchlin: BackboneThe club will take a summer break from the 22 July and reopen on 9 September with a special show. In the interim, and if you're part of the cultural swarm that descends on the Scottish capital, then MissD will show at the Festival from 1-15th August, 6:45pm in The Crypt at Jekyll and Hyde. https://www.facebook.com/photo.php?fbid=10151625049836488&set=oa.275332609279894&type=1&theater Click Here
July 7, 2013
Such Small Portions
Article about
The Exciting Adventure of an Uninteresting Man
Incoming: David Burke takes Beaker on tour
Our rundown of emerging acts at the Edinburgh Fringe continues with the internet's invisible comedian...Nice, nice, nice. Nobody's nice any more, are they? The modern world has no time for a cup of tea and a chat. Everyone's in a rush. It's probably the fault of self-service checkouts, if we sat down and thought about it for long enough. That's where Irish comic David Burke steps in, who in our exchange to sort out this edition of Incoming ranked as probably the most self-effacing comedian we've had. You can find him at the Edinburgh Fringe all month (apart from the 7th) doing two shows: Captain Gingerbeard at 2pm, and the Exciting Adventure of an Uninteresting Man at 5.30pm, both at the Laughing Horse. And in the mean time, he's answered some questions to give you an idea of what to nicely expect... What brought you into comedy?In the school I went to there was a talent show every year. It was a bit of a big deal, full of people thinking they were the next Damien Rice, singing depressing songs and such. So me and a friend decided to do it for a laugh and did Tenacious D's Tribute. We went up and messed about, did the song, throw picks into the crowd and I did a cartwheel of the stage, it was a bit of fun. Anyhoo, we only ended up winning the bloody thing. Got a little plaque thing and all. We started writing our own stuff after that. Songs about hating Tipperary and love between a man and a pig. We were pretty young and just messing about. That's what got me started though, being in a comedy band. I liked being up on stage and then tried stand up myself and loved it. I just kept going after that. Describe your act in five words.Cheeky, friendly Irish banter.........wait that's only 4.......... beard, there that's 5 What's been the best reaction you've had to your comedy?I guess people laughing. I'm always a little surprised by that. Or people paying to see me and not asking for their money back after. Most of the time it's just me talking crap. But people seem to like it for whatever reason. It's nice when people come up and say 'good gig' but most of the time I just run away. I remember one gig I did in The Stand in Edinburgh. I was having a pee afterwards and some big scary Glaswegian guy came up behind me as I was at the urinal, tapped me on the back and said: "You must be Jewish". Now as I stood there fearing for my life and thinking what the hell is he looking at, asking me if I'm Jewish as I'm holding my wee willy winky, he began to explain he meant to say, "you must be Amish," on account of the beard. What a hilarious misunderstanding. Thank god I was already peeing tho or I would have needed a change of pants, methinks. Who's your biggest fan?Don't think in have one. I don't really do the whole social media thing, Facebook, Twitter and the like, so if you want to stalk me you really have to go the extra mile and put the work in. Although after last year's Fringe in Edinburgh some girl who had seen my show kept e-mailing me. She even said she had seen me around town too a few times. It was kinda nice but at the same time it frecked me out. I don't know if she is my biggest fan, though; I think she just wanted to stab me in my sleep and wear my skin as a rain coat. I was flattered to say the least. What's the toughest lesson you've learnt in comedy?You can either try and do something everyone likes and compromise yourself a bit, or do something you like and is expressive for you, but be prepared to die at some gigs. To be fair, I've never really died too much though. I've always been pretty good at rolling with the punches at the bad gigs and dealing with rough crowds. You can't let those gigs discourage you. Those type of crowds that just want to see Paddy McGuinness. You know what I mean. What's the best advice you've ever been given?David O'Doherty (I know, blatant name drop) said to me when I was just starting out: "Do every gig, and everything you've done you'll look back on and think it was crap". He was right too. Gigging is the most important thing, even doing the bad ones. You learn more from a bad gig than you do from a good one. And thinking stuff you done before is crap is a good one too. That means your growing and hopefully you're getting better. It's important I think to not hold on to old material so much and always try something new. Show us something fascinating on the internet about you. (That isn't your website/Twitter/'similar'.)Well I quite like to travel, but I hate taking photos of myself. Who wants to see that? So instead I taking photos of Beaker from the Muppets as he travels his way around the world. He even has his own Bebo page. I know Bebo, how very old school. This one is weird too. I randomly came across this video. It's of some insane guy dancing. It was at Oxygen an Irish music festival, but if you look close you can see a very young David Burke in front of him with long hair and a blue hat, shorts, holding his name up. Not totally about me but I'm there just by chance. What is your guilty comedy pleasure?Oh I do like a lot of crap. Sometimes it's nice to sit on the couch with some tea and watch The Big Bang Theory. I know it's just the same joke again and again, but sometimes it's nice to numb the brain. And a bit of How I Met Your Mother. Poor Ted Mosby, will you ever find love? E4, what would I do without you? Probably have to read a book or something. Which other acts have you seen while gigging you recommend?Well I gig mostly around Edinburgh and Scotland but I would have to say one of my favourite acts is little old big James Mcintosh. I think he's really got something different. He's surreal, but not just for the sake of it. That's normally something I don't like, but it's just how he is. I've genuinely laughed at him on stage more than anyone else I've seen on the circuit. He's still young and needs more confidence but I think he's one to watch. Oh and he's a lovely nice boy too. What's the day job?I work as a bartender/waiter part time. Being working in bar since I was 18. It's grand work, flexible hours and you can have a bit of banter with people. It pays the rent. I work for about eight months a year, then take time off for Fringes and travel. It's a nice old set up I got going at the moment. THANKS DAVID. You can't visit him online as he isn't really there, but you can see his Edinburgh Fringe shows. Click Here
July 7, 2013
Policy Mic
Article about
Woolly Mammoth Panic Attack
This PolicyMic Pundit is Taking Comedy Festival Stages By Storm
In addition to writing for PolicyMic and The Humor Times, Matt Nagin is a poet, fiction writer, actor, and comedian based in New York City. He performed standup comedy as an opening act for Robert Klein, has done stints with other well-known comedians such as Todd Barry, Dan Naturman, and Jim Gaffigan and acted in a short film called Willifest, which was featured in the 2010 Williamsburg Film Festival.This July, Matt will be featured in the East to Edinburgh Comedy Festival held at 59E59 Theaters in July. The festival is a precursor to the Edinburgh Comedy Festival, which aims to "mimic as closely as possible the conditions these US companies will encounter at the Edinburgh Festival Fringe." Matt will also showcase his talent in Edinburgh in August. Click Here
July 7, 2013
NY Theatre.Com
Article about
Woolly Mammoth Panic Attack
Woolly Mammoth Panic Attack Interview
What is your job on this show?Comedian/Performer.What is your show about?A debut standup comedy hour best described as a spellbinding, irreverent odyssey into my hilariously neurotic psyche.What type of theater do you like most to work on?I enjoy comedy that pushes the envelope and plays with what is considered acceptable. A lot of comics do a joke about how the loudspeakers on the subway produce a muffled noise and then imitate it. I would never be the type of comedian to do that joke. I think the goal with any practice is to try to test the boundaries and push into new territory so that suddenly you're standing on Mars and then you're in Alpha Century and by the time you know what happened you're in a parallel universe but it's cool because the aliens pick up the gas bill and you're in a dual-star system so it's very easy to get a sun tan.Why do you do theater (as opposed to film, or TV, or something not in the entertainment field)?The great element with theatrical entertainment is the immediacy of response. It is incredible to be able to interact with the audience and get a tangible reaction to your madcap ideas. Film or TV are enjoyable but there really is no equivalent to experiencing the uniqueness of a theatrical moment in time with a crowd, which is something that can never precisely be repeated. Heraclitus said "you can never step in the same river twice." The same holds true for a stage. You can never step on the same stage twice. I need to keep this in mind when I go to Edinburgh for the Fringe Festival, for I will technically be performing at the Jekyll & Hyde 24 nights in a row--although it won't be the same stage--metaphysically speaking. I mean I'll think I'm in Edinburgh but all the while I might as well be in Bombay.Why did you want to write/direct/produce/act in/work on this show?I wanted to produce this show because I did not feel my comedy neatly fits into the scene. I perform at clubs and can do those shows and enjoy them, but what I really want to do is a bit outside of that whole system. I also have performed on a lot of alternative shows, which are great too, but I feel my comedy is the alt of the alt. The alt is not alt enough for me. The fringe festival seems to be for people who have nowhere else to go. We are the homeless of the theater. No one will have us. We are wandering, wandering, aimlessly. So we become fringe guys. And get fringe attire. And fringe out, man.Which cartoon character would you identify your show with: Bugs Bunny, Daffy Duck, Mickey Mouse, Marge Simpson?Bugs Bunny. Because he is a trickster. He always surprises you. And he always comes out on top. The image of him eating that carrot and laughing would be a fitting icon for my show. Although my show would be more about a severely-disturbed Bugs Bunny on anti-depressants and sort of thinking of slitting his wrists while watching an old episode of The Jetsons and maybe crying into his beer while considering calling the police for domestic abuse...while he was living alone.Who are your heroes?I like dark comedy, so one of my biggest heroes is Stanley Kubrick. I am obsessed with his films and have watched them far too many times to be considered entirely sane. How many times can you watch A Clockwork Orange before you snap? Kubrick is a hero because he really points out some uncomfortable truths about human nature in dramatic form. In terms of comedians I like Gilbert Gottfried, Andy Kaufman, Bill Hicks, George Carlin--to name a few. Carlin I probably rank highest because he was such a careful, methodical writer and because he was so prolific and precise. But I definitely like comics that are uncompromising and a bit zany and that really have something to say and/or say something in a unique fashion. Incidentally, I want to be one of my own heroes, and so, of late, I've started 'liking' my own facebook posts. At this rate any day now I'll actually genuinely start liking myself. Click Here
July 5, 2013
NY Post
Article about
Sex with Animals
New York Post coverage of show in East to Edinburgh Festival
"David Attenborough meets Eddie Izzard on Grindr." Click Here
July 5, 2013
The Irish News
Article about
Christian Talbot - Funeral Addict
Dead Funny
HERE'S a deep one to start with: where does your comedy come from?My comedy comes from my innate neediness, my over-sensitivity and my paranoia.Really what I'm trying to do is lay bare my character flaws and neurosis as a cheap form of therapy.Does Funeral Addict mark much of an evolution from your previous shows in terms of the material?It doesn't mark a change in my style - but doing an hour-long show is very different to doing 10, 20 or even 30-minute sets, as the audience's attention has to be kept for longer.They also expect there to be changes in pace, so you can't just do one-liner jokes for 60 minutes. You need to bring the audience on a 'journey'.So, I have longer routines and stories that I wouldn't normally do as part of my shorter sets, as well as things from my normal set.You came to stand-up quite late on in life. How steep has the learning curve been?The learning curve is quite steep and the thing about stand-up comedy is that you don't know how steep it is when you begin.Every time you reach a new milestone, there's a new one to tackle up ahead. It's only in hindsight that you look over what you've done in the past and realise how much you've improved over time.Is 'getting on the telly' still the holy grail for stand-ups?I think getting on the television can be a big boost for a comedian's profile. But, for me, it would very much depend on the nature of the show.I don't see myself as a Live at The Apollo comedian but if something more idiosyncratic came along, I'd give it thrilled to do them.In your blog about your Edinburgh festival experience last year, you made it sound absolutely exhausting. Are you actually looking forward to doing it all again in a few weeks?Absolutely. I can't wait to get over to Edinburgh again. It's a lot of hard work but it's also great fun. You get to do a huge amount of gigs when you're over there, so you learn a lot.You also learn how to put on a proper show, promote and publicise it, change things that aren't working and meet other performers to network with.You get to see a lot of other shows, not just comedy, but theatre, music and arts. There's a mine of inspiration over there.It's part working holiday, part boot camp.You've recently competed in the BBC Radio 2 Comedy Awards and the Secret Policeman's Ball. Can you tell us a bit about the cut-throat world of comedy competitions?They do have a different atmosphere to other gigs. Comedians can be very competitive, which wouldn't be my favourite thing about doing comedy.Competitions can magnify that aspect. I've taken part in a few competitions over the last few years and, really, unless you win, they can be quite draining.Often the decisions are made by the people running the competition, who have their own agendas, or they are made by the audience where the winner is the one who brought the most family and friends. Winning can raise your profile for a while but ultimately if you're a good comedian, you'll progress with or without them.Becoming a good comedian is a marathon rather than a sprint. If you're good and you keep gigging, people will notice.Who's your favourite up-and-coming comedian?My favourite up-and-coming comedian in Ireland at the moment is a guy called Conor Neville.He got to the final of So You Think You're Funny in Edinburgh last year. I'd love to have half the writing talent he does.Which do you prefer: a good gag or hilarious anecdote?Good gag. Every time.Complete this sentence: Here lies Christian Talbot......it went OK? Didn't it?■ Christian Talbot plays Arthur's in Dublin tonight and The International Bar tomorrow night. For full tour dates and information about Christian, visitTrappedinnorthernireland.com. Click Here
July 5, 2013
EROTIC REVIEW
Review of
Blues and Burlesque
CELLAR VIE WITH PETE AND VICIOUS
Vicious Delicious provides the pizzazz, and Mr Saunders brings the jazzCellarDoor works well as a live music venue, despite a tiny interior. I'm guessing it was once Aldwych's cottaging venue of choice; now it's still the size of my pocket, with plenty of mirrors on the wall to bang your head on when trying to walk into rooms that don't exist. Pete Saunders, ex-keyboardist from Dexy's Midnight Runners and show creator extraordinaire, got the evening going with a rendition of Love Cats by The Cure, and the sort of jazz piano playing that makes you think we should all be in a considerably bigger place – like Carnegie Hall, maybe.He was soon joined by singer and comedienne Vicious Delicious. The two connected with the audience instantly (even with the stragglers turning up halfway through). Delicious's outrageous cabaret and Pete's feel-good style were superlative: Pete provides an impeccable jazz piano platform upon which Miss Delicious glitters and glides. She lunges at all the boys, kisses them and makes them cry but, you know, in a fun way. Her delivery, her sense of timing, are impeccable but in no way conventional. She subverts the cabaret praxis with a surreal energy, sliding through genres like David Walliams swimming in Vaseline: now she's a chanteuse, a rapper, an enigma, or just a delightfully bizarre talent, zooming into the audience with a scary sort of madcap energy.We loved it. She had us in the palm of her hand from the beginning, with an original song titled Fluff You Up, and I can't think of a palm I'd rather sit in and be fluffed by than Miss Delicious's. I imagine it's soft and delicate, with a hint of Delicious perspiration. And all that stamina! Her rendition of Sick and Tired was a defiant, enraged howl; the sound of a lady worth knowing. God, I love a woman without shame!While Ms Vicious brought the pizzazz, Mr Saunders provided the jazz, with the kind of effortless improvisation that we all know isn't remotely effortless. His almost edible, gravelly, rendition of Let The Good Times Roll was a joy. The duo perform at CellarDoor on the first Wednesday of every month, with the exception of August, when they will be in Edinburgh, performing their show Blues & Burlesque at the Blind Poet (venue 271). CellarDoor is located at Zero Aldwych in London, WC2E 7DN. Entrance is free, with live acts from 9pm. For further enquiries, call 020 7240 8848. Click Here
July 4, 2013
Article about
Princess Guide to Dating
Princess Guide to Dating - top pick of Free Fringe
Three publications have chosen Aaron Twitchen's Princess Guide to Dating as a top pick of the free fringe.Fringe Review rated it in the top 3 for its venue, SGFringe chose it as one of its picks of the fringe, whilst FridayAd placed it as a top 5 free shows to see in Brighton.For more information about the show visit www.iloveaaron.co.uk/pg2d Click Here
July 3, 2013
Stagebuddy.com
Article about
Woolly Mammoth Panic Attack
Matt Nagin's Panic Attack
Comedian Matt Nagin is a versatile performer, writer, and poet whose new show, "Wooly Mammoth Panic Attack", begins next week. We spoke to Nagin on the phone about comedy, writing, and grandmas:What awful thing happened to you as a child that led you into comedy?I got rejected from the Dungeons and Dragons club. They said I was a little weird for them. They preferred one eyed dwarfs and wizards with lisps. I was a isolated kid.What have you gotten flack for from audiences?I did an abortion joke, a grandma heckled me. She was about 80 years old. It's difficult to get back at a grandma since the audience is likely to take her side. I also had someone throw a bowl of peanuts at me. They got offended by a dead puppy joke. That was hardly the most offensive topic I discussed.There's been an ongoing dialogue between comedians and society at large about jokes that are seen as encouraging sexual assault. Do you believe that jokes about rape lead to actual rape? Should comedians draw the line somewhere about subject matter?While you have to be sensitive to people's feelings, it's a comedy show, and people should try and have a sense of humor. That said, with certain topics your joke has to be a lot funnier. A joke about rape has to be funnier, otherwise you can alienate the entire audience.How does twitter allow you to hone your material, or are favorites, retweets and @ responses useless in terms of creating comedy? Is it just a promotional tool, or do you see it as a virtual open mic?Sometimes I put ideas on Twitter, definitely a promotional tool. It's a great way to reach out to people and work on your material.You're a comedian, but it seems like you're a writer first and foremost. Do you prefer being on a stage delivering your material, or is crafting and writing more satisfying?There are parts of the show where I'll actually read …I have a part where I read all the crazy ingredients included in various food products at the supermarket. I also read a pseudo poem about a wooly mammoth. Writing is my first love, but that's changing. I've been performing for 7 years so it's becoming both. I'm doing much more standup now.Your poem "Flirt" captured the awkward bar interaction so perfectly that it almost made me sad. How has being in front of audiences all the time changed the way you meet people?Definitely changed quite a bit. Doing standup every night you meet all kinds of whacky characters. The benefit is you do better with women as a result of standup. For example you can make a joke out of various awkward moments. Women generally like a sense of humor. Also, I was more introverted in the past, now I've become more extroverted since crazier parts of my personality are more revealed. Standup gives you a certain confidence, cause you're not hiding anything, you're more open and free.What's "Woolly Mammoth" about?I'm trying to combine an honest look at my own personal experiences and use them as a vehicle for social commentary. It's a high energy act that strives to be original.Make sure to see Nagin's show at 59E59 Theaters. He's playing 4 dates between July 9th and the 24th before taking his act to the Edinburgh Fringe Festival in August. Click Here
June 28, 2013
The Star
Article about
Tyke Rider
From The Star to the star of the show
She has travelled a long way since leaving Sheffield – thousands of miles in fact.Last year Nadia Brooks – a former news reporter at The Star, tea lover and fan of all things 1980s – took off on a solo 6,000-mile road trip around the United States of America.Armed with Yorkshire Tea, a car she believed had a personality all of its own and an old-fashioned spiral-bound road atlas, she made her way across the Land of Dreams.Along her journey, she ventured through labyrinths and encountered possible serial killers, Terminator-esque cops, folks who sent men to the moon and those who witnessed Roswell's aliens.Nadia accidentally performed at the SXSW Music Festival, unexpectedly worked on a Hollywood film set in New Orleans with ET's Dee Wallace, met the Wizard of Oz and discovered Elvis is alive and well.Now these tales and others will feature in Nadia's debut show at the Edinbrgh Festival this summer – Tyke Rider: A Yorkshire Lass's Driving Adventure from the City of Angels to Graceland via the Big Easy.The hour-long show is on daily, from Thursday to Wednesday, August 1 to 7, at 10am.It takes place on the top deck of the bus parked in the courtyard of The Laughing Horse at The Free Sisters, Cowgate, Edinburgh. Click Here
June 24, 2013
Article about
Cougar Pammy and her puppies (toyboys)
Pam Ford and special guests
each night will feature Larry Dean are star in the making! plus either Rob Deb 'the geek' or Manos 'the greek' or Leo Kearse 'the giant' or Lenny Peters 'the dad' or Sean Mcloughlin 'the crazy one'and of course the tall feisty sexy australian Pam Ford giving cougar training to her puppies
June 19, 2013
Fringe Review
Article about
Joz Norris Has Gone Missing
"Joz Norris Has Gone Missing" is Fringe Review's Pick of the Fringe for the Blind Poet Venue!
Fringe Review have been assembling their top picks and recommendations for the Laughing Horse Free Festival, and have included my show, "Joz Norris Has Gone Missing," as their top pick for the Blind Poet Venue. Click Here
June 11, 2013
chortle.co.uk
Article about
Joke Thieves
Joke Thieves (reviewed by Steve Bennett)
Television has long distrusted a straightforward stand-up routine, devising formats such as panel shows to mix up the formula. Increasingly, live shows are also finding new ways to mash up the genre, with ideas such as Paul Provenza's improvised Set List... and now this.Although provocatively titled, Joke Thieves is a simple premise. In the first half, comedians perform a few minutes of their act. In the second, each has to swap routines with a colleague on the bill as best they can. And, as compere and creator Will Mars explains in his preamble, the inherently competitive nature of comics means they'll inevitably try to wring more laughs out of the material than the act they are mimicking.Tonight was the very first presentation of the idea, in front of what turned out to be a modest audience, ahead of an Edinburgh Fringe run in August. But it proved an undoubted hit, with the participants mocking each other, creating brilliant in-jokes that would never survive beyond these four walls, or simply flailing amusingly in the face of a tough challenge.And just to keep things even more spontaneous, the comedians do not know who they will have to shadow until the start of the gig, when a punter is invited to pair them up. The result is an intriguing, and often hysterical, scramble of styles and material that suggests Joke Thieves is an idea with legs.First up, was the oddball Paul F Taylor, with a mix of cheesy jokes that really tickle; and cheesy jokes that fail – yet all sold with the same powerful but ramshackle delivery that amplified both the laughs and the groans. His surreal material about queueing ants, the problems of being a bird and deconstruction of stand-up would later have to form the basis of a set from fellow eccentric Pat Burtscher... but more on that later.Then came Jessica Fostekew, thoroughly mining her talents in the accent department with an accurate mix of Lancastrian, received pronunciation, and even bovine. She stumbled a little at the start with a gig-specific gag about Crouch End, when her knowing looks to audience couldn't overcome the clunkiness, but more than redeemed herself with an entertaining account of a stay at a odd Blackpool B&B that would have done Royston Vasey proud.After the interval, her set was recreated by Jason Kavan, despite the very obvious handicap of being terrible at accents. His Lancastrian waitress became Indian... causing him to mock-explode at the audience, berating their apparent racism at not accepting someone from the North West could be Indian too. The joke here was definitely in his failing to match up to Fostekew's performance, but he did so entertainingly and with good grace, happy to grab the laughs at his expense.Back in the first half, the aloof medical man George Ryegold described discovering a high-altitude human turd while on a Himalayan trek with well-pitched, haughty contempt. But then he dropped his own toxic gift for a later adventurer, with a routine about gastro-porn in which he acted out in disturbing, extended detail, Nigella Lawson's 'beautiful, plump, oiled-up backside' getting jiggy with Charles Saatchi.The routine, funny enough on its own, was given extra frisson knowing that Milo McCabe would have to act that out later... And a formidable job he did too, although backing away from getting quite as gratuitous as his forebear, McCabe proved a faithful and amusing mimic of Ryegold's mannerisms.The next original set was from Kavan, though it was patchy at best – a mix of unadventurous observations about this area being posh compared to where he lives, a weak, long-winded gag about Heather McCartney having only one leg (topical!) and a complaint about the expense of funerals culminating in some more convoluted wordplay. His biggest laughs came from self-deprecating lines about how much he was struggling.But it gave Fostekew's subsequent take on his set something of an added bite, as – with crudely drawn stubble adorning her face – she reduced his hackier stand-up devices to the formulae they are. The tone flirted with cruelty, but just about stayed in the affectionate piss-taking territory that the night engenders.Back with the initial sets, a huge Pat Burtscher-shaped spanner was about to be thrown in to the works. For, pre-empting the second half, the quirky Canadian used his first appearance on the show to reproduce, pretty faithfully, Taylor's opening routine. Clearly the repetition was funny enough, but the audience were well aware that this would mean that when Taylor returned in the second, he'd have to impersonate Burtscher impersonating him. Was it a genuine mistake or mischief-making? The answer was the latter. What he perhaps hadn't quite factored in was that it meant his own appearance in the second half would require a fourth performance of the self-same set – but a perfectly-timed audience cough gave him a brilliant opportunity for a callback, and a get-out for the hole of his own making.The final set in the first half came from McCabe, billed as 'A Glaswegian Trainspotter Who Thinks She's Adele', complete with tartan Tam o'Shanter and a Scottish accent you might think had gone out with Russ Abbot. It's a big, stupid, and knowingly unconvincing character, a far cry from the subtleties of Dr Ryegold. Still The Good Doctor elicited a fantastic laugh from adopting a Jamaican, then Irish, accent for his take on the creation – achieving the near-impossible task of making it all the more preposterous.Academically, Joke Thieves raises interesting questions about what makes a great comic performance: it it the material, or the person delivering it? Then it adds a huge extra ingredient – the specific situation.With jokes at the expense of each others' routines, this format might have been just for insiders. Instead, the audience are included in the clique, allowing them to appreciate the unique, spontaneous mockery between comedians. This could well be the birth of a new cult comedy night. Click Here
May 20, 2013
Free Festival News
The Free Festival 2013 programme is now online - for our 10th Anniversary Year
The Free Festival programme for 2013 is now live - featuring a huge array of shows - over 350 in fact! Check out all of the details on http://www.freefestival.co.uk, and enjoy another fabulous free Edinburgh Fringe, every day August 1st to 25th! Click Here
May 18, 2013
Talent GB
Article about
Laughing Horse FREE Pick of the Fringe
Laughing Horse strikes Comedy Gold - Pick of the Fringe in Brighton
THE BRIGHTON Fringe is in full swing offering a kaleidoscopic mix of comedy, drama, music and visual art.From May 4 until June 2, 723 events are taking centre stage at one of the biggest arts festivals in Europe.As usual, Laughing Horse Comedy provides a consistently brilliant bill of sharp comics.The Quadrant on Saturday hosted a classic evening of superb stand-up comedy which could grace any theatre.People don't normally come just to see the compere. But this one, Lewis Bryan, was worth the visit alone.A rapid fire audience worker, his act would have made Brighton's most famous comedy son Max Miller stroll up the hill and pay his entrance fee.Headlining was award winning Amadeus Martin who held his audience in the palm of his hands with a surrealistic line in gags which would have made Spike Milligan proud – and take his seat no doubt next to Max.Other worthies included Mel Crosby, blue but bright, smart and with immaculate comic timing.Anthony Miller, described as being "dry to the point of arid", went down well with his slow, deadpan delivery. Click Here
May 13, 2013
Broadway Baby
Review of
Eccentronic presents: Neurovision
An acid trip in the middle of the afternoon
Audience's experienced what an acid trip in the middle of the afternoon must feel like with Croydon's number one electro-comedy duo Eccentronic.Raven haired Miss Hypnotique and John Callaghan delighted audience's with their mad-cap plan to settle world peace through the European institution and annual British burden that is Eurovision.Callaghan's approach of setting up the stage before starting the musical assault was almost Brechtian in approach– and whilst the illusion of theatre was never shattered at 2pm in the afternoon, the wonderfully absurd pair were so likeable that it became a lovely introduction to an utterly nuts show.Kudos to Hypnotique and Callaghan for delivering the show they did – it was their first performance of their Brighton run, and the space wasn't ideal for a show that required more room to accomodate props such as European flags, a twister board and a banner sporting the longest Welsh tow (Llanfairpwllgwyngyll if you must know!)The music was a mash-up of Nine Inch Nails, Abba and a haunting rendition of Gina G's ' Ooh Aah...Just a Little Bit'. Cleverly written lyrics demanding Midland pride were a highlight.Audience became judge and Callaghan donned a wig reminiscent of The Queen to portray Terry Wogan – hauntingly similar. Miss Hypnotique expertly played the thermin (a 1920's electronic instrument played without touch) which added to the whole LSD trip effect of the show.In retrospect Neurovision flipped fringe theatre as I understood it 180 degrees – and whilst I was left feeling mentally exhausted for the rest of the afternoon, you are unlikely to find a more insane and entertaining show this side of south Croydon. Click Here
May 11, 2013
The Argus
Article about
Eccentronic presents: Neurovision
A deliciously weird cabaret show
I have just seen Eccentronic Presents: Neurovision, a deliciously weird cabaret show at Laughing Horse @ The Quadrant. Eccentronic are a lively and unlikely duo striving to win the Eurovision song contest and dominate Europe. They attempt to find the killer song for the United Kingdom to finally overcome to nil point curse.Neurovision was as eccentric as their name suggests and I thoroughly enjoyed the show. Eccentronic are seasoned Free Fringe performers and fully embraced the format, allowing the audience to enter during their set up and using that opportunity to chat and introduce the show and performers.Eccentronic skillfully brought us into their madness through audience participation which started simply with handing out flags, endowing us with European countries. Their musical talent was demonstrated through their oddball collection of songs and playing the hypnotic theremin. Highlights included a song about the Croydon Tramline and a madcap recap of the show. Neurovision also managed to make several interesting political references to our island position on the EU, creating a subtle depth to the show.Even seen through the lens of my first Fringe hangover (I blame the Spiegeltent) Neurovision was extremely enjoyable. I would recommend it as an ideal beginning to a wacky Fringe afternoon. Click Here
May 11, 2013
Brighton Source
Article about
Why Don't We Kill Ourselves?
Why Don't We Kill Ourselves?
Patrick Lappin's work in progress show is an hilarious insight into his depressing life. Okay, that doesn't sound like the kind of thing you go to a comedy show to laugh at, but Patrick executes it in a way that brings out the funnier side to life events such as a harsh breakup, the loss of a relative, being an Aston Villa fan and running away from a wedding crying whilst shouting about women staying at home to wash their tits. The bits that he warns us aren't supposed to be funny genuinely aren't, but a couple of great callbacks, musical interludes from artists that killed themselves, the greatest/worst hype-man in the world and some relatively heavy drinking put the smiles back on everybody's faces. Pretty rough in parts, much like Aston Villa's season, but definitely a show to keep an eye out for if you're heading to the Edinburgh Fringe this summer. Click Here
May 8, 2013
one4review
Article about
Offal Comedienne
Wicked Wenches – Stand Comedy Club Edinburgh – 7 May 2013
"...Following the first interval and more of Susan's new found psychic powers filling the short slot was up and coming Natasha Yapp, and in keeping with what is the norm on the night certainly delivered a thoroughly entertaining set. Ms Yapp is of a very complicated heritage and a lot of her material was based on and around this, all of which to me anyway was extremely well written and impeccably delivered. I saw her a few months ago on beginners night Red Raw and since then she has matured as a performer so much. Confident without being cocky she took charge from the off and certainly was well received by all. Definitely look forward to seeing her progress to a longer set." Click Here
May 8, 2013
Chortle
Article about
In Cahoots
In Cahoots sketch is Featured Video on Chortle
Click Here
May 4, 2013
PRESS RELEASE
Article about
Woolly Mammoth Panic Attack
East to Edinburgh Welcomes Matt Nagin
Edinburgh Fringe Festival Welcomes Matt Nagin(New York, N.Y. – May 4, 2013) NYC club favorite Matt Nagin To Appear At The Edinburgh Fringe Comedy Festival.The Edinburgh Fringe Festival in association with Laughing Horse is proud to present the comedy stylings of Matt Nagin, at 22:15 (1 h) at The Jekyll & Hyde (August 1-14, 16-25). This energetic, irreverent standup hour, Woolly Mammoth Panic Attack, will be held in The Aerie Room, after a show at the People's Improv Theater, as well as four shows at 59E59 Theaters in NYC through East to Edinburgh (www.59e59.org). Join Matt as he discusses everything from sex, drugs, and death to his contempt for emoticons. Plus, don't miss his unique take on living with Crohn's Disease. With his energetic delivery, conversational tone, and incisive satire of popular culture, Matt takes his audience on a remarkable journey through his hilariously neurotic psyche.Matt was an opening act for Robert Klein, and has shared the stage with innumerable noteworthy acts such as Todd Barry, Dan Naturman, and Jim Gaffigan. Matt is also a writer with an extensive publication history (he currently writes for The Humor Times and Policy Mic), an actor who was featured in The Williamsburg Film Festival, and, as a standup, has appeared on SITV and been heard on Big810AM.Matt Nagin now regularly appears at Broadway Comedy Club, Eastville Comedy Club, and New York Comedy Club. He produces monthly showcases under the name Matt Nagin Presents at Broadway Comedy Club and Eastville Comedy Club. Other places where Matt's written works have appeared include Grain Magazine, The Antigonish Review, Spillway, and The New York Post. Matt is available for an interview. Please contact Julia Goldman, at JnoelG@aol.com, to set up a time that is convenient. Please visit Matt's website, MattNagin.Com, for more information, including testimonials, video clips, publication links, calendar, and contact info.
April 10, 2013
Theatre Press
Article about
The Musical Misfit
Soemwhere between Flight of the Conchords and Tim Minchin
A review for the previous show: New Show touring UK 2013 - Robert Taylor is 'The Musical Misfit' Click Here
March 21, 2013
Comedy Chords
Article about
Atella the Pun
Darren Walsh at Brighton Fringe 2013
At last year's Edinburgh Fringe Darren pulled off the punning feat he called the 1000 pun salute, tweeting jokes based on the names all all comedians (with a Twitter account) that were performing at the Edinburgh Fringe. For that reason alone we can't recommend enough that you follow this chap over on Twitter. Click Here
February 19, 2013
Adelaide Advertiser
Review of
6 Hats And An Irishman
The Man with A Hat (old name)
COMEDY, card tricks and shadow puppetry make this show more about good solid entertainment than a man with a hat. Using hats only as a connecting theme, Irish performer turned Australian citizen Paddy shows off his impressive magic skills and musical talents, making him a different man under each hat.Paddy also loves to interact with his audience - getting a few to be part of his hat-making competition with funny results - and his tribute to Australia is a lovely touch.His quick wit makes him a likeable character. It's a short 50 minute set but he squeezes in lots of laughs, so it's worth a see.And like all good Irishmen, he manages to incorporate a potato in his
February 17, 2013
What's Peen Seen
Article about
In Cahoots
Blackshaw New Writing Night
In Cahoots By Luke Manning and Paul G Raymond
A fantastic way to end the evening, with some no-fuss sketch comedy from a pair of actors who work incredibly well together. A really nice contrast between the two, bringing comedy of playing opposing genders, as well as facial expressions being manipulated to hilarious outcomes. From an unsuspecting Essex girl manipulating men, to a fortune-teller and a very gullible teenager. A belly-aching, care-free performance which is exactly what sketch comedy needs. Click Here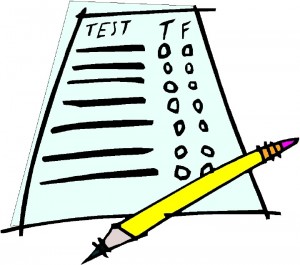 August 31, 2012
Three Weeks
Review of
The Very Scariesome Lollipop Lady
Review The Very Scariesome Lollipop LAdy
Simple, to the point and very well done, this story is told with enthusiasm, conviction, and great timing. A group of kids meet a new lollipop lady, and she terrifies them, so they look for a way to deal with her. Like the presentation, it's simple, but engaging. There are two messages: to be open minded towards people and to pay attention to road safety. Of course, it all really comes down to the wonderful performance of Fringe newcomer Martha McBrier; warm, funny and endlessly kind to the children in the audience, she was a wonderful presence on stage and even gave out traffic light coloured lollipops. There was nothing particularly original about this show, but there didn't need to be. Click Here
August 31, 2012
Three Weeks
Review of
The Very Scariesome Lollipop Lady
Review The Very Scariesome Lollipop LAdy
Simple, to the point and very well done, this story is told with enthusiasm, conviction, and great timing. A group of kids meet a new lollipop lady, and she terrifies them, so they look for a way to deal with her. Like the presentation, it's simple, but engaging. There are two messages: to be open minded towards people and to pay attention to road safety. Of course, it all really comes down to the wonderful performance of Fringe newcomer Martha McBrier; warm, funny and endlessly kind to the children in the audience, she was a wonderful presence on stage and even gave out traffic light coloured lollipops. There was nothing particularly original about this show, but there didn't need to be. Click Here
August 20, 2012
The Scotsman
Review of
Eric Hutton's Favourite Songs
Comedy review : Eric Hutton: Every Other Show at the Fringe Sucks
Comedy review: Eric Hutton: Every Other Show at the Fringe Sucks - Free, Laughing Horse @ The Counting House (Venue 170), EdinburghBy KATE COPSTICKPublished on 20/08/2012 13:19This guy comes highly recommended by Sam Simmons, setting the quality bar at Olympian levels, but the ginger Aussie makes it and barely breaks sweat.Eric Hutton: Every Other Show at the Fringe Sucks - FreeLaughing horse @ the Counting House 
(Venue 170)Star rating: * * * *At the top of the hour we get a support act, Tim Renkow, who hits us with a chunk of Shakespeare before getting into some seriously snappy, creative stuff about supervillains, reincarnation and ET. You will never hear the words "ET phone home" again without sniggering. His parting shot about "following" him is a brilliant kicker to an impressive set.From the moment he walks along "sucking up some sky", there are parts of Eric Hutton's show that are just magic. Strange Aussie magic. But magic nevertheless. Who knew how funny huskies were? Not me. Who would believe that just by describing the curry offered as option three for school dinners a comic would have his audience snorting beer through their noses?Hutton still has a day job. Surely not for long. However currently, his "other life" as a teacher's assistant is fuel for an awful lot of fun. From religious discrimination in the dining hall to being touched up by little girls in the classroom, Hutton's comedy is great, grounded stuff.Out of the classroom he really gets into gear, confessing to a deal of prejudice against Australians (you can't help but agree with him) and squeezing fresh laughs out of rich kids, Britain's rubbish parks and male rape. A tricky subject, beautifully disposed of.Hutton takes the same cleverly hilarious approach to bestiality. The entire room goes into that odd movement where you are laughing helplessly but trying to nod in agreement at the same time. I genuinely believe he has made some seriously worthwhile legal points here, an unusual plus from a bloke doing jokes about Alsatians and warm chocolate.Coasting home in the set, we learn about Hutton's love of "a good docco" and liking for a tragic biopic. Thank you so much for the recommendation, Mr Simmons. I now pass it on to you all. Click Here
August 20, 2012
Broadway Baby
Review of
Gay Straight Alliance
In It Together
Nominally, a Gay Straight Alliance is a pupil-based group found in some (though sadly too few) US schools, which meets regularly to discuss issues around homosexuality in order to increase understanding and reduce bigotry, ignorance and bullying. However, the Gay Straight Alliance which has recently set up home in the basement of the Phoenix Bar on Broughton Street has added a slight twist to this; yes, it's about dispelling stereotypes, but it also has the aim of 'proving that gays and straights are equally awful'. It does this through some excellent humour.This particular Alliance consists of three stand-up comedians from New York — a lesbian, a straight woman and a gay man — who have come to spread the word in the old country. Though, as Veronica Elizabeth notes, she was initially wary of Scotland given her 'Angela's Ashes' experience of visiting the old ancestral home in Ireland. Taking in subjects ranging from travel (especially Japan) to the stresses of online dating sites, Veronica is a relaxed and amusing raconteur, who certainly opened many of the audience's minds to an often overlooked aspect of the Diary of Anne Frank.Passing the microphone on to Alyssa Wolff proved an interesting change of tone, as her onstage persona is deadpan, verging on intimidatory. Introducing herself as Britney Spears, she is the "token straight" of the three, who nevertheless loves the gays, not least because she believes they make far better boyfriends without all that vagina-fixation. Alyssa is not afraid of the long pause and is she's experienced enough to make the most of its comedic possibilities. She's not afraid to give her audience time to laugh during her tales of daytime TV, the silly things all men say and her disregard for childhood imagination.Last, but by no means least, is Kenny Neal, a self-declared SF/horror geek who can't help but wonder where all the gay ghosts and zombies are. Although describing himself as having been an effeminate boy, he now believes he can now 'pass for straight' (especially if he's wearing the right cap), although he accepts that sooner or later he'll out himself, usually by how he reacts to any woman. Still, at some of the audience discovered, he likes to think he's as respectful to the feelings of straight men as they are to women's! Although there's occasionally a sense of cultural references losing some power in their translation into British English, this particular Gay Straight Alliance are a well-matched trio who create a show that has a strong sense of unity despite their individual styles and points of view. Although it may not present itself as being the most radical of comedies on the Fringe this year, it's arguable that — by avoiding being either too earnest or politically correct, and instead focusing on people just being people — it ends up being precisely that. Click Here
August 17, 2012
Broadway Baby
Review of
Ian Fox - Shutter Monkey
Shutter Monkey
Part of the Laughing Horse Free Festival, comedian and photographer Ian Fox delivers an hour of very amusing entertainment through a selection of photos. The show was charming, witty and most importantly, really quite original. Fox talked the audience through a series of photos that were projected around the room on plasma screens. The photos were of a wide range of things, from spotting his friend dressed as Where's Wally in a crowd to pictures taken from underneath animal's noses or people caught on the toilet.Fox started off the show by telling the audience all the perfect ingredients to make the best photograph and then guided us step by step through some of his funniest photos: photos of people snapped unaware; photos taken from the top of people's heads; or his speciality, photos of absolute nutters. I loved this aspect of the show; Fox guided us through a tour of cities around the UK with photographs of various sights and bizarre street performers.Another quaint aspect of the show was what makes a photo typically British: an old couple sitting on a dreary beach eating ice creams and wearing socks and sandals. Fox's delivery style is engaging and witty and makes him an extremely likeable narrator. His timing is perfect and doesn't seem forced or over-rehearsed, though he still delivers witty one-liners. He makes the audience feel comfortable and builds up a great rapport with them throughout the show.This show is delightful and definitely worth a watch, especially for free. It's a great experience and Fox has tapped into a really brilliant, worthwhile idea. Click Here
August 17, 2012
WhatsOnStage.com
Chuckle Sandwich presents: Gags, Songs & Bombs!
The free fringe can occasionally surprise you with a show you would pay good money for, Gags, Songs and Bombs is definitely that!Described as a "chuckle sandwich" it features three fast rising stand-ups performing a 20 minute set each. Gary Tro kicks off proceedings, a likeable stand up, he does a great line in anecdotal, narrative based stand up including a strong routine based around a doomed game of paintball.The lovely Kate Lucas, has a fantastic set of comedy songs. Her songs are blackly hysterical and lyrically brilliant as well as incredibly hummable, especially one named "Betty" describing her love affair with a geriatric.Tez Ilyas is already making a name for himself and was a runner up in the BBC's new act of the year competition, for good reason. The Hilarious Tez had the crowd in stitches with his rock paper scissors routine, he controls the crowd with the confidence of a well-practiced comic.Do yourself a favour, see this show so you can tell friends in ten years you saw these guys before they were big.- Alex Oates Click Here
August 16, 2012
Broadway Baby
Review of
The Very Scariesome Lollipop Lady
Scarily Good Story
Comedian Martha McBrier's first foray into children's theatre betrays none of the fledgling anxiety that is often found in even the most experienced children's performers. If one should commend McBrier for anything, it would be for the effortlessness of her weird and serious story – earnest without the lurid smiles and nervous bounding around that commonly reveals the fretting adults trying to hide from the scrutiny of our children.Considering that the story's impetus is a moral one about crossing the road safely, it is a miracle that McBrier is not patronising. Against all odds, the show isn't tedious – in fact, thanks to the wit with which McBrier sustains the mystery of the lollipop lady the audience was engrossed. The lollipop lady frightens the children protagonists, for a long time we cannot see her face on the illustrated picture projections that accompany the story. The effect is frightening even for adults. McBrier treats her characters' fear with seriousness and as wide-eyed children and endeared adults we cannot but be serious too.Yet McBrier's seriousness is not the boring seriousness of a person with a message but the committed seriousness of a storyteller talking importantly about a really very scariesome lollipop lady. In this respect – with its deployment of absurd flights of imagination – the show resembles a Roald Dahl novel or a Dr Seuss poem. At one point, for example, McBrier digresses to describe a dream in which a character is chased by a lollipop stick that he stole. The dream is told using an animation, which is projected onto the same screens that earlier showed McBrier's drawings. Admittedly the animation is overly simplistic and its relevance is unclear but taken for what it is (a puzzling digression) it is actually quite a nice surprise.McBrier mixes her media well, taking the venue in stride and doing the best she can to use audience interaction to make the space exciting. Indeed there is more charm in her intelligent method of addressing the young audience than in the aesthetics of what she is doing. She knows that children like to be made afraid and is aware of what aspects of adulthood frighten them. Nevertheless she emphasises from the beginning that she wants everyone to be happy and to do whatever they want during the show. Consequently, when babies start to cry their noise feels less like a problem and more like proof that she has succeeded in putting everyone at ease. This is the atmosphere that encourages the children in the audience to be brave when they are called on to act, and act they do – confidently and well, inspired as they are by the simple, unabashed Martha McBrier. Click Here
August 16, 2012
Broadway Baby
Review of
The Very Scariesome Lollipop Lady
Scarily Good Story
Comedian Martha McBrier's first foray into children's theatre betrays none of the fledgling anxiety that is often found in even the most experienced children's performers. If one should commend McBrier for anything, it would be for the effortlessness of her weird and serious story – earnest without the lurid smiles and nervous bounding around that commonly reveals the fretting adults trying to hide from the scrutiny of our children.Considering that the story's impetus is a moral one about crossing the road safely, it is a miracle that McBrier is not patronising. Against all odds, the show isn't tedious – in fact, thanks to the wit with which McBrier sustains the mystery of the lollipop lady the audience was engrossed. The lollipop lady frightens the children protagonists, for a long time we cannot see her face on the illustrated picture projections that accompany the story. The effect is frightening even for adults. McBrier treats her characters' fear with seriousness and as wide-eyed children and endeared adults we cannot but be serious too.Yet McBrier's seriousness is not the boring seriousness of a person with a message but the committed seriousness of a storyteller talking importantly about a really very scariesome lollipop lady. In this respect – with its deployment of absurd flights of imagination – the show resembles a Roald Dahl novel or a Dr Seuss poem. At one point, for example, McBrier digresses to describe a dream in which a character is chased by a lollipop stick that he stole. The dream is told using an animation, which is projected onto the same screens that earlier showed McBrier's drawings. Admittedly the animation is overly simplistic and its relevance is unclear but taken for what it is (a puzzling digression) it is actually quite a nice surprise.McBrier mixes her media well, taking the venue in stride and doing the best she can to use audience interaction to make the space exciting. Indeed there is more charm in her intelligent method of addressing the young audience than in the aesthetics of what she is doing. She knows that children like to be made afraid and is aware of what aspects of adulthood frighten them. Nevertheless she emphasises from the beginning that she wants everyone to be happy and to do whatever they want during the show. Consequently, when babies start to cry their noise feels less like a problem and more like proof that she has succeeded in putting everyone at ease. This is the atmosphere that encourages the children in the audience to be brave when they are called on to act, and act they do – confidently and well, inspired as they are by the simple, unabashed Martha McBrier. Reviewer:Aliya RamAliya Ram has written 10 reviews for Broadway Baby since joining the team in 2012. Click Here
August 10, 2012
one4review
Review of
Blues and Burlesque
Blues and Burlesque
Blues & Burlesque – B 'n' B GroupPosted on 10/08/2012 by one4review4 Stars**** This mid afternoon slot is definitely not the normal time slot for a show of this genre, one would normally expect this to be around midnight, but then this is Edinburgh when anything goes.Welcoming the healthy crowd to the Counting House club was the delightful Vicious Delicious while keyboard wizard Pete Saunders played up a storm keeping everyone well entertained.The pacey show was a selection of Blues, burlesque, cabaret and dance as the afore mentioned pair were joined by 'Bouncy' Hunter to complete the lineup.All performers are obviously quality seasoned pros and the are totally at one with their show, employing all the devices one would normally expect from this genre and using them with style.The hour was a quick one, which is indicative of a good show and then it was out into the night, except given the time it was a sunny afternoon.This is part of The Laughing Horse Free Festival so entry is free but a donate is welcome on leaving and for a show like this a folding one would be in order.Reviewed by GeoffCounting HouseUntil August 1714-45 to 15-45
August 6, 2012
Review of
Blues and Burlesque
Blues and Burlesque
This show is good, but definitely not for the faint hearted!
August 2, 2012
Broadway Baby
Review of
CeilidhKids at the Fringe - FREE!
Gay Gordons For Grandchild And Grandma
Satisfying energetic children can be a task for even the most patient of adults, but CeilidhKids seem to have found a simple but effective solution to combine family bonding with children dancing and jumping around to their hearts content. Vast hordes of families swarmed into the hall at The Counting House and members of all generations lined the walls as we waited for the music to begin. The organisers did not seem overwhelmed in the slightest by this incredible first day popularity; as one simply stated, this was their day job.This became quickly apparent by the high skill and efficiency with which the workshop was orchestrated. A gradual warm-up game of 'Follow-the-leader' proved to be a simple but effective way of getting the children on-board with following microphone commands, whilst allowing accompanying adults to ready themselves as well before the real dancing began. The dances themselves were tailored and edited down from their adult counterparts for their audience; 'The Flying Scotsman' for example simply became 'Trains' with those not moving in parts of the dance happily being swaying trees instead and at least one jump-filled dance seemed to be newly devised specifically for the children. Partners were helpfully directed as 'adult' and 'child' rather than 'male' and 'female'. Advanced and daring adults might find themselves dancing with multiple children at once, but of course advanced children will remember to bring multiple adults along with them to allow for effective grown-up tag-teaming between dances and maximum enjoyment for themselves.CeilidhKids offers a great opportunity for those with young children and an interest in Scottish culture. For those potentially put off by large crowds, an advertisement at the end touted the possibility of extra sessions at 11am, so check online for details. Fun to satisfy all ages rarely comes for free, or with such delightful enthusiasm from those running the show, so pop in and ceilidh your woes away. Click Here
July 31, 2012
The More The Merrier Arts Radio
Review of
Phone Whore (a one-act play with frequent interruptions)
Phone Whore: Another 5-Star Performance
You know the title and you've read the description, so it won't be a surprise to you when you go see the show that the language and phone scenarios are sexually explicit. What may surprise you is strength of the writing and the polished acting: no basic sex ad chatter that you find in the classifieds, and no fake, over the top, cutesie acting. What you get in Phone Whore is honesty and a script that questions society's standards, taboos and hypocrisy in relation to sex and sexual fantasies. "Hi, this is Larissa." Moore's mellifluous voice welcomes her callers and us into her world. We become voyeurs and participants at the same time as we listen to her calls and answers our unvoiced questions with explanations about her various clients and her own life.Banal activities such as smoking, peeing (off stage), making toast and coffee, counter some of the shocking phone calls that may distance us from Larissa, but Moore's natural style of acting grounds her character and prevents us from putting up any barriers between her world and ours. For most of us, the women in skimpy clothing in the back of newspaper classifieds are not part of everyday world, but a woman wearing a robe and house slippers sitting in a comfy chair could be our neighbour. My Rating: ***** 5/5 Delicious Stars. Click Here
June 22, 2012
THIS IS CABARET
Article about
Blues and Burlesque
BETWEEN THE SHEETS
Saunders is quickly on his way to becoming London's leading authority in live burlesque music, using his six years of expertise from Blues and Burlesqueto enhance many numbers.THIS IS CABARET
May 3, 2012
remote goat
Article about
Blues and Burlesque
Friday Follies Cellar Door
Just thinking about Saunder's accomplished musicality and VD's rapacious wit returns me to that marvellous delirium that only the best, most absorbing entertainment can induce. The vibe may be retro, but this is an upbeat, offbeat little number and I'll be beating it back there soon
May 1, 2012
Rover Arts Magazine
Review of
Phone Whore (a one-act play with frequent interruptions)
6 Days, 6 Shows: Another Fringe Round-Up
Phone Whore – &&&& (+&&&&)There isn't praise high enough for Phone Whore. Cameryn Moore's one-woman, semi-autobiographical look into the life of a phone sex worker is frank, funny, brave, unsettling and even moving. Moore gives her audience exactly what they came for with steamy, one-sided re-enactments of calls with randy clients. But rather than stretch the material to comical extremes, she subtly shifts her focus to the societal expectations and primal longings that drive us all to fantasize in the first place. Moore's calm, casual, nonjudgmental approach makes this by far the most intimate and insightful theatre experience you're likely to have, in more ways than one. Plus, the script is as tight as you could hope for, steadily building momentum until it reaches a climax that'll leave you speechless. See it, and see it now. Click Here
April 1, 2012
The Sydney Morning Herald
Article about
Jen Carnovale; not a person person
The Comic Stars of Tomorrow
From a ukulele-playing bi-curious grandma to an angst-ridden poet laureate - meet the comic stars of tomorrow.Metro's selection of the top-10 next big things in comedy is gathered from an impressive array of new Australian talent.With experimental panache, this year's crop is paring back the art of stand-up, reinventing character comedy and finding poignancy in physical japery. On the cusp of comedy season, here are the 10 must-see acts whose talents are seriously funny: 2. Carnovale & Culp (The Cloud Girls), both 26. A roller-coaster of absurdist characters.Reviewers have called them ''shiny and shameless … like rappers in sync on the same absurd wavelength'' and comedian Sam Simmons likened them to a female Mighty Boosh, ''except completely their own planet''.Awarded best newcomers at last year's Sydney Comedy Festival, Sydneysiders Jennifer Carnovale (pictured above, left) and Madeleine Culp (above right), also known as the Cloud Girls, host a Triple J radio show and describe their stand-up as ''an insight into the absurd, hyperactive, psychedelic corners of our minds''.Their new show, Smudge, explores life's mistakes. ''Even giant celebrities like Andrew O'Keefe have disappointing moments,'' Culp says.''No one is above the smudge.'' After drama training at a performing-arts high school, their first show, in 2006, How to Be a Cloud and Other Life Lessons, spawned the act's name. Despite the show's successful season at the Adelaide Fringe Festival, no one turned up for the last performance until comedian Dave Callan's arrival prompted a performance for one.See them at the 2011 Sydney Comedy Festival, May 3-7, Yalumba Wine Bar, 7.45pm, $18, and as part of the festival's Pedigree Syndicate, April 25-30, Corridor Bar, 9.30pm, $18/$12. Smudge is at the 2011 MICF. Click Here
January 26, 2012
The Charlebois Post
Article about
Phone Whore (a one-act play with frequent interruptions)
Into the electronic brothel...
The way I have covered the Montreal Fringe is to split the venues up among reviewers; each has to cover everything, for good or ill, at their venue. So I did not get to see one of the hot tickets of last year's edition, Cameryn Moore's solo Slut (r)Evolution. Nor have I seen Phone Whore (which toured - and will be touring - the North American Fringe circuit). When I mentioned into Twitter that PW was coming here this week, the Twittersphere ignited and I was told (nay: ordered) to see it.Tonight the piece began its brief run at Mainline and I am glad. Last week I wrote about how theatre has the power to change one's mood and Moore and her director Elizabeth Dupré definitely dragged me out of this filthy winter. The place they dragged me in to, however, was not always a pleasant one. Yes, there was humour - but there was also a haunting darkness that leaves one, at an hour's end, profoundly troubled. This is adult theatre in every sense of the word and it is utterly refreshing to see it after the near-theatre, half-theatre and kiddy theatre to which one is often subjected.Moore herself, you see, is a phone sex operator and the play is about her job. But Moore is, most of all, a highly-skilled actor (here and in phone job). She juggles the performer/spectator dynamic constantly. One minute we are accomplice - she speaks directly to us (and with tonight's minuscule audience it was possible for her to actually make eye-contact with each one in the house). In these moments of complicity she tells us about the work, about what it pays, about how the business of it works. Then she gets a call and the complicity evaporates.The spectators becomes voyeurs, even intruders. Moore closes slightly away from us; she doesn't wink at us during the torrid call, we are not there. Often we laugh (easily, uncomfortably, horrified and delighted), sometimes there is dead silence especially near the end of the work when the calls take on a different colour and descend into profoundly shadowed corridors of the human experience. You are challenged, even tested; but it is a cathartic moment when all of your values are thrown into sharp focus and how you deal with the entire play becomes a case of how you parse it in your own head. Are these callers of hers sad, pathetic, dangerous or simply allowing themselves to go down paths so overgrown and moonless we simply don't want to follow (even as the soi-disant Phone Whore holds her clients' hands for the journey).Finally Phone Whore is the kind of wondrous theatre work which forces you to face not just your own limits, but also what the limits are for text, performance and - let me say it - theatre itself.Go. Click Here
August 26, 2011
Three Weeks
Review of
Aberdeen vs. Glasgow. vs. The World - Final Round
ED2011 Comedy Review: Aberdeen Vs Glasgow Vs The World (FGC Comedy / Laughing Horse Free Festival)
With a six-man line-up that changes every day, you never know what you're going to get at this show. I was lucky and was treated to a rapid-fire hour of comedy with lots more hits than misses. Of particular note, Toby Littler got the crowd guffawing along to a couple of marvellously rude songs, whilst Peter Wood delivered a string of deranged one-liners worthy of Milton Jones, only much dirtier. Our compères were funny and slick – the ventriloquist sheep routine struck comedy gold – and the show oozed with relaxed, professional humour… overall this was a great hour of varied comedy. Click Here
May 1, 2008
Primary Times
Review of
Zigzag Zit-faced Zombies and the Giant Geriatric Generator
Exciting, entertaining and inspiring!
Shades of Roald Dahl abound as the wacky residents of Little Pumpington descend on the good folk of Edinburgh in this hugely entertaining romp from award winning author Stuart Reid. Using only minimal props and fantastically illustrated Power Point slides the enthusiastic Mr Reid introduces the not so Gorgeous George, Grandpa Jock and Mr Jolly the Janitor among others. Based on his best selling two books, Stuart Reid has created a one-man show that appeals to children and adults alike. Bogies, bums, whoopee cushions and snot must be the favourite topics of children everywhere and Reid knows exactly how to connect with his willing audience. The young audience roar with laughter while they throw false teeth at their target and watch in disgust as he pulls poo from his bag. Stuart Reid is a natural performer, with enthusiasm oozing from every pore. He aims to inspire and inform as well as entertain. Recycling, literary techniques and green energy are absorbed into the act but never in a moralising way. I loved the way he encouraged the children to imagine a TV in their mind so they could bring the images from his words to life. Jake (age 7) liked the part where the whoopee cushion was making noises and Anna (age 4) liked all the snot! Exciting, entertaining and inspiring! All of this for free – go along and see a star in the making. Click Here
May 1, 2008
YAWP (yawpmag.com)
Review of
Anil Desai's Another Night at the Movies
Anil Desai - Another Night at the Movies
Another Night at the Movies' is an impressive performance by 4th year MICF participant, Anil Desai. His talent as an impersonator can only be described as masterly as he entertains his audience for sixty-odd minutes. This task is one that not many impersonator-based comedians would be willing to undertake. Desai obviously has a wealth of experience, as his impersonations are varied and freakishly accurate. Within seconds, Desai is able to transform into any of the forty personas he has under his belt. It is quite remarkable to witness a comedian who not only can rapidly change characters but is also fast enough to act out conversational sketches between multiple personas. It was also interesting to find out Desai's affinity for the art impersonation, to see where it all began and how he uses his talents to wrangle out of sticky situations. Bizarrely funny and heart-warming, 'Another Night at the Movies' is a real opportunity to uncover what's behind Desai's mask and to have a non-stop laughing fit over his 'Deniro.' Click Here
May 1, 2008
Herald Sun
Review of
Anil Desai's Another Night at the Movies
Anil Desai in Another Night at the Movies
ANIL Desai isn't so much a stand-up comedian as he is a stand-up chameleon.This movie buff has turned his love of film into a globe-trotting career, having started out in the BBC comedy Goodness Gracious Me.His impersonations of movies stars are remarkable as he moves effortlessly between Robert De Niro and Al Pacino and back again, and then suddenly Jeff Goldblum appears out of nowhere. Brilliant stuff.An expressionless Keanu Reeves had me in stitches, nodding "So true!", and his take on Johnny Depp as Captain Jack Sparrow is spot-on.Thrown into the mix are stories from his life and relationships - an ex-girlfriend more interested in having a deep and meaningful with De Niro and a crazy Christian Slater fan. It does makes you wonder, though, where Desai ends and his Hollywood heroes begin.Impressive impressions at every turn, Another Night at the Movies is a fun evening out without having to pay for popcorn.Stars: **** Click Here