LATEST NEWS
This page contains the latest news stories from Laughing Horse and Comedy Point.... so keep checking back on this page to find out what's happening, where our latest venues and shows are, who's appearing at our shows, and what we are doing at comedy nights and festivals...
October 30, 2018
LH News
NEW ACT FINALISTS ANNOUNCED - Tickets available for Final on Dec 3rd
This Years New Act of the Year Finalists are:

Jen Ives, Toussaint Douglass, Eryn Tett, Janine Harouni, Mustafa Fecto, Joseph Emsilie, Nicolas Everett, Cordelia Graham, Akin Obit, Adam Woolard, Leo Gallagher and Ciaran Chillingworth

Click Here
September 14, 2018
LH News
New Act Semi Finals - Ticktets now available
Click Here
January 21, 2018
LH News
Brighton Fringe Programme Launched - 500+ Performances of shows in Brighton May 4 to June 4
Check out all of our shows for this Years Brighton Fringe in May and early June! Click Here
December 18, 2017
LH News
Enter the Laughing Horse New Act of the Year 2018
The Laughing Horse New act of the year is back! And is now open for entries for the 2018 competition. Details here..... Click Here
December 9, 2017
LH News
Australian 2018 Festival tour dates now online - Tickets on sale for Perth & Adelaide
Check out all the shows on our 2018 Australian tour, Januar to April 2018 Click Here
September 7, 2017
LH News
New Comedy Course dates online now - book your comedy course in 2017 & 2018!
Check out our upcoming comedy courses with dates added at venues across the UK Click Here
September 7, 2017
LH News
Back in Brighton for 2017/18
Upcoming dates for our new Brighton season are now online - we're back at the quadrant for monthly shows through until April 2018, followed by a month of Brighton Fringe! Click Here
August 1, 2017
LH News
It's August.... so Time to Edinburgh Fringe!
It's August, so come along to Edinburgh to see our 400 daily shows from Aug 3rd to 27th this year! Click Here
December 8, 2016
LH News
2017 Australia Tour dates are now live!
Check out www.laughinghorse.com.au for details of our 2017 Aussie Tour! Click Here
June 2, 2016
Laughing Horse News
Our 2016 Edinburgh Fringe Programme is now Live
Our new Programme, of over 300 free Fringe shows in Edinburgh is now live for 2016 on our Edinburgh website - www.freefestival.co.uk. We have some new venues, two old venues with new names, and all our usual great festival hang-outs. Check out the website for who's on and where they are performing, for the very best in free comedy, music, theatre, spoken word and childrens shows! Click Here
December 20, 2015
Laughing Horse News
Check out our 2016 Australia Tour
Are you or your friends in the fine Australian cities of Perth, Adelaide or Melbourne?

If so, i'm sure you would like to have a look at the shows that Laughing Horse Comedy have on this year's Aussie comedy tour in those fab cities, Jan 22nd to March 18th....

Tickets are available to book now for Perth and Adelaide (they'd make wonderful Christmas presents for Aussie friends!), and the Melbourne tickets go on sale on Jan 1st.
Click Here
December 7, 2015
Competition News
Our 2015 New Act of the Year Winners Are....
And the winners are.... Click Here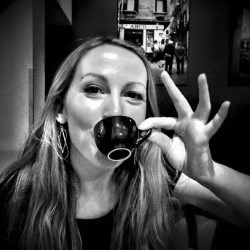 December 4, 2015
Laughing Horse
We chat with last year's Competition Winner, Jenny Collier
Laughing Horse New Act Of The Year Jenny Collier joined us at The Laughing Horse Lock-Up for a chat a cup of tea and to see who she would most like to be stranded in a boat with, just in time for this year's new act final and for someone else to win the accolade...

A year on, do you feel about being a New Act Of The Year Competition winner?

I'm still over the moon about it, still can't believe I won! Especially considering the high quality acts I was up against. It's helped get my name out and I reckon played a role in getting me signed with an agent.

What did it feel like to win it?

Such a great feeling. I was so pleased and excited to be able to go to Asia as part of the International Comedy Festival. The prize money also helped hugely ( it was around the time I was making the transition to becoming full time!)

Laughing Horse are took you to Australia – how was it?

I was really excited. Perhaps most excited about the sunshine! I love Edinburgh Festival so it was great to do a festival in a hotter climate. I went there 10 years ago and LOVED it. Lovely friendly, fun people. Glorious. Such a great experience to gig in a different country and meet lots of great comedians from the other side of the world.

Do you enjoy doing festivals?

I love festivals. When you do your own show it's all down to you. That can make it a bit more nerve wracking but then all the more of an achievement when it goes to plan!

Travelling is a big part of comedy – do you have any good stories from the road?

'What happens on the road stays on the road'. Long road trips are great for picking up advice from fellow comics and hearing about other people's experiences.

If you were stranded on a boat with one comic who would it be?

Whichever ones have the most maritime experience.

Sounds like Eric the Submariner then! What do you find the most enjoyable about doing comedy?

So many things: audiences enjoying your stuff, meeting ace new people, travelling round the country, seeing more of London than you ever would normally, coming up with new stuff and it working.

If you could do a gig in any venue in any place in the world where would it?

The Stand in Edinburgh. I performed at for the first time in June. It was amazing. Brilliant room. Lovely line up. Big laughy audience.

What's the worst gig you've ever done?

I once performed to a busy road as part of a festival. Material seemed pointless as no one was actually listening, I tried to talk to a few people but as soon as you engaged with them they just walked off and carried on with their life. Not the perfect venue for comedy.

How do you write?

I don't really sit down and write. When stuff happens to me I tell people about it. I'm so scared they'll get bored listening that I try to make it lolworthy. I used to do that before I started stand up and I've taken that with me.

What do you like to do after a gig to wind down?

Having a drink with the other comics. Gigging often eats into what would be time you'd spend socialising so it's nice to have a chinwag!

Your Edinburgh show was about being single, who is your ultimate crush?

Brandon Flowers (will he read this? OHMYGODILOVEYOUBRANDON). And all of One Direction.

What are you working on for 2016?

At the moment I'm preparing for going to Perth and Adelaide Fringes. I also need to get sorted for Edinburgh and maybe Brighton too. I'm doing my first ever Welsh language gig next autumn so I need to start preparing now really!

What is your ultimate goal in comedy?

Mainly just to be able to keep paying rent. That's probably the main one. Also, to write and be in a sitcom. Be on Live at The Apollo. Be on Would I Lie To You?

Thanks for Chatting Jenny, and we'll see you at our gigs in the UK and Australia in 2016!
Click Here
November 29, 2015
Laughing Horse News
NEW ACT OF THE YEAR FINALISTS ANNOUNCED
The Line-up for Sunday's new act final will be:

Cheeky Kita
Emmanuel Sonubi
John Pendal
Nigel Ng
Saskia Preston
Peter Flanagan
Donal Vaughan
Dimitri Bankanov
Njambi McGrath
Dylan Gott
Glorious Monster
Lucy Roper
Flora Anderson
James Shakeshaft

For fill details and to book tickets: Click Here
November 1, 2015
Laughing Horse News
Full competition semi-final Line-Ups Announced
Full competition semi-final Line-Ups Announced Click Here
October 5, 2015
Laughing Horse News
First New Act Semi Finalists announced
The competition has been running since August, and we thought it was about time to let you know who's made it through to the semi-finals so far.

Congratulations go to: Njambi McGrath, Ian Lane, Joe Sutherland, Caroline Bohart, Nigel Ng, Zahra Barri, Fional Ridgewell, Jo D'Arcy, Emmanuel Sonoubi, Neil O'Rourke & Donal Vaughan

There will be more acts announced over this month throughout the heats.

And if you are a performer, we do still have some space left for acts in the later heats - to enter, go here: http://www.laughinghorsecomedy.co.uk/comedy/newactcomp.asp





Click Here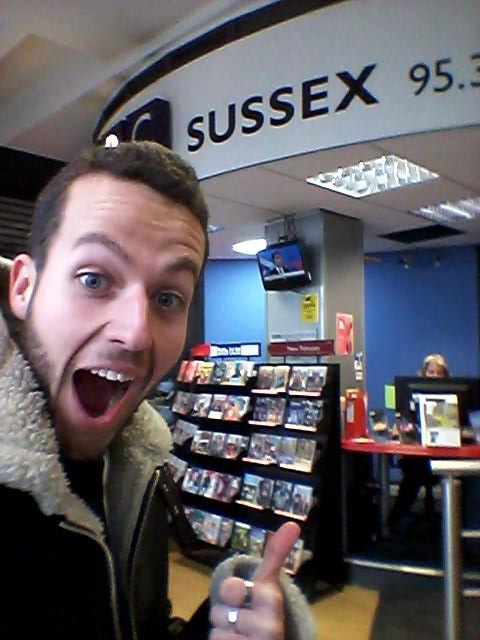 October 3, 2015
Laughing Horse YouTube
Watch our new weekly video... Comedy Reports and Predictions
If you fancy a laugh to start the week, then look no further than 'Comedy Reports and Predictions' (C.R.A.P)... Each week featureing Jokes, stories, news and fun from the comedy world presented by Dave Chawner in our new weekly video.

There's a new video every Monday (or thereabouts)

Make sure you sign up to our Youtube Channel to get updated when the next one is online! Click Here
July 23, 2015
Laughing Horse News
2015 New act competition entry is now open
We have opened entry for our 2015 new act competition, so if you'd like to win £1,000 and get showcased in front of the media and comedy industry, now is the time to get your entry in... heats are in August in Edinburgh, and other locations in September and October. All details are here.... Click Here
July 2, 2015
Laughing Horse News
New Comedy courses online - 2 Day, 4 Week & Advanced Courses - London, Manchester, Edinburgh, Brighton
We now have New Comedy Course dates online.

2 Day Courses in London, Manchester, Brighton & Edinburgh
4 Week Courses in London
The return of the Advanced Course in London

Click Here
December 23, 2014
Ask the Industry Podcast
Ask the Industry Podcast with Laughing Horse's Alex Petty
Alex Petty, the Director of Laughing Horse Comedy, has a chat about comedy, festivals, and all sorts of other stuff in Simon Caine's 'Ask the Industry' podcast

Links:

http://bit.ly/13WBjuS (iTunes)
http://bit.ly/1wfo5Pz (weblink)


Click Here
December 22, 2014
Interview
We have a chat with Patrick Monahan
In the next of our (so far) very irregular series of comedy interviews, the Laughing Horse's intrepid interviewer Dave Chawner has had a bit of a chinwag with the multi-award winning Patrick Monahan…

Famed for his fun, friendly and unique style of ad-libbed comedy he has appeared on shows such as Splash (ITV), Let's Dance (BBC) and Celebrity Squares (ITV).#
He popped into the Laughing Horse lock up to have a chat with us and tell us what 2015 holds for 'the nicest man in comedy'

LH: How did you get started?
PATRICK: When I was younger I didn't think I was a naturally funny person. I realised I could talk me way out (and in and back out) of trouble.  One night in South London I went to an open mic night; there were 20 people in the audience and a pallet on the floor. One at a time people had a go. I thought "well I've got nothing to lose". I asked the organiser if I could do it he said 'yes' and 14 years later here I am.

LH: What is your proudest comedy achievement?
PATRICK: Playing the Middlesbrough town hall (my home town) for the first time. It was full of locals from the town, as well as family and friends. But, I think the best achievements are ones that just happen. Like hugging fellow comedian Bob Slayer during the 2013 Edinburgh festival for '25hours & 25 minutes'.

LH: You've been doing Edinburgh since 2001 – do you still get excited about it?
PATRICK: I love it - just mentioning the festival gives me a buzz.
A month doing your own show every night without having to travel anywhere?
It can get tiring but after 10 years of doing Edinburgh you learn to pace yourself.

LH: What do you do on nights when you aren't gigging?
PATRICK: I literally gig 6 to 7 nights a week.

On a rare night off I try and catch up with mates, crash in front of the TV, or go and swim with dolphins in the local canal.

LH: If you could give one piece of advice to people on the circuit, what would it be?
PATRICK: Keep writing, keep gigging, and keep smiling.
Enjoy the journey because there's many paths and careers in life and not many will be as fun as this. That's probably 4 pieces of advice.

LH: How do you write?
PATRICK: I sit down and suddenly think "I should just give the flat a quick Hoover" or "I should open that new pack of biscuits and see what they taste like"
You get more motivated a few months before a tour or Edinburgh. You feel a deadline looming. I genuinely try and write something every day. Sometimes it's comedy, sometimes it's a cry for help

LH: If you weren't a comedian what would you be?
PATRICK: I'd love to be a youth worker or carer. Something that involves getting loads of people, sticking them in a mini bus and taking them to Alton towers for the day.

LH: Your new tour kicks off in February, what's it all about?
PATRICK: My new show is called "Patrick Monahan's - Adventures In Monahan Land". It is an extended version of me Edinburgh Show (2014).
It's about me life at present, about when I was younger and trying to get into house party's. Now a days I'm just trying to get into me own house.


LH: What else have you got in the pipeline that we should look out for?
PATRICK: I've got a massive tour which will last from February to June of 2015.
In-between I'll be making videos online Vlogs and working on projects that involving dating, traveling and hugging. Keep an eye out on me Twitter cos I stick up everything on that.

You can see what Patrick is up to via Twitter or Facebook below

https://twitter.com/PatrickJMonahan

https://www.facebook.com/patrickjmonahan



Click Here
December 1, 2014
Laughing Horse News
New Act of the Year 2014: And the Winner is....
And the Winner of the New Act of the Year Award 2014 is Jenny Collier - more details click on the link! Click Here
November 16, 2014
Laughing Horse News
Laughing Horse New Act of the Year 2014 - Finalists Announced
Congratulations to the outstanding selection of new comedians who have made it through the the final of This year's Laughing Horse New Act of the Year competition.

The Finalists Are:

Ed Caruana – A quirky observational stand up from London.

Eshaan Akbar - A deaf British Asian from a Muslim family and his impending 30s has made him realise he hasn't quite got his head around the world around him.

George Rigden – A self-depreciating musical comic from Bristol.

In Cahoots – A fast paced sketch comedy double act comprising of Paul Raymond and Luke Manning.

Jenny B-side – A stand-up, guitar toting, rude song writing, transvestite from Transyl... OK, Woking.

Jenny Collier – Who worries about her life, and comes from Wales.

Joe Jacobs – A Jewish comedian laden with misanthropic musings from Home County hell

Katharine Ferns – Confessional and honest storytelling from Canada.

Lydia Hirst – A dark poetic stand-up from Manchester.

Nabil Abdulrashid – A British, Nigerian Muslim comedian with an original perspective of South London life.

Olaf Falafel - A mixture of one-liners and Scandinavian stories, all the way from Sweden.

Robin Morgan – A cheeky storytelling comic hailing from Cardiff

Robyn Perkins – A friendly and Chatty comic from America.

Simon Caine - A stand-up comedian who talks about his life, world issues and the internet from Hertfordshire.

Wizzy Janew - A visually impaired observational comedian from Coventry.

The compere for the show will be Nik Coppin, and there will be a panel of industry judges selecting the winners.

The final is to be held on Sunday November 30th, at The Dogstar, 389 Coldharbour Lane, Brixton, London, SW9 8LQ.

Tickets are £12 (£11 Concessions)

Doors 7.30pm, Show 8.30pm.

Venue Page: http://www.laughinghorsecomedy.co.uk/comedy/venue.asp?VenueID=75

Buy Tickets: http://www.wegottickets.com/event/283651

We'd also like to specially mention the semi-final runners-up that narrowly didn't make it to the final: Don Tran, Tom Ward, Laura McLenehan, Robbie Ormorod, Zahra Barri and Amy Goodchild.

An outstanding set of semi-finals, should mean a cracking final on November 30th! Click Here
November 3, 2014
Laughing Horse News
NEW ACT OF THE YEAR 2014 - SEMI FINALISTS ANNOUNCED
We now have a fill line-up of semi-finalists for this year's new act compeitition. See http://www.laughinghorsecomedy.co.uk/comedy/newactcomp.asp for the full details, and to book tickets for these shows - running over the first two weeks of November. The final is November 30th. Click Here
November 3, 2014
Laughing Horse News
BRIGHTON FRINGE - Performers applications are now open
We have opened applications for our venues for Fringe 2015 in Brighton. Performers, it is now time to apply! Click Here
October 17, 2014
Laughing Horse News
New comedy Course dates available in London, Brighton, Edinburgh & Manchester - Plus new 4 Week Comedy Course
NEW
2-DAY COURSE DATES NOW ON SALE FOR 2015 FOR LONDON,
MANCHESTER, BRIGHTON & EDINBURGH -
Click Here. ALSO BRAND
NEW 4-WEEK COURSE ON SALE IN LONDON FEB/MAR 2016 -
Click here Click Here
July 27, 2014
Laughing Horse News
NEW ACT OF THE YEAR COMPETITION 2014 - ENTRY OPEN
Think You're Funny?

Want the chance to win £1,000 and be seen by the comedy industry?

Entries for the Laughing Horse New Act of the Year 2014 are now open

Heats for the 2014 competition run from August through to the end of October in London, Edinburgh, Brighton, Manchester and Cambridge - with semi-finals in London at the start of November and the big final on November 30th.

For more details, rules and to Enter.... Click Here
July 18, 2014
Laughing Horse
Edinburgh Fringe Survival Guide
So, you're going to Edinburgh for the first time to put a show on – and there's now only two weeks to go until it all kicks off for another year of fun, performing and chaos, all wrapped up and deep fired in batter.

Laughing Horse and Free Festival Director Alex Petty, shares his tips on going to the chaos of the Edinburgh Fringe for the
first time...

1. Don't Panic! – With only a little time left before you get in that car, plane or train to Scotland, it's always natural to feel a bit anxious at this stage. This is only natural as there's a lot to do get done and ready. What you should know is that everyone is feeling the same way, so don't let it get the better of you. A far wiser man than I once said "It's always chaos, every show, every venue – right up to the last minute. But somehow it always works out", and that is very true, from the smallest one-man band, up to the mega-venues. Everything will work out when your show gets up and running, no matter how daunting it all seems at the moment.

2. Get into Town early if you haven't been there before – Familiarise yourself with the layout of the city and its quirky nature, this will help you a lot through the month. You will find what looks like a left-turn on a map is actually a road eight stories below or above where you are standing. Get around the main hubs in the town to find where people hang out, and spend time to prepare for your show and how long it will take to get from A to B - Performers turning up straight away for their first shows usually end up struggling well into the first week getting to grips with the city and getting their publicity out and about. You will also find that wherever you go takes time, through packed streets and generally walking up a 45 degree incline on cobbled streets as rainwater flows down at you like a waterfall. Edinburgh was designed by Escher – it is possible to spend the entire month walking uphill, never walking downhill.


Every Single one of these people are lost...


3. Pace yourself - It's a marathon not a sprint as they say, and treating every night as New Year's Eve for 25 nights takes the toll on the most hardened of Fringe veterans. I know, I've done it myself and it's not pretty by the end of August. There's only so many times you can flyer all day, perform 4 gigs in the evening, drink all night and then be at the opening of a 6am opening bar to wash down your battered haggis with a few more pints before ending up in the Royal Infirmary…

4. Don't worry about what others are doing – There are times it seems that everyone else is doing better than you, more reviews, more press coverage, award nominations and so on. These things will generally happen if they happen. A lot of performers often end up getting stressed about others successes, when in reality, what they should be doing is concentrating on putting a good show, and entertaining the audience in front of them. Do this and you will have a good Fringe, and remain a lot calmer by day 25.

5. Remember it is about a balance of work and play – A month of fun in Edinburgh can be the best thing in the world, but at the end of the month you will feel incredibly unfulfilled if you have sacrificed your show and not dedicated enough time to running, producing and promoting it. Likewise dedicating all of your time to your show will mean you miss out on a lot of what Edinburgh is about, and why we all come back year after year despite the fact it makes no logical sense to do so at all – the socialising, networking and all of the other madness that happens for the month.

6. See Some shows – it's the biggest arts festival in the world, make sure you get out and see some shows as well as performing your own – something that is often overlooked by performers, and often something that leaves performers with regret at the end of the month. There's so many big names that can inspire you as a performer, and so many different and experimental shows out there that you can only experience in Edinburgh – that's what a Fringe is all about. See some Shakespeare for Breakfast, watch Hamlet on a Bouncy Castle, see a show in someone's flat, a car or a lift - or whatever other nonsense is taking place this year (I've not managed to read this year's programme yet, so these things may or may not be happening this year)

7. Take a proper day off – when you have a day off from your show, really have a day off. Especially if you are around all month. Get out of town and escape for 24 hours at some stage. It really does help you survive the Fringe and helps reduce stress or potential nervous breakdowns. Recharge the batteries and get your head straight while away from the chaos of the Fringe bubble that we all get trapped in. The Highlands are a short drive away, and there's plenty of other places in Scotland to see if you have not visited before. If you get no further at least make the effort to get away from the chaos, relax on the Meadows, maybe a walk down the Water of Leith, chill out on Portobello beach, walk across to Crammond (but don't get cut off by the tide!) – of if feeling energetic get up to the top of Arthur's seat to really clear the head…

8. Always keep some flyers on you - You always get chatting to people around town about shows, and inevitably your show! Never be without some promotional material, whether it's to plug your show in shops, cabs or cafes – for people you bump into on the Royal mile or at venues, for industry folk you get introduced to, or as a handy notepad for you to jot names and phone numbers down on when speaking to people.

9. And while you're at it, remember to bring – Blue Tack for putting up posters. Blue Tack in shops in Edinburgh during August is rarer than hen's teeth.

10. Pack ready for any weather, and leave your flat ready for anything Edinburgh can throw at you dry spells (occasionally), plenty of grey skies (daily) and rain (a lot), followed by a thick fog that rolls on off of the sea, and then back to sun for a while. It's not only possible to get all of those types of weather on the same day but often in the same hour. Most venues lack air-con and have terrible ventilation, meaning you can turn up in layers and raincoats, shivering and wet, and within seconds you are hot, sticky, sweaty and sweltering. Basically, pack for any weather and be prepared!

11. Try to have at least one good meal a day – it's very tolling on your system to live off of take-aways and beer for a month, and many do as it is so busy to actually sit down and cook something better, or contains those funny green things called vegetables that are so rare north of the border. You will feel it by the end of the month if you don't. If all else fails a Fruit Smoothie, Berrocca and Vitamin pills each day will help to fend of the Scurvy…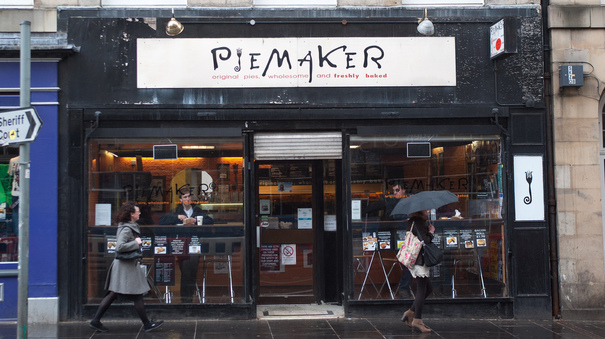 Saved the Life of Many Fringe Performer


12. Snack in Style - Edinburgh is awash with good places to grab a bite, be it the legendary baked potato shop just off the Mile, which dishes out portions bigger than your head, or curry emporium Mosque Kitchen which serves the best curry in town from the back of the Mosque (entrances opposite The Counting House and on Potterrow). You can also pick up a variety of street food this year at the Free Sisters, a barbecue at the Pear Tree, grab a pie at the almighty Pie Maker on South Bridge, or try the Hog Roasts at the two Oink shops. Fruit Smoothies and healthy options at Hula Juice bar at the bottom of Victoria Street is also a good tip for something to increase your vitamin intake.

13. Don't listen to your own advice and ignore suggestions 1-12. See you in Rehab on August 25th….

You can catch the Laughing Horse's Edinburgh Fringe shows at 22 Venues around Edinbrugh from July 31st to August 24th - all of the shows are on www.freefestival.co.uk

Click Here
May 26, 2014
Interview With Darren Walsh
Interview with Darren Walsh at the Brighton Fringe

We caught up with Darren Walsh mid-way through the Brighton Fringe to see if his career was scaling new heights...

LH: You're just back from the 'O. Henry Pun-Off World Championships' in Texas how did that go?

DW: Texas was brilliant – I didn't win, but I got quite far and it was a massive laugh, it was a bit of a cultural exchange of punning. Before I left my Mum said "Texas when you land", but I was in a State when I arrived there. My friend and I tried to sneak into a Rodeo dressed as Dinosaurs, but the Bronco saw us.

(Click here to view a video of Darren in action at the 'O. Henry Pun-Off World Championships')





LH: They didn't always understand you?

DW: I could write a whole essay about it. It was quite funny because beforehand I got a long email from the guy organising it, saying:
" I don't think they're going to get you here, but you should come anyway".

I re-sent that, which was a bit Fwd.

It's more like a spelling bee than stand up – they just rattle them off in quantity – they don't stop for laughs – it's just about getting as many of them out there as possible, and then I turn up dressed as a chicken…

On top of that they had trouble understanding my accent. I was in a bar and said, "Excuse me, can you tell me where the toilet is?" and the barman said [Texas Accent] "I got the excuse me bit…."

The girl that won did a pun on every US president chronologically – it was brilliant, though it obviously helped if you knew every single US President… Chronologically.

My favourite President is Berocca Bama. He's so full of vitality.


LH: Any plans to go back – now that doing it once has set a president?

DW: I'll probably go back, but I'll be dressed as a bee. I'm good at spelling bee.

LH: Did winning the UK pun Championships have any effect on the career?

DW: The best thing that has come of it, is that I've now got a publisher for the book I was already working on – it will have 1000 jokes and 300 drawings. It'll be in shops in November. Which is novel.

LH: Any more puns about people purchasing your written material and you'll be brought to book.

Do you consider this your best year in Comedy so far?

DW: Technically yes, but I'd say 2013 was amazing for me, having done my first 30 minute solo show. To be honest, any year is better than 2001, when I worked for an American clothing retailer. That was my Gap year.

LH: Do you find the run up and time in Edinburgh daunting at all?

DW: Yes, a little bit – I'm doing a whole new show of new material this year – and my material is really exhausting. I remember Trevor Lock seeing me do 20 minutes a couple of months ago and saying "You've got a whole hour – you just need to slow down!"

The worst part about Edinburgh is finding a hard drive reliable enough to record all my footage. It's 25 gigs.

LH: You should have tried London to Edinburgh cross-country – that's a hard drive…

So you're just sticking to the thirty minute format for now?

DW: It works for me. If someone saw an hour of me doing this it would be totally exhausting – for me and the audience!
I told some people that there would be a 'Matt Damon' joke every 60 seconds and they believed it.

One Bourne every minute.

LH: Right, I'm giving you an ultimatum…

But they're laughing?

DW: Yes, it works really well, but because it's so much content, I think an hour would be too much to take in! I want my hour show to be an 'hour show' not an hour of my set. I'm also doing the hour show with Leo Kearse – Atella the Pun , I'm doing the Big Value Showcase at Just the Tonic again too.

LH: Would you have a theme for the 'hour show'?

DW: Yes, but my concentration span is so short, so I'm going have to work hard at that style of show.

LH: Why Puns?

DW: Well, I don't just do puns, I actually started out doing surreal stuff – I didn't even intend on doing comedy, I just thought I'd give it a go for a bit – maybe a week or a month – I just wanted to see how it would go, if I could do it, but now I can't stop doing it.

But I did just start off just trying to be weird – I'd go on stage, put on a pair of underpants and just scream 'BRIAN!'

I then started putting in puns and at first people were saying "Oh, God" – but I'd never written a single joke four years ago, now I've got 2000.

I never used to appreciate audiences who didn't like puns, but now they've groan on me.

LH: How's Brighton treating you?

DW: Chicken meow has had two outings – the first show was a bit rocky – the first time I was running the show out – the second one went fantastic with brilliant reactions, so I'm looking forward to the next two at the end of the Brighton Fringe.

The great thing about this show was that so many people came to see me after seeing me last year they were back again 'Chicken Meow'.
I'm looking forward to the next two at the end of the May.

That reminds me, a bunch of Morris Dancers asked me to go canal boating with them. I said "I wouldn't touch your barge with a may pole.

LH: Well, morris dancers to have a lot of stick to put up with...

How tall are you?

DW: 6 foot 8 – I think I'm the tallest on the circuit along with Greg Davies. I never mention my height in my set. Weirdly I don't get heckled about it, but I do get it in the street. That's where the show 'I am a Giant' came from. People would come up to me and just ask me 'How tall are you?' 'Do you play basketball?' "Are your parents tall?" so in the end I got these business cards printed with 'I am a Giant' on them – nothing else – no contact details – and I'd give them one of these, they'd laugh and then I'd just walk away without saying a word.

It's nice being a Giant but I think I've got an obsessed fan. She's beanstalking me.

LH: That's just another tall story isn't it? Who or What made you get started in Comedy?

DW: I've always been obsessed with comedy – watching Monty Python, Spike Milligan, the Fast Show, Big Train, and Limmy – which is the thing best on telly – it's on BBC Scotland.
I just did a workshop and I didn't really think I'd do it – I just thought it would be nice to have my mates come and see me do a five minute set. I was just inquisitive and it went from there.

LH: You rely on technology for your show – has it ever let you down?

DW: It did at first – I tried various ways to set it up – I had a foot pedal which I had to bend down to and because I'm so tall it took so much time bending down that it didn't work. Then I switched to a remote control, but it meant I had to remember the order of all the sound cues – if I skipped a bit the tracks would be out of sync.
Now I manage to incorporate the sound cues into the set, with the sound board and that works.

LH: Do you have any pre-gig rituals?

DW: Sound-check obviously, I write jokes on the back of my hand, because I have a terrible memory – and I have a terrible memory.

LH: Do you have any pre-gig rituals?

DW: I have a terrible memory.

LH: What do you do when people say "Tell me a joke"?

DW: I say "Give me a subject" – It doesn't bother me. Then I continue telling jokes and they move away to the other side of the room.

LH: Who's your comedy hero?

DW: I look up to Tony Law, Paul Foot, Kevin Eldon, Harry Hill – more the surreal side of things – alternative comedy side – I don't think there's enough of that on Telly.

People watch TV stand-up and expect that when they go to a comedy club. When you get a truly original act, the audience are afraid to laugh because they haven't seen it before.

LH: If you could make Leo Kearse [Darren's comedy partner for Atella the Pun] stop bullying you on Facebook, would you take the opportunity?

DW: No because it makes him look like a maniac. While he was in Australia he was still managing to fall out with people half-way around the world.

LH: Most embarrassing comedy moment?

DW: There have been a few deaths…

Another weird thing – during Edinburgh 2012 a couple of bloggers came along after seeing me in London – after the show they came up and said "That's a five star review!"

During 2013 they came back again to see me doing the 'Giant' show , sat in the front, the show went pretty well, but they hated it – they didn't laugh and walked out at the end without saying a word – no five star review that year!



_____________________________________________________________________________

Darren Walsh is appearing at "The HobGoblin in Brighton on 30, 31 May @ 8pm

Darren's shows in Edinburgh are Chicken Meow @ The Hive @ 7pm, 31st July – 25th Aug (Except 12, 16,17,18 Aug)

Website: www.iamagiant.co.uk

Twitter: @thegiantweets

Darren's book "Human Beatbox" will be hitting the bookshelves in November 2014

Interview by Lewis Bryan © 2014 Laughing Horse Comedy /Lewis Bryan

Click Here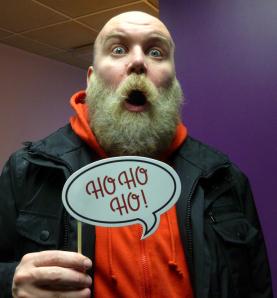 January 12, 2014
Interview With Bob Slayer
Interview With Bob Slayer
It's time for the second of an irregular series of comedian interviews for this site, and today we are chatting with Bob Slayer.

Bob runs "Heroes of Fringe", which grew out of his shows with Laughing Horse at the Free Festival in Edinburgh, and he's now embarking on a big year, taking the Heroes to the Leicester Comedy Festival in February, as well as returning to Edinburgh in August.

We thought it was about time we had a chat with him, and it turned out to be a very interesting chat - you would expect no less with Bob Slayer - ranging from rock bands to Santa, and Festivals to on-stage prostate examinations….

LH: You have an interesting background, there's not many ex-Jockey, band-tour-managers that have ended up as a comedian. What made you decide to give comedy a go?

BS: I was forced into it - quite literally. When I was on tour with the Bloodhound Gang in 2005? Maybe 2007? The smoking ban had just come in. The Bloodhound gang were pissed off they couldn't smoke on stage and they bitched about it through the gig, bitched about the fact the audience couldn't get pass outs to go out for a cigarette. And they blamed it all on me. I was stood on the side of the stage to stop them smoking else the venue would fine us £1000. All of a sudden, mid song, they stopped and declared they were going for a cigarette break. The also announced that: "Our tour manager will entertain you" – so I was pushed out on stage and then Jimmy pop added "Feel free to throw stuff at him". Which 1500 Bloodhound Gang fans did. Ha, ha very funny.

The next night I knew they would do the same again so I planned something to entertain. If anything the audience threw harder that night. The third night I hid. But they found me, gaffer taped me to a chair and half way through the gig wheeled me out onto the stage, miced me up and went for their mid gig fag break. I simply exclaimed "I hate the Bloodhound Gang..." and it got a laugh. Things had changed, the sympathy was with me, so I continued: "Do you want to hear what pricks the Bloodhound Gang really are?" And they did. The audience listened to stories of the band pissing on each other and making people eat dog food etc. I had found something I loved doing. And I love the Bloodhound Gang for letting me do it.

Incidentally I did production on a Snoop Dogg tour a couple of years ago and at the O2 the venue manager was telling us what was what. He said there will be a £2000 fine for smoking on stage and the tour manager didn't blink an eye, he pulled out a wad of cash and said: "Can we get a discount if we pay it in advance?"

LH: And how long have you been doing it now?

BS: You made me google when the smoking ban was - it was 2007. And then I first started doing Comedy clubs in 2008. I brought the same high energy wild nonsense which I did to entertain people at a rock concert and it scared the shit out of most comedy clubs. I still have the wild side but I also have a more storytelling side as well so I can fit into more places. I was even Santa this Christmas doing storytelling for kids.

LH: Who's your comedy hero?

BS: I saw Johnny Vegas about 13 or maybe 15 years ago. He was pretty much only known as the fella from the Monkey adverts at the time. He was absolutely amazing. It was impossible to see where reality ended and fantasy began. My girlfriend at the time hated it so I left her.

LH: What do you do when people say 'Tell me a joke'?

BS: This is just one of a few standard responses people say when they find out you are a comedian. Others being "I like that Michael Macintyre, I do" although thankfully it has become "Micky Flanagan" more often now, and he is someone I can have a conversation about. It's not that I don't like Macintyre but what is there to discuss? Another is they want to tell you a joke, which is invariably racist. And so when they ask me to tell a joke it is rather sweet and so I normally reel off an old cracker joke and then maybe just have a chat.

LH: What should a new comedian do today to make them stand out from the masses?

BS: Be really really funny!

LH: As well as performing, you are well known for creating 'Heroes of Fringe' in Edinburgh - What made you leap from Fringe Performer to Promoter to start this?

BS: Because my existing fringe promoter banned me from his venue so I had to take it over myself! That was you that was! actually you very nicely let me take over the venue.

LH: The Leicester Comedy Festival Is coming up, and you are taking Heroes there for the first time, what will some of the highlights for Heroes be?

BS: We are taking over an old Methodist chapel in the centre of town and putting in a pop up bar and venue. Heroes @ Hansom Hall. I have got a cracking line up. Brian Gittins, Phil Kay, Ivan Brackenbury, Mr Methane, Devvo, Ian D Montfort, The Weirdos pantomime, Stuart Goldsmith, Tim Fitzhigham and lots more - www.heroesoffringe.com

LH: Nice Plug, sounds like a great line-up! How is this year's Edinburgh Fringe Heroes preparations going?

BS: We had such an amazing year last year that it will be difficult to top but we are lining up some brilliant acts. It's still a good few months off and it will be in more shape by March.

LH: You mentioned that this Christmas you had another side-line as Santa. How did that go?

BS: I loved being Santa, it was storytelling for kids with groups of 20 or so at a time. I told them all about how Reindeers fly. And what Santa and the Elves do the rest of the year. It was magical and really warming to do it and I now mirror Ronny Wood's sentiment and wish it could be Christmas everyday.

LH: How do you see the future of comedy in general?

BS: We can already see where it is going, similar to the music Industry, where there is a massive chasm between the huge arena pop and X-Factor and then a large number of more independent alternative acts. In Comedy this is becoming a small number of big names from TV doing arena tours while club comedy continues to struggle. And then a growth of Comedy and Fringe festivals where acts perform solo shows. It's this last area which is where so much really interesting comedy is to be found.

LH: What is the strangest thing that has happened to you on stage?

BS: Oh man you know that some strange shit has happened. As well as touring with bands I have supported people like Steve O on tour... But how about this one:

A couple of years ago when I was doing "wild and crazy" Bob Slayer shows at Edinburgh Fringe I spotted a fresh young face smiling up at me from the audience… I found out that her name was Amanda and in an exchange which was perhaps designed to usher her out so that the adults could continue with their fun I said: "You should be shocked this…" but she didn't seem to agree.

"You won't shock me" she replied defiantly

Oh I see, she had just issued me with a challenge, a challenge that it would have been churlish to refuse. What followed was an off the cuff, un-prepared response designed to shock this supposedly un-shockable girl. The first notion I had was to ask her her age.
"17″ came the reply.
"Really? Well I am old enough to be your dad…" She nodded, still smiling
"Would you like me to be your dad?"
"OK, If you like." she replied. I was committed now
"Does your real dad abuse you?" - Did I just say that?
"…Because that is the kind of dad I would like to be" - Oh dear it seems that I did.

Some people in the room immediately showed their disapproval. I apologised to them and told them that their reaction was the right one. I also pointing out the interesting thing was that they were in the minority in this crowd; their sharp intakes of breath were overshadowed by considerable laughter around the room. I pointed at the happy ones and told them:
"You are bad people"

And then, feeling a very bad person myself, I turned back to Amanda to make another apology. However I quickly realised my expected need for an apology was based on arrogance, of course she would be shocked by my quick and clever line… apparently not, it was evident by the big grin on Amanda's face that she really meant her opening statement and was not bothered. This was going to be a tougher challenge than I thought. I was going to have to up my game and get freaky.

My next gambit opened with: "Now Amanda, I am approaching 40 and I have not had my prostate checked… Do you think you would be kind enough to stick your finger up my bum?"

I thought this was a simple masterstroke and that she would surely back down. However it seemed she was not quite ready to concede: "No problem" she replied and then with a cannily added condition "So long as you have a rubber glove for me…"

This was a smart move that was keeping her in the game but was also putting a barrier between her and the potentially shocking act that I am suggesting. Or so she thought: I had a bag of props on stage for these gigs, some of which I used regularly and then others amounted to a collection of tat that I thought might come in handy for random occasions such as these. It just so happened that not only did I have a rubber glove in there I even had the choice of three colours.

I put my hand into my bag and straight away pulled out a blue washing up glove. It was met by much applause and merriment from the crowd and I held it out to her. Surely she would back down now and reject it? But no! She took the glove without hesitation…

So now we were at a situation where it looked like she really might not back down at all… and of course there is no way I could back down (Some people have told me that I really could have backed down, but i don't really understand that concept).

LH: No, not that concept you don't!

BS: Clutching at straws I had the idea that maybe the audience could assist me here, if they didn't want this to happen then I would be off the hook.

"Do you want this to happen?" was my simple question to the room
"Yes!" was their simple answer…
Or at least the only answer I heard, I am sure there were those that didn't want it to happen but by now they were hiding behind their hands. I turned to Amanda, hoping that having had a bit of time to process what the next step was going to be she might have discarded the glove and the bet would be off. This is not what happened.

As I turned around I saw that not only was she wearing the glove…She was spitting on the finger!
There was no other option but to drop my trousers and let the deed happen. Again it has been pointed out that I did in fact have a number of other options, one of which was simply telling some jokes, but sadly none of these alternatives made much sense to me and so it was that my naught was double knuckled live on stage.

At the start of this story it seemed that poor young Amanda was the victim, but now it is not so clear is it? (It should be pointed out that Amanda was very gentle) I am sad to say that I have never experienced such a huge reaction on stage as I did during these moments of unexpected rectal examination.

"I wish I had proper jokes…" I told the audience who were shrieking, laughing and clapping.
Of course some still had their hands in front of their faces but not one of them could resist parting their fingers for a peek at what was happening…

The beautiful thing is that Amanda was not done yet, she went to pull her finger out and then pushed it back in again, which caused another wave of excitement from the audience.

Then she withdrew her finger altogether… as I had pointed out the reaction up until that point had been large but now people eclipsed even that and seriously lost their shit. Not only did Amanda possess perfect comic timing, but when she removed her finger she had the comedic fortitude to leave the glove inside. And to cap it all, as a final flourish, she did 'Jazz hands' and put on a huge happy smile.

Amanda was declared un-shockable and it was the start of a beautiful friendship which continues to this day and for those who are wondering she gave me the all clear, although I am not sure if she is actually medically trained?

(Incidentally in this gig were the people from a production company I am now making a documentary with… and their name is rather appropriately: Brown Eyed Boy)

LH: Bob, I think that's certainly going to be one of the best stories we hear from these interviews!

Check Out Heroes of Fringe in Leicester, and also Heroes is now taking performers applications for Edinburgh - www.heroesoffringe.com

Click Here
September 14, 2013
Laughing Horse News
Autumn season is Here!
Now the summer has turned into autumn, the comedy shows are back! With our line-ups now online for our regular shows in Brighton, Richmond, Lancaster Gate and Holloway all up to date until at least the end of the year, and further for some nights well into the spring of 2014!

Our London and Brighton comedy courses are also back in full swing, and expect some new comedy nights to be added to the site soon!

For lovers of our comedy competition, you will need to wait a little longer this time around unfortunately…. rather than the 2014 competition running from November to May, we will be hosting that later in the year, it will run from September to December 2014… So keep an eye out for that later next year!

We hope to see you all back down at a show soon!

All the best,
Alex, Lewis, Kevin and the Laughing Horse/Comedy Point team!

Click Here
May 26, 2013
Laughing Horse News
AND THE WINNER IS.... New Act 2013 winner crowned
Congratulations to our new act of the year 2013.................... SOFIE HAGAN. With Runner-up ALASDAIR BECKETT-KING, and 3rd place act Johnny Pelham. Plis a special mention to Jack Heal. All announced tonight at the end of this year's new act competition at a sold-out show in Highlight. Click Here
May 10, 2013
Laughing Horse News
WeGotTickets Laughing Horse New Act of the year 2013 - Finalists Announced
The full line-up of finalists for the 2013 Laughing Horse New Act of the Year competition have been announced today… And the finalists are…

Richard Stainbank
Ben Clover
Andrew McBurney
Zak Splijt
Jonny Pelham
Mark Barrowcliffe
James Farmer
Alistair Williams
Sofie Hagen
Sunil Patel
Alisdair Beckett-King
Mo The Comic
Jack Heal

The Final takes place on Sunday May 26th, at the Highlight venue in Camden – 11 East Yard, Chalk Farm Road, Camden (For more details
Click Here) and will be compered by Imran Yusuf, with a panel of comedy industry judges deciding on the winner

The show starts at 8.30pm, with doors open at 7.30pm. And tickets are £12 (£11 concessions) – with a further £1 off if purchased in advance.

Tickets are available to purchase for the show here: http://www.wegottickets.com/laughinghorse/event/188483





Click Here
May 6, 2013
Brighton Fringe
The first Laughing Horse Brighton Fringe Reviews of 2013 are in...
The Laughing Horse's First reviews of Brighton fringe 2013 are up on http://www.brightonfringefest.co.uk/ check them and the shows out - PHIL KAY (5 STAR and 4 STAR), KISS OF THE RED MENACE (5 STAR) and Darren Walsh (4 Star) Click Here
May 1, 2013
Laughing Horse Newsletter
A Tale of Two CIties
There's a lot going on in two cities this month for Laughing Horse, and those cities are London and Brighton.

First off in London, we have…. The semi-finals of our Laughing Horse New Act of the Year Competition and then the grand final

All of the semi-final shows happen at the Dogstar, in Brixton and feature 14 performers in each show that have made it through from over 1,200 who entered the competition. The performers have made it through a heat and a quarter-final to get this far, so each line-up is guaranteed to be a great show!

There are six semi-finals (we like to be different, four is too normal), the first one being last night (sorry you missed it, but fab act Richard Stainbank was the first act to win a place in the final) – and the rest are happening tonight, tomorrow and next Tuesday, Wednesday and Thursday.

Check them out – they will all be great shows and a great value mid-week night out. The calibre of new performers this year has been amazing. Tickets are £7.50 on the door (concessions £6.50) – but you can buy them online in advance £1 cheaper. Click here for all of the details and to book tickets – come along and you can claim to have help find the next Russell Kane, Jack Whitehall, Rhod Gilbert or Greg Davies – all discovered in previous years of this competition!

The Final of the competition is held at the Highlight venue in Camden – this is on Sunday the 26th of May, and features compere Imran Yusuf introducing the 13 finalists, in what is one of the best comedy nights of the year in London. The show usually sells out before the night so it is well worth booking your tickets early - Click Here (and as it's a bank holiday weekend, what better excuse for a Sunday night out!)

And in Brighton it's… The Brighton Fringe

Starting this Saturday, May 4th, the Laughing Horse programme for the Brighton Fringe kicks off, with over 400 performances of more than 100 shows at our four Brighton venues!

Most of you will be familiar with the Quadrant and our regular Saturday shows there – these top-notch comedy club shows will run throughout May, every night except Monday and Tuesdays…. And these are joined by a host of other shows, much more comedy, kids show, theatre, cabaret, magic… and much more!

Once more we are also expanding into the Temple, The Caroline of Brunswick and the Hobgoblin, to offer the biggest selection of Brighton Fringe shows that any single promoter has to offer.

And the best bit?... A large proportion of our programme is free! So you can check out lots of shows for nothing! (Though, like busking if you like it the performers will ask for a donation at the end). We also have shows that are ticketed, but even they cost a maximum of £6. (Well, except Phil Kay, but he's worth the extra!). So this is a great excuse for Brighton residents to get out and see loads of shows, and those of you who live in London to have an excuse to get on the train down to Brighton in May!

It's so big we have a separate website for it.. Click Here for all of the details.
We look forward to seeing you again over May!

Alex, Lewis and the Laughing Horse Team
Click Here
April 5, 2013
Marc Lucero Interview
Interview with Marc Lucero
One of the most popular comedians, with promoters and audiences alike, Marc Lucero recently won Silver Comedy's Silver Stand Up of the Year 2013 Competition at Dave's Leicester Comedy Festival.

Laughing Horse caught up with him at the end of March 2013, to see if the success has gone to his head.

LH: What can you tell us about winning the Silver Comedy Award?

ML: The trophy is a nice addition to our house, it's touring, first month in the kitchen, now moved on to the office before finally going into the front room. I urge more acts to enter next year it was all really positive.

LH: You got a fair bit of publicity and interviews, did you get any offers? Will you be going off to Hollywood?

ML: Well I've now got strong links with the Leicester Comedy Festival and will definitely take a show there next year. I've been offered support slot on a major UK tour but I don't want to say who with at this moment. My family live in LA, we used to live on Fountain Ave so yes I will be going to Hollywood.

LH: And how long have you been performing comedy for?

ML: Eighteen years

LH: What made you start performing?

ML: I was lost and perhaps unemployable, my only redeeming feature seemed to be that I get on with most people. In the early 80's I got taken to see George Carlin whilst in Vegas, that was it, that night changed my life.

LH: How much has it changed since you started?

ML: I think it's constantly changing, it was easy to get an open spot years ago whereas now I've heard it's quite difficult. Having always been a bit of rebellious type I thought that stand up was non-conformist and right for me but of course stand up is now an option at Uni. and is as acceptable as being a solicitor or a doctor.

LH: It used to be a phone call to get gigs, now it's mostly emails. Have you embraced the new technology or do you ever find yourself struggling?

ML: I'm totally up with all forms of new media, I'm working with a company at the moment that's going to make it possible to email cheese.

LH: You are on the road quite a bit, do you still enjoy that aspect of performing?

ML:Yes love it more than ever, I've got a fairly new hybrid car so travelling is a pleasure.

LH: What did you do before you were making people laugh?

ML:I've always made people laugh it's just that now I get paid to do it, I've never really had a proper job, the odd market stall, I love that line in the Electronic song 'Getting away with it " it sort of sums me up.

LH: What do you make of the trendy young acts with the tight jeans and odd hair styles?

ML: Maybe some of them should write some jokes….. oohh that was a bit bitchy.

LH: Do you have a comedy hero?

ML: Probably Phil Silvers BUT having just watched Ricky Gevais's 'Derek' he has to be up there for me, genius. Plus of course, Seinfeld and Larry David. Anything Noel Fielding does is total quality.

LH: How do you see your own future, and the future of comedy in general?

ML: I don't really think about my future, my eleven year old son's future yes. I don't think oneself can plot life, that can lead to disappointment and bitterness if it doesn't happen the way you wanted it to. I would like to think that stand up will survive in small venues but maybe get sponsorship to make it viable for acts to do them. Nothing is ever going to go pear shaped at the O2 or Live at the Apollo, ever, it's sterile. In a small club you never know quite what's going to happen.

LH: What do you do when people say 'Tell us a joke'?

ML: Tell them I don't know any.

LH: What would you tell 20 year old Marc Lucero?

ML: Travel as much as possible, get property as soon as possible. Dance because girls will like it. I know it's a cliché but follow your dreams. Don't drink, don't smoke and don't ever go to The Emirates, unless of course Spurs are playing.

LH: Most irritating aspect of modern life?

ML: Having to recycle food waste, in the kitchen the ants have found out where the bin is hence we now have a plague of ants. I can't put ant killer down in case the dog eats it. In the outside bin the foxes tuck in at night leaving stuff all over the place.

LH: Favorite TV show?

ML: Following 'The Following' at the moment.

LH: What keeps you awake at night?

ML: Foxes (see above)

LH: When were you last out of breath?

ML: Last Saturday playing football with my son Fox (two not four legged variety) and his mates


Marc Lucero will be performing at the Laughing Horse in Hammersmith on Saturday 13th April 2013. Buy tickets here for £7.

The Egerton is a wheelchair accessible comedy club and can be found at
73 Dalling Road, Hammersmith, London W6 0JD


Wheelchair access comedy Club London
Click Here
January 24, 2013
Laughing Horse Courses
New Comedy Courses now Available
We now have dates online for comedy courses through 2103 - in Brighton, London and Edinbrugh.

All of the details are here: http://www.laughinghorsecomedy.co.uk/comedy/courses.asp

Click Here
November 4, 2012
Festival Update
Brighton Fringe Performers
Performer Applications are now open for our Brighton Fringe Venues, running May 4th to June 2nd 2014. To see details and apply... Click Here
October 16, 2012
Laughing Horse Newsletter
The same. But different.
Well. What a summer. People ran. People jumped. People did lots of things they wouldn't normally do, and excelled. That's right – it was a very successful Edinburgh Festival.

The boss is back in the lock up too after his world tour, running festivals. And a brief holiday on a Spanish island that caught fire just after he arrived. He has denied any responsibility, although a diablo chicken wing was found near the scene of where the fire was believed to have started.

I'm now having to put up with moans about 'The British Weather', to be honest I can't wait until he goes off to Australia to put shows on at another festival.
We've refurbished the lock-up here, and we now have a state of the art teasmaid, which will make tea in advance!!! You don't have to do anything, just set the timer and your tea will be ready. How amazing is that? Except that you have to put the teabags in. And the milk.

We have been busy repainting the walls, and the moss and damp seem to have stopped coming through, although my poster of Sheena Easton is probably helping.

I'm H- H- T- M- L *

So things here at the lock up are exactly the same…but different.
I have a feeling that things are not quite the same...but I can't quite tell why. I've tidied the stationery cupboard and can find things immediately, but it's not that.

Wha- What's that? My eyes! I can't…I can't believe it! It's…It's It's our new website!

Oh, hang on. It's the same….but different!

We've got all the information about our clubs in one place (the information – not the clubs – all of our clubs are all over the UK). We have information about all of the brilliant comedy courses we run. We have information on the Corporate training courses and events we provide. If you would like us to organise something for you, then please get in touch on admin@laughinghorse.co.uk

New Act of the Year 2013

We have opened applications for the Laughing Horse New Act of the Year 2012 Competition. Why don't you click and see if you fancy trying out stand up yourself? What's the worst that could happen? Ok, maybe best not to think about that too much. But most probably it will be fun.

If you don't fancy it yourself, why not come along to one of our heats and see new acts sweat it out as they compete for the coveted prize. We have had several winners go on to forge careers in comedy. I don't mean like forged bank notes. You know what I mean.

That's it for this newsletter.

Please get in touch via admin@laughinghorse.co.uk with your replies – we'd love to hear from you, especially if you have an answer to our prize question below.

Follow us on twitter: @lhcomedy or like us on Facebook

*HTML is the language used to create websites, but you knew that didn't you? Two free tickets to a London, Richmond or Brighton Laughing Horse show of your choice in Oct/Nov 2012 if you can a) tell me what HTML stands for, and b) come up with a funny phrase using the first letter of each word eg (How to Make Love – it needs to be much funnier than that. Though if you've seen me make love you'd probably… (Censored – ED)

October 4, 2012
Latest News
The New Laughing Horse and Comedy Point Website Launches
Laughing Horse and Comedy Point Launches its new website - with a brand new look, more comedy clubs, details of next years new act competition, updated comedy course details and much more - have a look around for the best in comedy and festivals! Click Here
October 4, 2012
Competition News
Laughing Horse New Act of the Year 2013 Launches
We have now launched entries for our New Act of the year competition - this year supported by WeGotTickets. If you are a new act and would like to get a winners cheque of £2,000, plus industry-wide recognition, now is the time to enter. See our competition pages for full details. Click Here