Show Search
Search for who's on at upcoming shows
July 18, 2014
Laughing Horse
Edinburgh Fringe Survival Guide
So, you're going to Edinburgh for the first time to put a show on – and there's now only two weeks to go until it all kicks off for another year of fun, performing and chaos, all wrapped up and deep fired in batter.

Laughing Horse and Free Festival Director Alex Petty, shares his tips on going to the chaos of the Edinburgh Fringe for the
first time...

1. Don't Panic! – With only a little time left before you get in that car, plane or train to Scotland, it's always natural to feel a bit anxious at this stage. This is only natural as there's a lot to do get done and ready. What you should know is that everyone is feeling the same way, so don't let it get the better of you. A far wiser man than I once said "It's always chaos, every show, every venue – right up to the last minute. But somehow it always works out", and that is very true, from the smallest one-man band, up to the mega-venues. Everything will work out when your show gets up and running, no matter how daunting it all seems at the moment.

2. Get into Town early if you haven't been there before – Familiarise yourself with the layout of the city and its quirky nature, this will help you a lot through the month. You will find what looks like a left-turn on a map is actually a road eight stories below or above where you are standing. Get around the main hubs in the town to find where people hang out, and spend time to prepare for your show and how long it will take to get from A to B - Performers turning up straight away for their first shows usually end up struggling well into the first week getting to grips with the city and getting their publicity out and about. You will also find that wherever you go takes time, through packed streets and generally walking up a 45 degree incline on cobbled streets as rainwater flows down at you like a waterfall. Edinburgh was designed by Escher – it is possible to spend the entire month walking uphill, never walking downhill.


Every Single one of these people are lost...


3. Pace yourself - It's a marathon not a sprint as they say, and treating every night as New Year's Eve for 25 nights takes the toll on the most hardened of Fringe veterans. I know, I've done it myself and it's not pretty by the end of August. There's only so many times you can flyer all day, perform 4 gigs in the evening, drink all night and then be at the opening of a 6am opening bar to wash down your battered haggis with a few more pints before ending up in the Royal Infirmary…

4. Don't worry about what others are doing – There are times it seems that everyone else is doing better than you, more reviews, more press coverage, award nominations and so on. These things will generally happen if they happen. A lot of performers often end up getting stressed about others successes, when in reality, what they should be doing is concentrating on putting a good show, and entertaining the audience in front of them. Do this and you will have a good Fringe, and remain a lot calmer by day 25.

5. Remember it is about a balance of work and play – A month of fun in Edinburgh can be the best thing in the world, but at the end of the month you will feel incredibly unfulfilled if you have sacrificed your show and not dedicated enough time to running, producing and promoting it. Likewise dedicating all of your time to your show will mean you miss out on a lot of what Edinburgh is about, and why we all come back year after year despite the fact it makes no logical sense to do so at all – the socialising, networking and all of the other madness that happens for the month.

6. See Some shows – it's the biggest arts festival in the world, make sure you get out and see some shows as well as performing your own – something that is often overlooked by performers, and often something that leaves performers with regret at the end of the month. There's so many big names that can inspire you as a performer, and so many different and experimental shows out there that you can only experience in Edinburgh – that's what a Fringe is all about. See some Shakespeare for Breakfast, watch Hamlet on a Bouncy Castle, see a show in someone's flat, a car or a lift - or whatever other nonsense is taking place this year (I've not managed to read this year's programme yet, so these things may or may not be happening this year)

7. Take a proper day off – when you have a day off from your show, really have a day off. Especially if you are around all month. Get out of town and escape for 24 hours at some stage. It really does help you survive the Fringe and helps reduce stress or potential nervous breakdowns. Recharge the batteries and get your head straight while away from the chaos of the Fringe bubble that we all get trapped in. The Highlands are a short drive away, and there's plenty of other places in Scotland to see if you have not visited before. If you get no further at least make the effort to get away from the chaos, relax on the Meadows, maybe a walk down the Water of Leith, chill out on Portobello beach, walk across to Crammond (but don't get cut off by the tide!) – of if feeling energetic get up to the top of Arthur's seat to really clear the head…

8. Always keep some flyers on you - You always get chatting to people around town about shows, and inevitably your show! Never be without some promotional material, whether it's to plug your show in shops, cabs or cafes – for people you bump into on the Royal mile or at venues, for industry folk you get introduced to, or as a handy notepad for you to jot names and phone numbers down on when speaking to people.

9. And while you're at it, remember to bring – Blue Tack for putting up posters. Blue Tack in shops in Edinburgh during August is rarer than hen's teeth.

10. Pack ready for any weather, and leave your flat ready for anything Edinburgh can throw at you dry spells (occasionally), plenty of grey skies (daily) and rain (a lot), followed by a thick fog that rolls on off of the sea, and then back to sun for a while. It's not only possible to get all of those types of weather on the same day but often in the same hour. Most venues lack air-con and have terrible ventilation, meaning you can turn up in layers and raincoats, shivering and wet, and within seconds you are hot, sticky, sweaty and sweltering. Basically, pack for any weather and be prepared!

11. Try to have at least one good meal a day – it's very tolling on your system to live off of take-aways and beer for a month, and many do as it is so busy to actually sit down and cook something better, or contains those funny green things called vegetables that are so rare north of the border. You will feel it by the end of the month if you don't. If all else fails a Fruit Smoothie, Berrocca and Vitamin pills each day will help to fend of the Scurvy…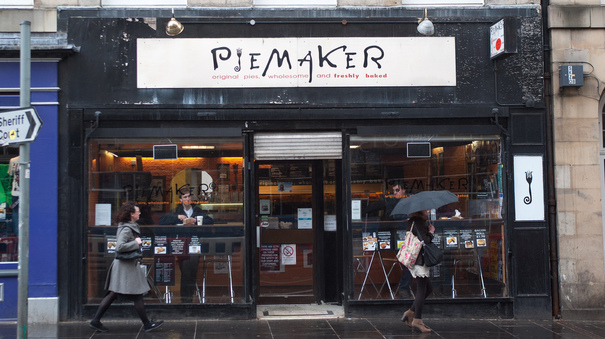 Saved the Life of Many Fringe Performer


12. Snack in Style - Edinburgh is awash with good places to grab a bite, be it the legendary baked potato shop just off the Mile, which dishes out portions bigger than your head, or curry emporium Mosque Kitchen which serves the best curry in town from the back of the Mosque (entrances opposite The Counting House and on Potterrow). You can also pick up a variety of street food this year at the Free Sisters, a barbecue at the Pear Tree, grab a pie at the almighty Pie Maker on South Bridge, or try the Hog Roasts at the two Oink shops. Fruit Smoothies and healthy options at Hula Juice bar at the bottom of Victoria Street is also a good tip for something to increase your vitamin intake.

13. Don't listen to your own advice and ignore suggestions 1-12. See you in Rehab on August 25th….

You can catch the Laughing Horse's Edinburgh Fringe shows at 22 Venues around Edinbrugh from July 31st to August 24th - all of the shows are on www.freefestival.co.uk

Click Here